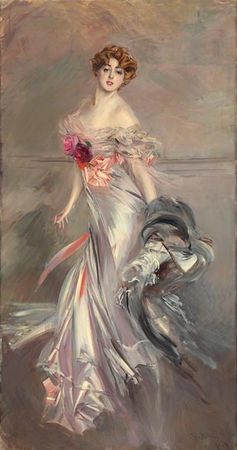 Giovanni Boldini (Italian, 1842-1931), Portrait of Marthe Régnier, oil on canvas. Estimate: $2,000,000-3,000,000. Photo: Christie's Images Ltd 2011
NEW YORK, NY.-
On October 12,
Christie's
New York will offer an extraordinary selection of 19th Century European Art Including rientalist,
Sporting and Maritime Paintings. The sale will present exquisite examples of the classic tradition of Europe as well as the exotic allure of the Orient, and will feature some of the most sought-after artists of the 19th Century including Giovanni Boldini, José Benlliure y Gil, Joaquin Sorolla y Bastida, William Adolphe Bouguereau, Jean Baptiste Camille Corot, Frederick Lord Leighton and Montague Dawson. In total, the sale will offer over 100 lots of great quality and beauty.
The sale's top lot is Giovanni Boldini's exquisite Portrait of Marthe Régnier, 1905 (estimate: $2-3 million). Painted at the height of the artist's career, Marthe Régnier embodies Parisian chic during the Belle Époque. Three years after Boldini executed this tour de force likeness, it was exhibited by its then owner, Michel Manzi, at the newly inaugurated Hôtel des Modes, which was the brainchild of Manzi and – as a meeting point for haute couture and contemporary art – was to prove an overnight success. Adding to the drama of this portrait is Boldini's strident plunging perspective, one of the innovative hallmarks of the artist's mature oeuvre. Equally characteristic of Boldini's work is the pulsating pink patchwork of brushstrokes found in the background and echoing in Madame Régnier's skin, hair and dress. It is daring compositional elements like these that led cultural icon Gertrude Stein to presciently profess, 'Once time has established values in their correct order, Boldini will be recognized as the greatest painter of the last century.'
Christie's is including four works from The Property of Mr. Sylvester Stallone within the sale. Among the group is the stunning O Salutaris Hostia (estimate: $30,000-50,000) by George Wolliscroft Rhead. A painter, etcher, and designer of stained glass and ceramics, Rhead was a central figure of the English Arts and Crafts Movement that arose from the Pre-Raphaelites.

Gustave Dore's La famille du saltimbanque: l'enfant blessé, is a haunting example of social realism and is among the most important works from the artist to come to the auction market in fifteen years. By combining Romanticism's drama with Realism's social commentary and what would become Symbolism's spiritualism, Doré produced works of startling beauty and raw emotion that are distinctly his own. Being one of Dore's most renowned compositions, La famille du saltimbanque: l'enfant blessé inspired him to produce an almost identical work twenty years later that
now hangs in the Musée d'Art Roger-Quilliot in Clermont-Ferrand. Both the present painting and the later version exemplify Doré's ability to render the contemporary life of the urban poor with both poignant realism and dreamlike fantasy.

Also being featured is A Color Sketch for 'Cimabue's Celebrated Madonna is Carried in Procession through the Streets in Florence' (Estimate: $50,000 - 70,000), by Frederick Lord Leighton. The artist prepared his picture with immense care, making an elaborate composition drawing followed by a series of detailed studies. The final painting was purchased by Queen Victoria on the advice of Prince Albert, and remains in the Royal Collection today. It is currently on loan to the National Gallery, London.

The sale will also include six exhilarating works by Montague Dawson, one of the leading maritime artists of the 20th century. Among these lots are three works from The Property of the Northrop Grumman Corporation, including Taking a Northwester: 'The Thermopylae' (estimate: $180,000-220,000), a rare deck scene from the artist, composed as a testament to the fearless men who sailed and crewed the clipper ships.

Auction: Rockefeller Plaza Galleries Oct 12 - Viewing: Oct 8-11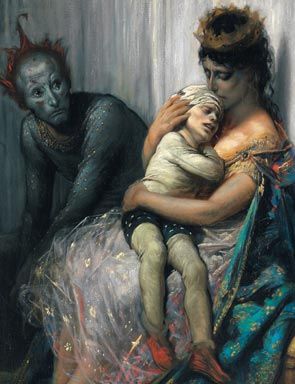 Gustave Dore (French, 1832-1883), La famille du saltimbanque: l'enfant blessé, oil on canvas, 1853. Estimate: $50,000-70,000. Photo:
Christie's Images Ltd 2011.