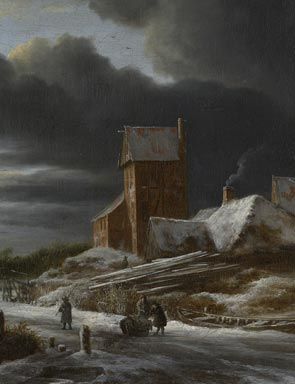 Jacob Isaacksz van Ruisdael, Winterlandschap, ca. 1650-1682 (detail).
AMSTERDAM.- Providing a total of 17 paintings, the Rijksmuseum is making the largest contribution of loaning institutions to the exhibition Winter Tales: Depictions of Winter in European Art from Bruegel to Beuys, which was organised by former Rijksmuseum Director in Chief Ronald de Leeuw on behalf of Kunsthistorisches Museum in Vienna. More than 180 objects, ranging from paintings to a sleigh, tell the story of European winters from 1450 to the present.

For centuries, artists have been inspired to create beautiful paintings and historical pieces by such stories as that of Napoleon's forces as they faced crisis during the harsh Russian winter in 1814. In addition, the tranquillity and beauty of the brutally cold white of winter, the carefree enjoyment of the frozen scenery of characteristically Dutch winter landscapes, the habits and customs of the season and winter celebrations have also served as sources of inspiration. For the exhibition Winter Tales, Ronald de Leeuw received contributions from loaning institutions from all over the world. The Rijksmuseum – the museum of the Netherlands – has, for instance, loaned paintings by Avercamp, Van Ostade, Ruisdael and Van de Venne. The Gemäldegalerie Alte Meister gallery of Old Masters in Kassel offered Rembrandt's only winter landscape on temporary loan for the exhibition, while Summer and Winter by Rubens, which are part of the collection of Queen Elizabeth II, have made the journey to Vienna specially for this exhibition.

In addition, De Leeuw worked to find historical objects with a winter theme, including tapestries, goblets, porcelain figurines, priceless stone carvings and a magnificent sleigh owned by the 18th-century Austrian empress Maria-Theresa. Joseph Beuy's Schlitten (sled) from 1969 and Anselm Kiefer's painting Tönend wie des Kalbs Haut die Erde from 2011 represent the most current works in this winter-themed exhibition, which is presented in chronological order.

The biggest draw, however, comes from the Kunsthistorisches Museum's own collection, namely Pieter Bruegel the Elder's painting Hunters in the Snow from 1565, which is presumably the most famous winter landscape painting in the history of Western art. As the large wood panel is too fragile for it to be put on loan, this piece can only be seen in Vienna.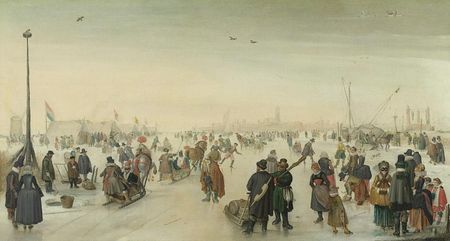 Hendrick Avercamp, Winterlandschap bij een stad, 1620.