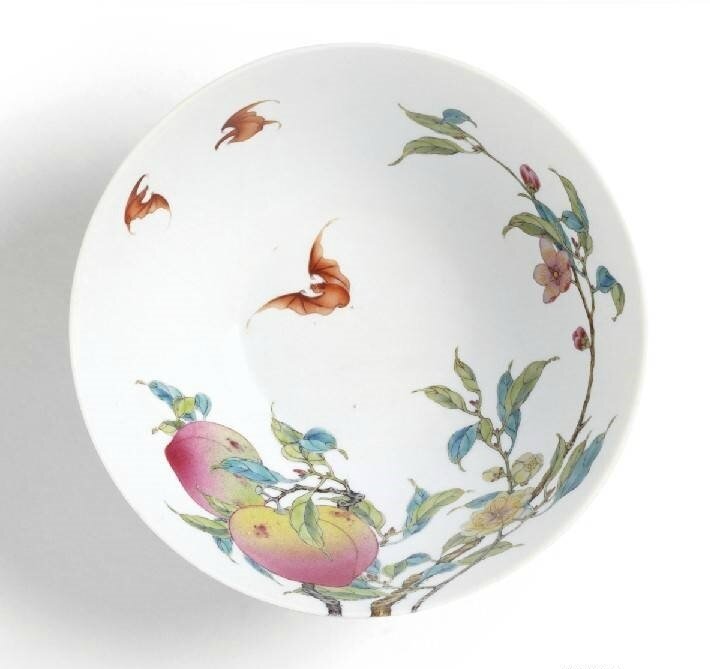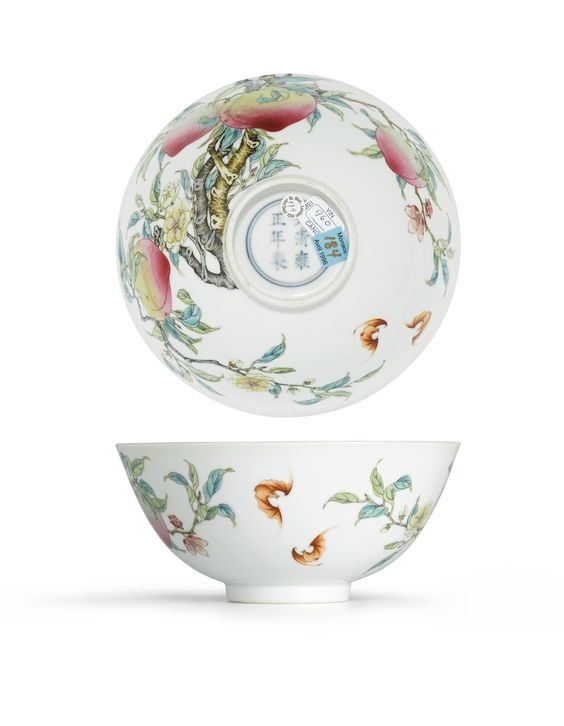 Lot 16. An Exquisite and Very Rare Famille-Rose 'Peach' Bowl, Mark and Period of Yongzheng (1723-1735); 14.3 cm., 5 5/8 in. Estimate 20,000,000-30,000,000 HKD. Lot sold 23,060,000 HKD. Photo Sotheby's
delicately potted with deep rounded sides resting on a short straight foot, finely painted in bright tones of rose pink, shades of green, yellow, iron red, brown and black, with two varieties of flowering and fruiting peach springing from the foot and extending around the outside and over the rim onto the interior, one branch with a light brown bark and five-petalled rose-pink blossoms, the other with blackish bark and double blossoms in white, both bearing large ripe fruit shaded from yellowish green to bright crimson pink, set with three iron-red bats hovering on the interior and two on the exterior, the base inscribed with a six-character reign mark in underglaze blue
PROVENANCE: Collection of the Eisei Bunko,Tokyo (one of a pair).
EXHIBITED: Chinese Ceramics from the Meiyintang Collection, The British Museum, London, 1994.
Evolution to Perfection. Chinese Ceramics from the Meiyintang Collection/Evolution vers la perfection. Céramiques de Chine de la Collection Meiyintang, Sporting d'Hiver, Monte Carlo, 1996, cat. no. 183.
LITERATURE: Tjitaikei[Outlines of ceramics], vol. XLVI: Shin no kany[Qing officiaI wares], Tokyo, 1973, col. pI. 13.
Regina Krahl, Chinese Ceramics from the Meiyintang Collection, London, 1994-2010, vol. 2, no. 960.
NOTE: Although this peach-and-bat design represents one of the best-known Yongzheng porcelain styles, this is due more to its endearing character than a profusion of extant examples. Comparable bowls, although frequently illustrated, are surprisingly rare. Altogether only five pairs of bowis of Yongzheng mark and period painted with this motif extending from the outside of the vessel over the rim onto the inside, appear to be recorded.
The present bowl is part of a pair originally preserved in the Eisei Bunko. The Eisei Bunko (Eisei Archive) is an important historical art collection, formed by the Hosokawa family, one of the top daimyo clans in Japan. The collection has its origins in the Nanboku-ch period (1336-92). The companion bowl, still in the Eisei Bunko today, is illustrated in Sekai tji zensh [Ceramic art of the world], vol.12: Shinch hen fu Annan Tai/China. Ch'ing Dynasty and Annamese and Thai Ceramics, Tokyo, 1956, col. pI. 11.
A pair from the collections of Chen Rentao, Paul and Helen Bernat and T. Endo was sold in these rooms l5th November 1988, lot 44, and 29th April 1997, lot 401, and at Christie's Hong Kong, 29th May 2007, lot 1374, and is illustrated in Sotheby's. Thirty Years in Hong Kong, Hong Kong, 2003, pI. 326; another pair in the Baur collection, Geneva, is illustrated in John Ayers, The Baur Collection Geneva: Chinese Ceramics, Geneva, 1968-74, vol. 4, nos. A 594 and 595; a pair published in The Tsui Museum of Art. Chinese Ceramics IV: Qing Dynasty, Hong Kong, 1995, pI.155, was composed of a bowl from the John F. Woodthorpe and C.M. Moncrietf collections, sold three times in our London rooms, 9th December 1952, lot 140; 6th April 1954, lot 106; and 2lst February 1961, lot 171; and another bowl sold in these rooms, l4th November 1989, lot 315 and in our London rooms, l6th May 2007, lot 104; another pair was sold at Yamanaka & Cc., London, 1938, and is included in their catalogue Chinese Ceramic Art, Bronze, Jade etc., no. 116, pI. 12.
One other related pair of different proportions, from the Allen J. Mercher and John M. Crawford, Jr. collections, was solcl at Parke-Bernet, New York, lOth October 1957, lot 261, and in these rooms, 24th May 1978, lot 252. The design continued to be produced for the Qianlong Emperor, and a bowl of Qianlong mark and period s published in Soame Jenyns, Later Chinese Porcelain: The Ch'ing Dynasty(1644-1912), London, 1951, pI. LVI, fig. 2.
Sotheby's. The Meiyintang Collection, Part II - An Important Selection of Chinese Porcelains. Hong Kong 5 october 2011