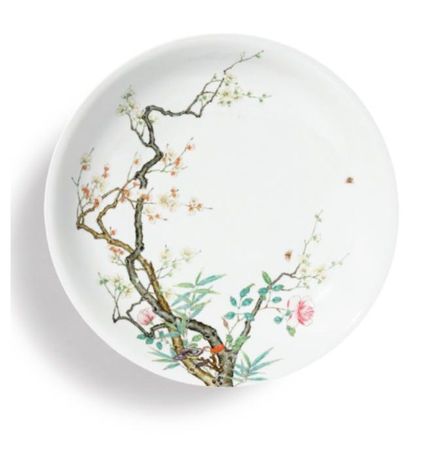 A Superb Large Famille-Rose Prunus and Rose Charger. Mark and Period of Yongzheng. Photo Sotheby's
finely painted on the interior with two gnarled intertwining prunus branches reaching around the left side following the curve of the dish, the petals of the white flowers tinged with green and with yellow-tipped pink stamens and green sepals, a pink-blossomed branch growing to the side, the flowers with iron-red sepals, and a large iron-red and purple lingzhi sprig growing from the trunk of the larger tree, between bamboo, with finely shaded leaves in tones of green, and a blossoming rose, with delicately shaded pink blooms and buds, borne on slender stems with tiny thorns picked out in pink, two finely depicted bees hovering above, the plants growing up from the exterior with further prunus branches extending in opposite directions around the sides amidst sprays of leafy bamboo and flowering rose branches, the base inscribed with a six-character reign mark; 50.2 cm., 19 3/4 in. ESTIMATE 15,000,000-20,000,000 HKD
PROVENANCE: Christie's London, 5th April 1976, lot 97.
Su Lin An Collection.
Sothebys Hong Kong, 3lst October 1995, lot 329.
EXHIBITED: Evolution to Perfection. Chinese Ceramics from the Meiyintang Collection/Evolution vers la perfection. Céramiques de Chine de la Collection Meiyintang, Sporting d'Hiver, Monte Carlo, 1996, cat. no. 181 (illustrated).
LITERATURE: Regina Krahl, Chinese Ceramics from the Meiyintang Collection, London, 1994-20 10, vol. 4, no. 1754.
NOTE: Several Yongzheng dishes of this large size are known with the same combination of plants, but each of them is unique in composition. The present dish s exceptional in depicting a pair of insects, and shows a more distinctly asymmetric layout than the others. Otherwise, this combination of plants is rare, as the rose is seldom depicted in bloom together with winter plants such as the prunus and bamboo, even though it is admired as a plant that flowers throughout the year. In this combination, it conveys the auspicious message of endurance and longevity. Compare a dish with a similar design from the collection of Dr. John Eyre in G.C. Williamson, The Book of Famille Rose, London, 1927, pI. XXXV centre; one sold in these rooms, l4th November 1989, lot 324; and anotherwith a similar design in mirror image, sold at Christie's London, l2th December 1977, lot 213. Similar large dishes are also known with a bright red camellia or peony replacing the rose; one such dish, also with a pair of irisects, is in the Baur Collection, Geneva, illustrated in John Ayers, Chinese Ceramics in the Baur Collection, Geneva, 1999, vol. 2, pI. 221; others without insects are in the Sir Percival David Collection in the British Museum, London, illustrated in Michel Beurdeley and Guy Raindre, Qing Porcelain. Famille Verte, Famille Rose, London, 1987, pI. 130; in the Palace Museum, Beijing, published in Kangxi, Yongzheng, Qianlong. Qing Porcelain from the Palace Museum Collection, Hong Kong, 1989, p. 222, pI. 51; and one was sold in our New York rooms, l5th September 1999, lot 89.
Sotheby's. The Meiyintang Collection, Part II - An Important Selection of Chinese Porcelains. Hong Kong 5 october 2011 www.sothebys.com