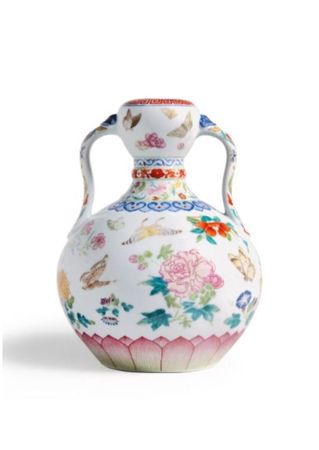 An Exquisite Famille-Rose Gourd Flask. Seal Mark and Period of Qianlong. Photo Sotheby's
elegantly potted with a globular body rising to a waisted neck and a small bulbous mouth, flanked by a pair of strap handles in the form of ruyi sceptres extending from the mouth to the shoulders at the top, the neck collared by a raised ring with iron-red floral scrolls above floral sprays and a ruyi-head band draping the shoulder, delicately painted in a vibrant array of colours with butterflies hovering among sprays of morning glory, camellia, hibiscus, aster, carnation and chrysanthemum on one side and peony, rose, and other flowers on the other, with further butterflies and scattered blossoms on the mouth and floral arabesques on the handles, all below a red key-fret border at the mouth, the recessed base inscribed with a six-character reign mark in underglaze blue; 23.1 cm., 9 1/8 in. ESTIMATE 40,000,000-60,000,000 HKD
PROVENANCE: Sotheby's Hong Kong, l6th November 1988, lot 368.
Christie's Hong Kong, l9th March 1991, lot 607.
EXHIBITED: Chinese Ceramics from the Meiyintang Collection, The British Museum, London, 1994.
Evolution to Perfection. Chinese Ceramics from the Meiyintang Collection/Evolution vers la perfection. Céramiques de Chine de la Collection Meiyintang, Sporting d'Hiver, Monte Carlo, 1996, cat. no. 186.
LITERATURE: Regina Krahl, Chinese Ceramics from the Meiyintang Collection, London, 1994-2010, vol. 2, no. 962.
NOTE: The masterful representation of frilly flower petals and delicate insects, light as air and seemingly floating around the vessel, give this charming design the unique aspect of a carefree summer's day, an impression reinforced by the band of the lush lotus petals at the base. The depiction of butterfiies with gossamer wings with a faint web of markings and multiple shades must have represented one of the greatest challenges for the brushwork of porcelain painters. Only two other flasks are known ofthis design. The filigree painting style used on these flasks may have been inspired by Yongzheng masterpieces such as the famous so-called 'butterfly bowls'; compare a piece in the Palace Museum, Beijing, illustrated in The Complete Collection of Treasures of the Palace Museum. Porcelains with Cloisonne Enamel Decoration and Famille Rose Decoration, Hong Kong, 1999, pI. 68. This delicate painting manner is very different from the thick 'impasto' representation of butterflies on coloured sgraffito grounds, like, for example, on the vase from the collection of Alfred Morrison, Lord Margadale cf Islay, at Fonthill House, Tisbury, Wiltshire, illustrated in Soame Jenyns, Later Chinese Porcelain, London, 1951, pI. CVI, fig. 2, and sold at Christie's Hong Kong, from the Ping Y. Tai Foundation, 3rd Decem ber 2008, lot 2388.
This gourd form with ruyi handles appears to have been a favourite of the Yongzheng Emperor, as during his reign it was made in many different styles, for example, in blue-and-white, underglaze blue and red, doucai; and various monochrome colours, but is otherwise very rare in the Qianlong period.
Only two other vases of this superb fencai design appear to be recorded. A vase from the George R. Davies collection is illustrated in W.G. Gulland, Chinese Porcelain, London, 1911, vol. Il, no. 688; again in Geng Baochang, Ming Qing ciqijianding [Appraisal of Ming and Qing porcelain], Hong Kong, 1993, p1. 116; in Sotheby's Hong Kong — Twenty Years, Hong Kong, 1993, pI. 280 and in Sotheby's. Thirty Years in Hong Kong, Hong Kong, 2003, pI. 358; it was included in the Min Chiu Society Thirtieth Anniversary Exhibition Selected Treasures of Chinese Art, Hong Kong Museum of Art, Hong Kong, 1990-91, cat. no. 166; sold in these rooms, 28th November 1979, lot 239, and again at Christies Hong Kong, 30th April 2000, lot 589, from the Yuen Family collection; the second vase of this design, formerly at Kochukyo, Tokyo, was sold at Christie's Hong Kong, 27th October 2003, lot 658, and again 29th May 2007, lot 1375.
Sotheby's. The Meiyintang Collection, Part II - An Important Selection of Chinese Porcelains. Hong Kong 5 october 2011 www.sothebys.com