The Empress Dowager Cixi, China, Qing dynasty, 1903-1904. Glass plate negative. Freer Gallery of Art and Arthur M. Sackler Gallery, SCGR 251
WASHINGTON, DC.-
The life of China's Empress Dowager Cixi (1835-1908) was anything but conventional. She rose in power from a low-ranking imperial concubine to Grand Empress Dowager of the Qing court, reigning as sovereign to more than 400 million people for more than 45 years.
"Power | Play: China's Empress Dowager"
is on view at the
Smithsonian's Arthur M. Sackler Gallery
through Jan. 29, 2012.
The exhibition presents 19 stunning photographic portraits of the Empress Dowager created from the Freer and Sackler Archives' collection of original and unique glass negatives. The portraits reveal a ruler who, in an attempt to control her public persona, seized on the emerging technology of photography to shape her image on the world stage.
On public display for the first time, the life-sized portraits bring visitors face-to-face with one of history's most powerful women. The high-resolution images are printed on large aluminum panels, a format that enables visitors to see a fascinating level of detail previously imperceptible
in conventional prints.
The photographs were taken in the years following China's Boxer Rebellion, when Cixi (pronounced TSUH-see) was held in low regard throughout the world. In 1903, she commissioned a young aristocratic photographer named Xunling (pronounced SYOON-leeng) to take meticulously staged studio portraits of her and her court, melding modern photography with traditional conventions of imperial portraiture. Several of the photographs taken at the imperial Summer Palace outside of Beijing depict the Empress dressed as Guanyin, the Bodhisattva of Compassion. Others depict her with attendants and eunuchs boating on a lake in theatrical costumes.
"One of the most striking things about the photographs is their theatricality,"
said David Hogge, curator and head of the Freer and Sackler Archives.
"Cixi created a unique aesthetic that mixed traditional Qing court styles with her own personal flair for theater, fashion and religious devotion. More than 100 years ago, she was strategically making these portraits to manage her image for various constituents—much as a politician would use a photo op today."
Theater was a popular entertainment in the Qing court and a source of inspiration for the portraits' dramatic stagings, each conveying powerful, symbolic messages intended for members of the imperial court, her subjects, or foreign audiences.
Many of the portraits were created as gifts to diplomatic visitors or to other world leaders.
Among the highlights of the exhibition are a large, hand-tinted portrait sent to President Theodore Roosevelt in 1904 and a print presented to his daughter Alice on her visit to the court in 1905. Social occasions featuring Manchu princesses and women of the foreign diplomatic corps are also captured on film, illustrating the court's carefully crafted diplomatic campaign to win the support of foreign powers.
Xunling's original negatives were brought to the United States by his sister Deling, who used them to illustrate her best-selling books recounting her own experience as personal attendant to Cixi. Following her death in 1944, the negatives were purchased by the Freer and Sackler galleries. The collection of 36 original Xunling negatives is the largest outside the Palace Museum in Beijing and one of the most important holdings of early Chinese photographs by a Chinese photographer in North America.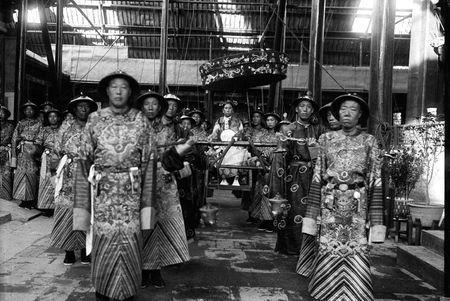 The Empress Dowager Cixi in sedan chair surrounded by eunuchs, China, Qing dynasty, 1903-1904. Glass plate negative. Freer Gallery of Art and Arthur M. Sackler Gallery, SCGR 261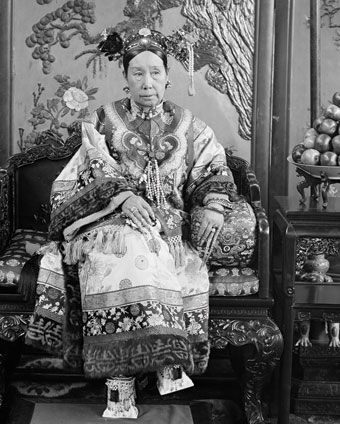 Detail, The Empress Dowager Cixi; China, Qing dynasty, 1903-1904; Glass plate negative; SC-GR
254.
SC-GR-262, detail.
Cixi first wanted her photograph taken in a setting that replicated the reception hall, as if she were in formal audience. In other words, her priority was to convey her authority and legitimacy as head of state.
The photographs in the Throne series feature the Empress Dowager alone before a standing screen, with an overhead banner proclaiming her full title. Despite this repetitive composition, the images display surprising variety. Cixi adopts a vivid array of poses, costumes, and props, each with a different meaning and objective.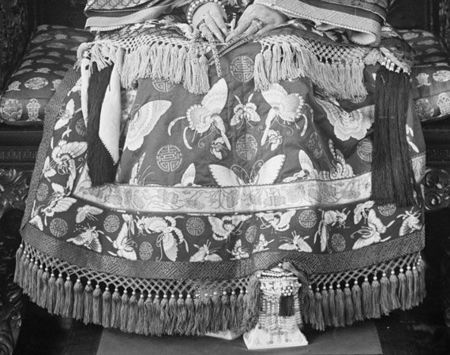 SC-GR-258, detail.
Cixi's embroidered robes are rich with traditional Chinese emblems of longevity—for herself and, by extension, for the Qing dynasty. This robe is covered with stylized longevity characters, as well as butterflies, considered a metaphor for long life.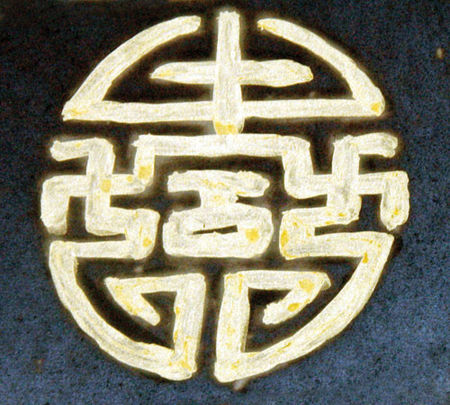 Gold-painted longevity character. Detail from Portrait of Tzu-Hsi (Cixi), Empress Dowager of China.
Imperial-size gelatin silver print photograph with hand-applied color. Courtesy of Blair House, The President's Guest House, United States Department of State, BH-2009.0001
SC-GR-254, detail.
Flanking Cixi are carefully stacked mounds of fruit. Cixi was not fond of incense and so used fresh fruit to sweeten the air, but these apples may have had a more important purpose. While not a traditional feature of Chinese art, the Chinese term for apple is a homonym for peace. The use of Western apples in the photos may have been a subtle message of conciliation to the foreign powers occupying Beijing after the Boxer Rebellion.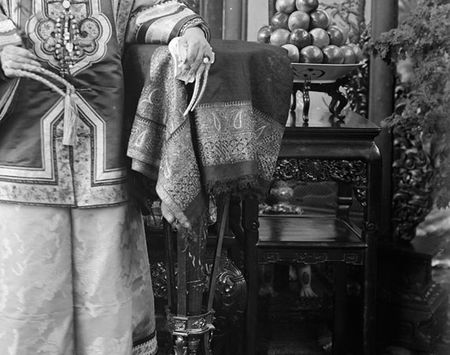 SC-GR-255, detail.
Cixi's gold filigreed fingernail covers were traditionally worn in the Qing court, as were her "horse-hoof" shoes. While maintaining such conventions, in this image Cixi also included a French Louis XIV pedestal table, upon which rests an embroidered Indian paisley shawl. The arrangement may have refuted her reputation as an insular, xenophobic ruler.