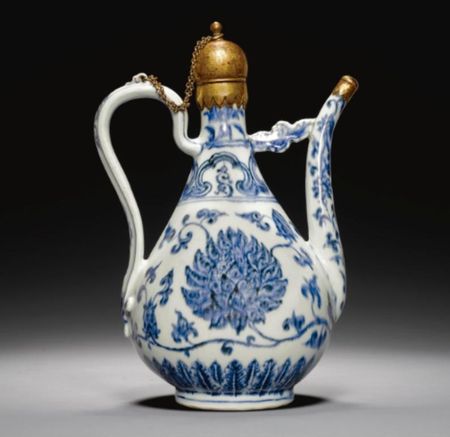 A Rare Blue and White Porcelain Ewer Made for the Islamic Market, China, Ming Dynasty, Yongle Period, 1403-1424 Ad, with Ottoman Tombak Mounts, I7th-I8th Century. Photo Sotheby's
of pyriform form with a bulbous base and tapering neck supported on a narrow ring foot, the sloping shoulder with serpentine handle and spout with attached foliate bracket, the spout and neck terminating in a domed and arcaded tombak mount with detachable cover and chain, the porcelain body decorated in underglaze cobalt blue reserved on white with two large lotus palmettes issuing scrolling tendrils with split and full palmette buds, the neck decorated with an arcade of clouciband clips, the underbelly with a register of overlapping leaves, the spout and handie with foliate scrolis and floral sprays porcelain arid metal; 30.4cm. height. ESTIMATE 150,000-200,000 GBP. Lot 348 Sold: 181,250 GBP

EXHIBITED: Exposition Doha, capitale culturelle arabe 2010, Ambassade du Qatar à Paris, du 5 au 9juin 2010
NOTE: Yongle period ewers of this type are extant in various museums and private collections worldwide. The present example is particularly unusual for its decoration incorporating a large-bloomed lotus scroil amid leaves painted on either side of the vessel. The motif to the base cf the ewer, comprising a register of upright leaves, s also rare, making this piece a unique example amongst this weil-known group cf early fifteenth-century ceramics.
A comparable early-fifteenth-century Ming dynasty ewer with Ottoman mounts is in the Topkapi Saray Museum (see Roxburgh 2005, pp.3l 0-1 1, no.273). The distinctive pear-shaped form with bracketed spout is aise seen in three early-fifteenth-century Ming ewers that were in the Ardebil shrine, now in the National Museum in Tehran (see Pope 1981, p154). A similar pattern of monumental Iotuses and palmette tendrils can also be found on an early-fifthteenthcentury vase and bowl from the Ardebil shrine (ibid. pls.49, 51).
For further examples of early-fifteenth-century Chinese blue and white ewers in the Topkapi Saray Museum, see R. Krahl, Chinese Ceramics in the Topkapi Saray Museum, vol.il, London, 1986, pp.5l9-520, nos.617-621, colour plates pp.425-27.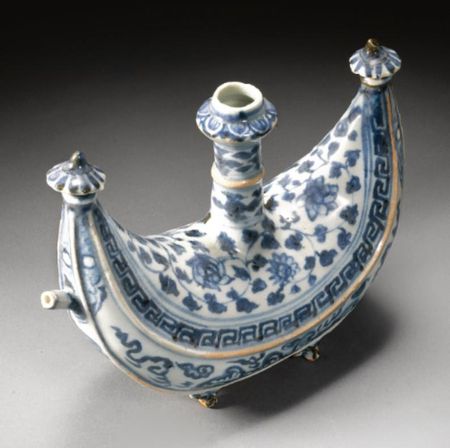 A Rare and Blue And White Porcelain Pilgrim Flask made for the Islamic Market, China, Ming Dynasty, I5th Century. Photo Sotheby's
of crescent form with rosette terminais supported on four small foliate feet, a central narrow cylindrical ringed neck, spout to body, decorated in undergiaze cobalt blue with scrolling tendrils issuing trefoils and lotus rosettes bordered by keyfret patterning, the underbelly with wave and cloudband motifs. 19cm. max. width 6 16.9cm. height; ESTIMATE 70,000-100,000 GBP. Lot 349 SoId: 85,250 GBP
NOTE: A fifteenth-century Ming dynasty flask in the National Museum of Indonesia in Jakarta that was found in Bukittingi, West Sumatra possesses an almost identical pattern cf lotus scroils to the upper body and cloudband waves below (see Robert Finlay, The Pilgrim Art, Cultures of Porcelain in World History, p299). A similar flask is also illustrated by S. T. Yeo & Jean Martin in Arts Orientalis, Singapore, South East Asian Ceramics Society and National Museum Singapore, April 1978, no.28. From the thirteenth century onwards the majority of high-quality underglaze cobalt blue porcelain was produced by the Jingdezhen kilns of Jianxi province. At the end of the fourteenth century, the Hongwu emperor (r.1368-98) conducted a mission to Southeast Asia, where he arrived bearing diplomatic gifts including 13,000 pieces of porcelain. By the beginning of the fifteenth century under theYongle emperor (1403- 25) and then Xuande emperor (1426-35), China became increasingly aware of the demand and requirements of the Muslim world. lslamic glass and metal work forms began to influence the shape and patterns used by the Ming potters. This extremely rare crescent-moon flask derives its shape from the metal kashkul and would have been made for the Islamic market. For a comprehensive discussion on kashkuls see A.S.Melikian-Chirvani, 'From the Royal Boat to the Beggars BowI', in: Islamic Art IV 1990-1991, The lslamic Art Foundation, New York, 1992.
For a discussion on the Indian variant on the kashkul, the pilgrim flask, see Zebrowski 1997, pp.198-205.
Sotheby's. Arts of the Islamic World. London 5 october 2011 www.sothebys.com