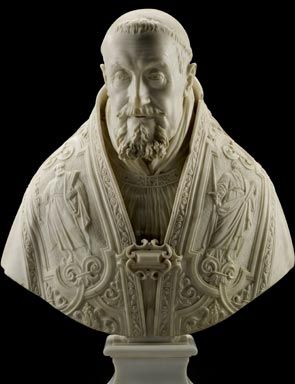 Gian Lorenzo Bernini (Italian, 1598-1680), Pope Gregory XV, 1621. Marble, 83.2 x 62.3 cm w/marble base. Gift of Joey and Toby Tanenbaum, 1997
TORONTO, ON.-
The
Art Gallery of Ontario
(AGO) celebrates the long-standing patronage of Joey and Toby Tanenbaum with an exhibition comprising highlights from the masterworks the couple has donated to the gallery over almost four decades. Featuring 28 Old Master paintings and five sculptures, From Renaissance to Rodin: Celebrating the Tanenbaum Gift is currently on view in the Walter C. Laidlaw and E.R Wood Galleries and Walker Court.
"The AGO is fortunate to have been the beneficiary of the Tanenbaums' generosity over the years, and to be entrusted as the custodian of such an extraordinary collection of works,"
said Matthew Teitelbaum, the Michael and Sonja Koerner Director, and CEO.
"Joey and Toby's ongoing support of their hometown art museum and the spirit that drives their love of art have had a considerable effect in guiding the shape and scope of the Gallery."
The Tanenbaums' love of rich imagery and visual depth, high drama and narrative tone is evident in the works of the exhibition. Spanning from the 15th to the 20th century, paintings by artists including Jan Victors, Artus Wolfort, Luca Giordano, Antoine Coypel, Jean-Baptiste Jouvenet and Thomas Lawrence capture mainly Classical and biblical themes.
Of the sculptures on display, Bernini's late Renaissance masterwork Pope Gregory XV is of particular note. Residing in the Walter C. Laidlaw Gallery, its wry characterization of the elderly subject earned the sculptor a knighthood from the Pope. Also featured are two Rodin sculptures (Eustache de Saint-Pierre and Andrieux d'Andres Vetu), beckoning visitors towards the exhibition from beneath the feature staircase in Walker Court.
Joey Tanenbaum's passion for collecting art was inspired by an encounter with Rodin's Adam at the AGO when he was eight years old. An ever-evolving collector, his interests have spanned global traditions and styles including African, 19th century European, and pre-Columbian art.
"
Seeing one of the most prestigious collections of art by the great masters, which we gifted to the AGO over a period of 40 years, being exhibited for the first time in two of the AGO's largest galleries, is truly a momentous occasion for us,"
said Joey Tanenbaum.
"Knowing that these unique works of art will give pleasure to generations of Canadians justifies our decision to give back to our beloved country a token of our appreciation for the freedom Canada has given to all who have arrived here as immigrants, just like my beloved grandfather who escaped from Poland with my grandmother in 1911 with only $8 in his pocket."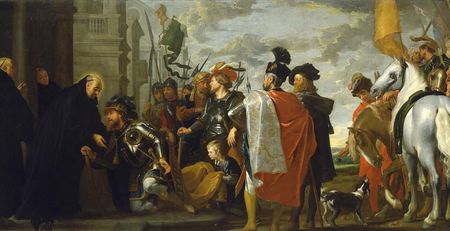 Gaspar de Crayer (Flemish, 1584-1669), Saint Benedict receiving Totila, King of the Ostrogoths, 1633. Oil on canvas, 274.5 x 544.0 cm. Gift of Joey and Toby Tanenbaum, 1995.