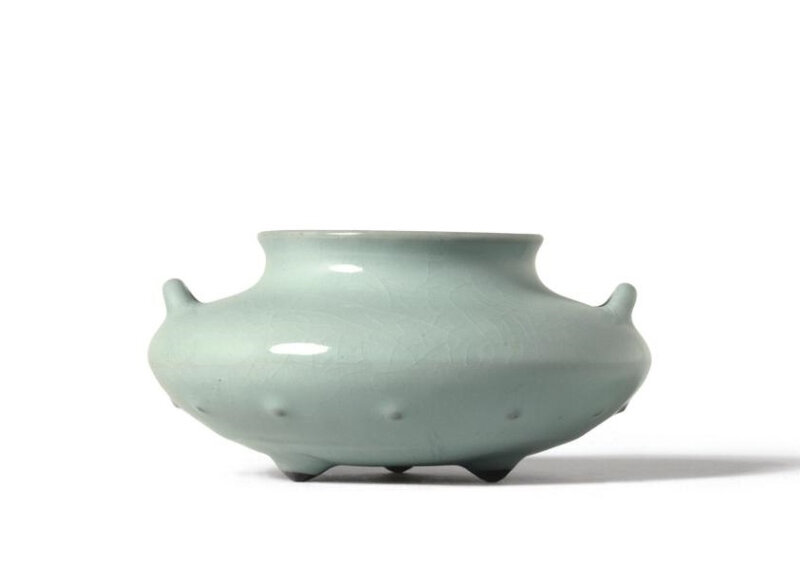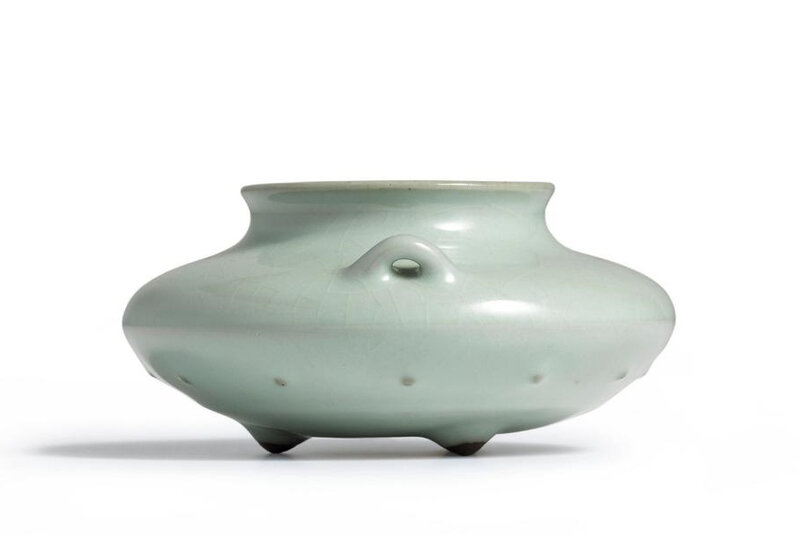 Lot 5. A Fine Guan-Type Censer, Seal Mark and Period of Qianlong (1736-1795); 7.6 cm., 3 in. Estimate 1800,000-2,500,000 HKD. Lot Sold: 6,020,000 HKD. Photo Sotheby's
the compressed giobular body fianked by a pair of plain upright Ioop handies on the shouider, rising to a waisted neck and an everted mouthrim, the iower part of the body decorated with a row of bosses covered overali in an even greyish-green glaze with a fine network of crackies, ail raised on three short pointed unglazed feet dressed in dark brown, the slightly concave centre of the base inscribed with a six-character undergiaze-blue reign mark
Literature: Regina Krahl, Chinese Ceramics from the Meiyintang Collection, London, 1994-2010, vol. 2, no. 872.
Note: Although the crackled glaze and brown dressing ofthe white porcelain body, visible at the rim, bosses and feet, are aimed at evoking Song dynasty prototypes, this shape, which is often referred to as yu bu ('fish basket), does not have any Song dynasty models, and appears to have been developed in the Yongzheng reign.
Two censers of this form with a crackled guan-type glaze and of Qianlong mark and period are in the Zande Lou Collection, tormed by J.M. Hu, and were included in the exhibition Qing Imperial Monochromes. The Zande Lou Collection, Art Museum, The Chinese University of Hong Kong, Hong Kong, 2005, cat. no. 31; two others from the J.M. Hu collection, of different sizes, were sold in our New York rooms, 4th June 1985, lots 60 and 61. Another crackle-glazed Qianlong censer of this form, described as imitating 'Ru' ware and called hua nang (flower purse), is illustrated in Geng Baochang, Ming Qing ciqijianding [Appraisal of Ming and Qing porcelain], Hong Kong, 1993, fig. 456, with a line drawing of the form, p. 265, fig. 452: 4, where the author states, p. 267, that in the Yongzheng period this shape often had a ring foot, that in the Qianlong period it was also made with sky-blue glaze, and that copies of the Republican period have a thick body and glaze and are comparatively coarse.
A censer of this form of Yongzheng mark and period with a teadust-brown glaze is illustrated in Geng Baochang, ed., Gugong Bowuyuan cang Qingdai yuyao ciqi [Porcelains from the Qing dynasty imperial kilns in the Palace Museum collection], Beijing, 2005, vol. 1, part 2, pI. 13.

Sotheby's. The Meiyintang Collection, Part II - An Important Selection of Chinese Porcelains. Hong Kong, 5 october 2011