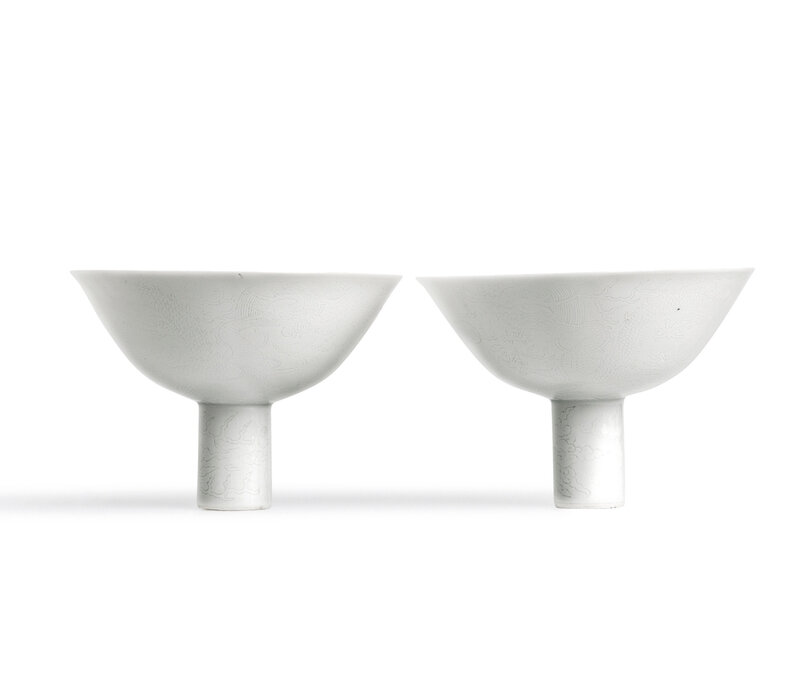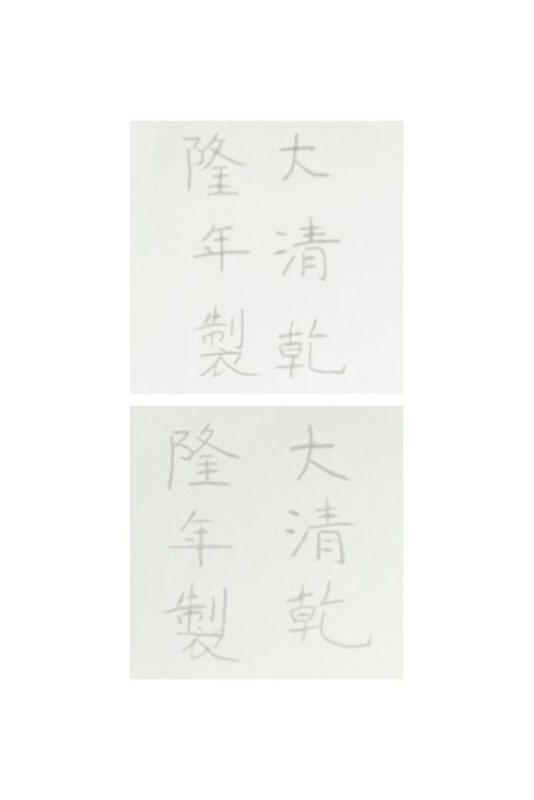 A Pair of White Dragon- Incised Stem Bowls. Incised Marks and Period of Qianlong. Estimate 1,000,000-1,500,000 HKD - Unsold.Photo Sotheby's
each with deep rounded sides beiow a slightiy fiared rim, the exterior of the delicateiy potted sides fineiy incised with a pair of confronting dragons in pursuit of a 'flaming peari' amidst scattered clouds and flames above stylised waves crashing against rocks, supported by a tait, columnar stem further incised with ciouds and fiames, the centre of the interior incised with a six-character reign mark within a double ring, ail beneath a transparent green-tinged glaze, stands.
PROVENANCE: Bluett & Sons, London (label).
Collection of Dr. Cari Kempe (1884-1967) (no. 754).
Eskenazi Ltd., London, 2001.
LITERATU RE: Bo Gyllensvârd, Chinese Ceramics in the Carl Kempe Collection, Stockholm, 1964, no. 754, with a une drawing of the design, p. 230.
Regina Krahl, Chinese Ceramics from the Meiyintang Collection, London, 1994-2010, vol. 4, no. 1782.
NOTE: Qianlong white stem bowls with engraved lotus scroils and with a wider stem can be found in many public and private collections, but the present type, with slender stems and engraved dragons is very rare. A pair of similar stem bowls in the Raymond Oppenheim collection was sold in our London rooms, 1 st July 1969, lot 183; for another pair see Christies London, 26th November 1974, lot 221.
Sotheby's. The Meiyintang Collection, Part II - An Important Selection of Chinese Porcelains. Hong Kong 5 october 2011 www.sothebys.com