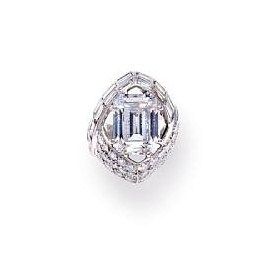 A diamond ring, Sterlé, French, circa 1950. Photo Bonhams
centering a rectangular-cut diamond, weighing 7.29 carats, within a cross-over bombé mounting of pavé-set round brilliant and baguette-cut diamonds, completed by a shank textured with rope-twist design; signed Sterlé Paris, no. 9072; remaining diamonds weighing approximately: 3.30 carats total; mounted in platinum; size 3 1/2 - Estimate: US$50,000 - 70,000
A pair of diamond earclips, Sterlé, circa 1950. Photo Bonhams
each designed as a ribbon-like "X" with three rows of channel-set baguette-cut diamonds; signed Sterlé Paris, no. 4658; estimated total diamond weight: 5.75 carats; mounted in platinum; width: 1in. (two small diamonds deficient) - Estimate: US$15,000 - 20,000
Note: Ila Franco, daughter of Ila Rhodes founded AILA, International Alliance for the Animals, in 1999. Her mother, Ila Rhodes, was a Hollywood actress and was once engaged to then actor and future U.S. President, Ronald Reagan. They co-starred together in "Murder Plane" and "Secret Service of the Air." Ultimately, she moved to Brazil, where she married a Brazilian industrialist.

International Alliance for the Animals is a non-profit organization. It is a shelter for mistreated and abandoned animals and has a countrywide educational program to prevent animal cruelty and raise awareness regarding animal rights. AILA is famous for pioneering animal healthcare mobile units, which tour the country providing free care to animals and lectures to Brazil's favela population.

PIERRE STERLÉ.
In 1905 Pierre Sterlé was born into a family of French financiers. His father perished during World War I, leaving his uncle, a jeweler at Rue de Castiglione, as a paternal figure. These turn of events and living in the environment of creativity helped forge his career path. Initially he worked for other jewelry houses such as Boucheron, Chaumet, Kirby, Ostertag and Puifocat, before opening his studio in 1934, on the Rue Sainte-Anne. Five years later, he had begun to accept commissions from private clientele. By 1945, Sterlé was considered an exclusive jeweler. Adamant about not displaying his work in a shop window, he moved to the third floor at the Avenue de l'Opera, near the Place Vendome to better serve his
well heeled patrons.

His themes focused on birds, wings, feathers, animals and flowers along with asymmetrical and baroque designs, all set with precious and semiprecious stones. He was a master of capturing movement in his designs and utilizing color and high quality gems. In 1957, he invented "angel wire," a gold thread weaved and knotted, finished at the end of each section with a "powder" of diamonds. In the 1960s, his wife became ill, his son died in a tragic car accident and his business was failing. The combination of these unfortunate events led him to sell to the house of Chaumet. They retained him as a "technical consultant." He died in 1978.

Although Sterle's life maps out a path of creativity burdened by sorrow and punctuated with personal, professional and financial obstacles - he was successful. In 1953, he was recognized by his peers and received the DeBeers Diamond Award. The next two years, he was honored again - receiving the same award. It is from this period that the earclips and ring were designed.
Bonhams. Fine Jewelry, 19 Oct 2011. New York, California, Los Angeles and California, San Francisco
www.bonhams.com