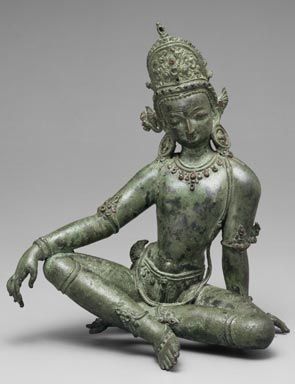 Seated Indra, ca. 13th century. Bronze set with semi-precious stones, Nepalese. Height: 9 1/2 in. Eugene Fuller Memorial Collection, Seattle Art Museum. Photo: Paul Macapia.
SEATTLE, WA.-
Fresh from a celebrated tour throughout Japan, Luminous: The Art of Asia will showcase the jewels of
Seattle Art Museum's
(SAM) Asian collections, featuring 160 of the museum's masterpieces including paintings, screens, sculpture, ceramics, stone, wood, lacquer and metal ware. All objects come from the Seattle Art Museum, home to one of the finest collections of Asian art in North America. The exhibition opens on October 13, 2011, marking the first time these objects have been assembled in a major exhibition at SAM Downtown.
Invited to provide a contemporary response to the historical material, internationally recognized artist Do Ho Suh (born 1962) has created a new multimedia installation for the exhibition. In addition, his observations pepper the text panels throughout the show, offering insight, adding perspective and provoking further questions. Born in Korea and presently living in New York and London, Suh is the creator of SAM's famed "dog-tag" sculpture Some/One (2001), currently installed on the third floor of SAM Downtown. Over the past year Suh and SAM have engaged in a dialogue on such topics such as eastern philosophy, East Asian painting, the contemporary art scene, and art museum practices.
The origins of SAM's Asian art collection date back to the museum's founding in 1933. Inspired and educated by travel to Asia with his mother, SAM's founding director Dr. Richard E. Fuller had a deep knowledge and passion for Asian art. Many of the works he collected, including Crows (ca. 1650), a pair of six-paneled Japanese screens, (purchased not long after the museum's 1933 opening), became the core of the museum's founding collection and are still beloved by visitors. Today, the majority of the museum's Asian art holdings of more than 7,000 works are exhibited on rotation at SAM's original home in Volunteer Park, which, since 1994, has been known as the Seattle Asian Art Museum. Last year, a selection of highlights, including approximately 50 works included in Luminous: The Art of Asia, traveled throughout Japan, where they were enthusiastically received from Tokyo to Fukuoka.
Curated by Japanese art historian Catherine Roche, the objects in Luminous range from 1,500 year-old Buddhist fragments, dazzling golden screens and bold ink paintings to rich Tibetan mandalas, sumptuous Japanese kimonos and gossamer Korean bojagi. A small selection of the museum's newest acquisitions in contemporary Asian painting, ceramics and photography will also be on view. In addition, the show will open an animated dialogue about art and Asia, beauty and vitality through excerpts of conversations with Do Ho Suh.
"What I'm interested in is the common thread that links me to, say, a three-thousand-year-old object. It was beautiful then and it is beautiful now. Can beauty be absolutely free from time, space, and context?"
said Do Ho Suh in a conversation with Roche about the exhibition.
Suh's reflections will also shed light on the challenging aspects of museum practice: "
The museum is a space of displacement. Every object in a museum has been moved from its original context and placed on a pedestal. It is all flattened out. A tenth-century Buddhist statue sits next to a Joseon dynasty ceramic bowl. While it is not possible to give the entire context of the pieces, it is time to rethink how we see these objects, how the pieces are put together to tell an overall story."
Luminous also features a gallery devoted to the practice of art conservation, detailing the technical study and conservation treatment of three objects from SAM's Asian collection. A 4' tall Japanese statue from the 14th century, a 6' tall seated Chinese Buddhist icon from between the 10th and 13th centuries and a small Indian bronze Buddha are presented, along with videos, images and information about new research on each piece. In preparation for Luminous, these three objects, and many other works in the show, received significant study and treatment from SAM's conservation team and from expert consultants including eminent conservation scientist, Dr. John Twilley. All treatments of pieces in the Luminous exhibition were completed under the direction of SAM's conservators, Nicholas Dorman and Liz Brown.
In the case of the Japanese figure, X-ray computed tomography movies of the object will be presented. In this technique, objects are X-rayed while moving through a scanning device to produce thousands of "slices" of the piece. These "slices" are assembled by the computer to provide a fascinating glimpse of the interior of the sculpture. Conservators use techniques like this to learn about the preservation state and the history of particular works of art. Here, for the first time, visitors will also view the hollow center of the sculpture, glass eyes, wood decay, insect channels, the original artist techniques and old restorations. The tomography was completed in partnership with the University of Washington Medical Center and Harborview Medical Center.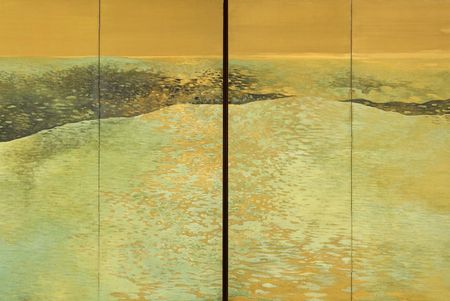 Tsuji Kako, Japanese, (1870-1931). Green Waves, ca.1910. Ink and colors on pinkish-beige toned silk. 67 7/8 x 109 1/2 in. Gift of Griffith and Patricia Way, in honor of the 75th Anniversary of the Seattle Art Museum