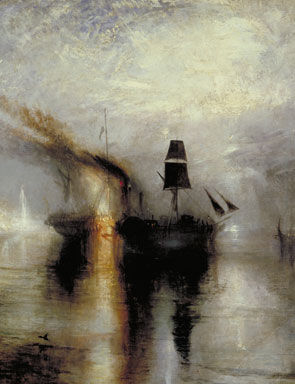 J. M. W. Turner, Peace Burial at Sea
ADELAIDE.-
The Hon Mike Rann MP announced that the
Art Gallery of South Australia
will host a significant exhibition of the work of iconic
British artist J. M. W. Turner. The exhibition, scheduled for February 2013, is being jointly curated by Tate and the Art Gallery of South ustralia and includes many of the artist's most familiar oil paintings and watercolours as well as works that have never been previously exhibited.
Turner – the Makings of a Master draws from the finest and most comprehensive collection of the artist's work - the Turner Bequest. There is arguably no greater insight into the working techniques of a great artist than this unique collection, bequeathed to the people of Britain after Turner's death in 1851 and held by the Tate.
Art Gallery of South Australia Director, Nick Mitzevich said
"This spectacular exhibition reveals why Turner is regarded as one of the greatest landscape painters of all time." "His poetic interpretation of nature was wondrous and revolutionary. His ability to capture the movement, appearance and atmospheric impression of light instilled his paintings with a sensory command that has transcended time and place".
Mr Rann said that
"Turner's work is mesmerizing and so well loved and diverse that this exhibition is bound to be very popular among Australians who would welcome the rare chance to see such an extensive display of his works so intimately." "This exhibition is a real coup for our Gallery and Tate have been extremely generous in the scope and scale of the works of art they are sending to the southern hemisphere, some for the first time ever."
Turner – the Makings of a Master has been organised by Tate, London, in association with Art Exhibitions Australia. The Art Gallery of South Australia acknowledges the South Australian Government for its support through the Major Exhibitions Fund.
Director of the Tate, Sir Nicholas Serota said
"We are delighted to be working with the Art Gallery of South Australia on this exciting project, which will bring many of the very best examples of Turner's work to Australia for the first time and in greater depth than the last Turner show in 1996." "Because Tate is privileged to be the custodian of Turner's own Turners, we can uniquely explore the complete trajectory of his career, whether through his direct observations of the natural world, or the transcendent, light-filled images that continue to inspire artists. Turner made a huge contribution to the history of British painting, and to world art, and this exhibition offers the chance to engage with his development and the processes he used at first hand, especially through the experimental work that only came to light after Turner's death,"
Sir Serota said.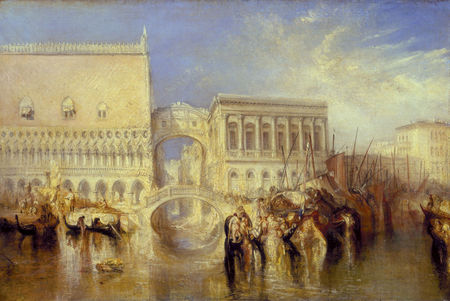 J. M. W. Turner, Venice the Bridge of Sighs.