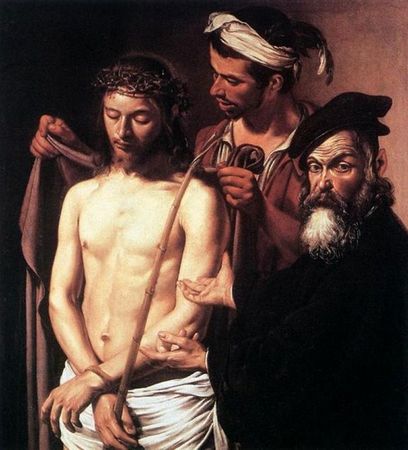 Michelangelo Merisi da Caravaggio, called Caravaggio Italian, 1571 – 1610 Ecce Homo (Behold the Man), around 1605 Oil on canvas 50-3/8 x 40-1/2 inches (128 x 103 cm) Musei di Strada Nuova -- Palazzo Bianco, Genoa © Archivio Fotografico del Centro di Documentazione per la Storia, l'Arte e l'Immagine di Genova
COLUMBUS, OH.-
Michelangelo Merisi da Caravaggio is remembered as much for his unconventional lifestyle as his immeasurable talent. His revolutionary art along with a life of personal excess, punctuated by late night brawls, attempts on his life, and multiple arrests, culminated with a
Papal death warrant that forced him to live as an exile. Tragically, he died while making his way to Rome after receiving news of having been granted a pardon. Although his life ended abruptly at the age of 38, his powerful realism impacted a generation or more of European artists.
This October,
CMA
offers the rare opportunity to view the work of this Italian Baroque master. Ecce Homo (Behold the Man), painted by Caravaggio around 1605, and lent by the Musei di Strada Nuova – Palazzo Bianco, Genoa. This powerful painting is the centerpiece of an exclusive exhibition organized by CMA on view October 21, 2011 – February 5, 2012 .
Underscoring his remarkable influence upon his contemporaries will be ten other paintings—images of saints and sinner alike, lent from the collections of major Ohio museums and one private collection. These are works by artists who emulated Caravaggio's distinctive and dramatically realistic style and they demonstrate the importance of Caravaggism throughout seventeenth-century European painting.
The Columbus Museum of Art joins the City of Columbus in celebrating our great city's Bicentennial with programs and exhibitions throughout 2011 and 2012. Caravaggio: Behold the Man! commemorates the Columbus Bicentennial through the celebration of the sister city relationship between Columbus, Ohio and Genoa, Italy.