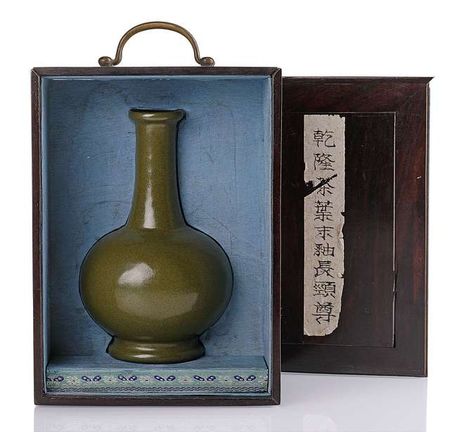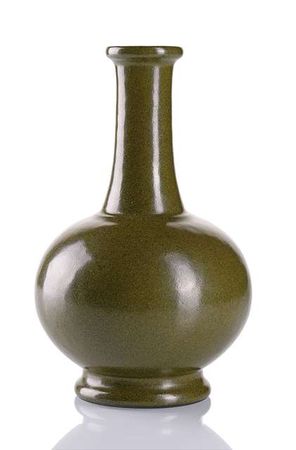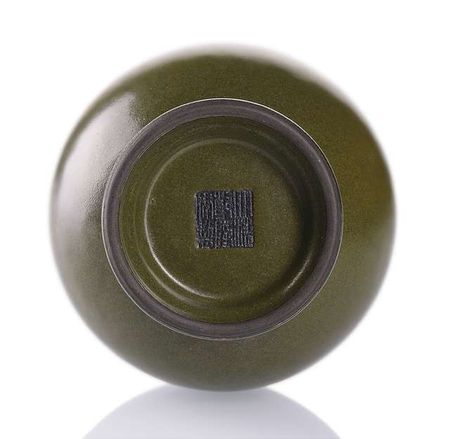 A fine Teadust-Glazed bottle vase. Qianlong impressed six-character sealmark and of the period. photo Nagel Auctions
The vase formed with a globular body rising to a tall cylindrical neck and terminating in a shallow cup-shaped rim, supported on a stepped foot, applied overall with a lustrous olive-green glaze with yellow speckles. Inscribed wood box
A similar example is in the Koger Collection, illustrated by J. Ayers, Chinese Ceramics: The Koger Collection, p. 164, no. 135; where the author cites that the darker glaze is typical of the later Qianlong period.
Compare also with a vase from the Goldschmidt Collection, sold at Christie's Hong Kong, 13 November 1990, lot 64; and an example of similar size illustrated by R. Krahl, Chinese Ceramics in the Meiyintang Collection, vol. 2, London, 1994, p. 256, no. 935.
As with the present vase, all of the cited examples have a gentle ridge at the base of the cylindrical neck, probably as an attempt to disguise the luting line when the vase was potted.
H. 19,6 cm. Estimate 40 000 / 60 000 €
Nagel Auctions. Asian Art. November 3rd 2011. www.auction.de