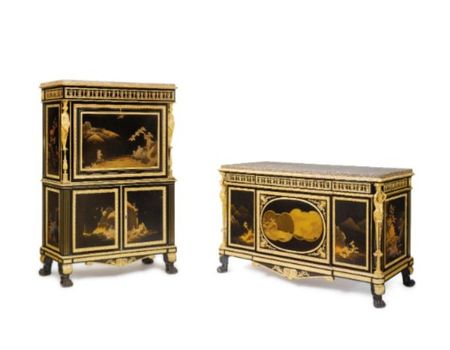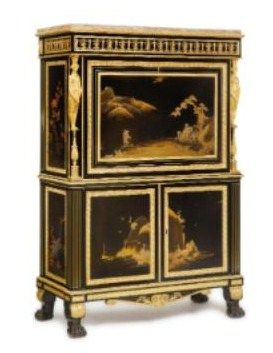 A highly important late Louis XVI ormolu-mounted japanese black and gilt lacquer and ebony commode à vantaux and secrétaire à abattant en suite. Late 18th century attributed to Adam Weisweiler and Pierre-Philippe Thomire, possibly under the direction of Martin-Eloi Lignereux. Photo Sotheby's
the commode à vantaux with rectangular Egyptian granito rosso top surrounded by an ormolu border cast with gadroons and flowers upon a slightly breakfront frieze fitted with three drawers and mounted all around with ormolu anthemia and palmettes, the front with central cupboard door inset with a pair of ormolu-framed stylized uchiwa fans depicting pavillions and floral sprays on a roiro ground, the side doors inset with ormolu-framed rectangular seventeenth-century takamakie, hiramakie, and kirigane lacquer on a roiro ground depicting landscapes, the angles mounted with putto herms holding baskets of grapes and terminating in part-patinated and fluted ormolu supports mounted with flowers and raised on trumpet-form socles cast with leaves, the sides inset with ormolu-framed seventeenth-century Japanese lacquer panels depicting buildings in landscapes, the conforming plinth with rounded angles and shaped apron mounted with ormolu rosettes, foliage and shell motifs, raised upon ormolu-mounted patinated bronze paw feet; the granite top with stenciled inventory number 1101, inscription in black paint Bk Morning Room Hartmann, inscribed in black pencil lot 176, 176, 327, ... Room and in blue pencil 24;

the secrétaire à abattant with rectangular breccia marble top framed by an ormolu border cast with gadroons and flowers, the frieze fitted with one long drawer and mounted all around with ormolu anthemia and palmettes, the fall-front inset with an ormolu-framed seventeenth-century Japanese lacquer panel depicting figures in a landscape in aogai and inlaid with a leather writing surface on reverse, the interior fitted with two shelves above six small drawers flanking a central compartment which can be removed to reveal two secret drawers, the angles mounted with an ormolu maiden on each side surmounted by capitals cast with palmettes and supported by balusters decorated with acanthus, the lower section with cupboard doors inset with seventeenth-century Japanese lacquer panels framed by ormolu bands and depicting mountainous landscapes, the lower interior fitted with one shelf and a coffre-fort, the sides inset with ormolu-framed rectangular seventeenth-century lacquer panels decorated in takamakie, hiramakie, and kirigane on a roiro ground, the four lower corners and the back upper corners with fluted and brass-inlaid pilasters, the plinth with shaped apron mounted with ormolu rosettes, foliage and shell motifs, raised on ormolu-mounted patinated bronze paw feet; the marble top with stenciled inventory number 1105, inscription in black paint Morning Rm Secretaire Hartmann and with writing in red pencil 1st Portion.
height of commode 38 1/2 in.; width of commode 5 ft. 5 in.; depth of commode 27 1/2 in.; height of secrétaire 4 ft. 7 1/4 in.; width of secrétaire 36 1/2 in.; depth of secrétaire 17 1/4 in. 98 cm; 165.5 cm; 70 cm; 140.5 cm; 93 cm; 44 cm. Estimate 5,000,000-7,000,000 USD - Lot Sold: 6,914,500 USD
PROVENANCE: Possibly ordered by Tsar Paul I (1754-1801) for Mikhailovsky Palace, St. Petersburg, but never delivered Alexander, 10th Duke of Hamilton, 7th Duke of Brandon (1767-1852) who acquired the two pieces prior to 1825, Hamilton Palace, Lancashire
William, 11th Duke of Hamilton (1811-1863)
William, 12th Duke of Hamilton (1845-1895), Hamilton Palace, sold in the Hamilton Palace Sale, Christie's London, June 17-19, 1882, lots 176 (the commode) and 177 (the secrétaire)
- the commode (lot 176) purchased by Samuel Wertheimer, dealer, for £598 10s
- the secrétaire (lot 177) purchased for £630 at the sale by W. King, dealer, probably acting on behalf of Christopher Beckett Denison Subsequently sold from the the collection of Christopher Beckett Denison, Christie's London, June 6, 1885, purchased by Samuel Wertheimer
Samuel Wertheimer (who reunited the two pieces)
Edwin Marriott Hodgkins Collection (1860-1932)
Hennessy Collection (by 1913, as recorded by Seymour de Ricci)
Aveline, Paris
Sotheby's New York, The Keck Collection, La Lanterne, Bel Air, California, December 5-6, 1991, lot 55
LITERATURE: Seymour de Ricci, Louis Seize Furniture, 1913, p. 168
Jacques Guérin, La Chinoiserie en Europe, Catalogue of the Exhibition at Musée des Arts Décoratifs, 1911, illustrated pl. 24 (the secrétaire)
Patrice Lemonnier, Weisweiler, 1983, illustrated pp. 60-61 and p. 175, no 27 and p. 180, no. 82
Pierre Kjellberg, Le Mobilier Français du XVIIIe Siècle, Paris, 2002, p. 908 (the secrétaire)
C. Huchet de Quenetain, Les styles Consulat & Empire, Paris, 2005, p. 148
NOTE: While the French Revolution had removed the aristocratic or bourgeois clientele for such furniture, the Revolutionary wars drove away the foreign buyers. It was not until the signing of the peace with Spain in 1795, that foreign buyers returned in force. The Spanish King Charles IV received numerous diplomatic gifts especially in Sèvres porcelain from the French government. Manuel Godoy, the newly created Prince de la Paix, furnished his numerous residences in great splendour. Other buyers included the duchesse d' Osuna and Maria Pilar Teresa Cayetana de Silva Alvarez de Toledo, duchess of Alba for Piedrahita, the Palace of Buenavista and the pavillion of Moncloa. The ornemaniste Jean Démosthène Dugourc played an important part in these new decorative schemes.
A second possibility is that the commode and secretaire were part of a large order by the Tsar Paul I of Russia (1754 -1801) as part of the furnishings of the Mikhailovsky Palace in St. Petersburg, constructed between 1797 and 1801 by the architect Vincenzo Brenna. Numerous orders were placed with the St. Petersburg dealers such as Labenski or Guillaume Culot and through French intermediaries such as Laguesse who supplied large quantities of girandoles, objets d'art, clocks and furniture. Some of these pieces such as the clock decorated with children ordered by Louis XVI when he was Dauphin (now at Tsarskoe Selo) were second-hand, others already in stock with the Paris dealers. One should also consider the celebrated English collector William Beckford (1760 - 1844) as a possible provenance for this commode and secretaire. This is tempting given his taste for Japanese lacquer and the fact that so many of the great pieces in the Hamilton Palace sale belonged previously to him. However, they do not figure in the 1823 Fonthill sale and there is no record of where the Duke of Hamilton, his son-in-law, obtained them. The possibility exists that they could have passed into the Hamilton Palace collection through Beckford's daughter, possibly following his death in 1844.
Beckford was known to have been buying in person in Paris in the early 1790's and later through his agents. In 1797 he started negotiations through his Paris agent to purchase the famous lacquer collection of the duc de Bouillon which he finally acquired in 1801. He is known to have worked with an ébéniste who he referred to as Vinculaire (Weisweiler) and Auguste for his ormolu mounts. In 1793 he ordered a secretaire from Piat Joseph Sauvage for 17,000 livres, designed by the architect Raymond.Patrice Lemonnier has suggested a date of circa 1789/90 for this commode and secrétaire (Patrice Lemonnier, Weisweiler, 1983, p. 56), signaling the birth of the Directoire style. Indeed this basic form of three door commode, its, 1983, p. 56), si angles decorated with caryatids, is very much a Weisweiler leitmotiv, the few exceptions including the pair of commodes by Beneman delivered in 1787 of Madame Thierry de Ville d'Avray, wife of Commissaire général of the Garde-Meuble (see Ibid., p.129).
Two very similar three-drawer commodes, each with Japanese lacquer panels, the angles with mounts in the form of boys as on this commode, dating from circa 1790 and stamped by Weisweiler, are in The Metropolitan Museum of Art, New York, (F.J.B. Watson, The Wrightsman Collection, Vol. I, 1966, no. 88, pp.133-138) and Kansas City Museum, Kansas City (Lemonnier, op. cit., p. 119). The Metropolitan Museum commode, together with two secretaires à abbatant (one stamped Weisweiler) (F.J.B. Watson, op cit., no's 106 A, B, p. 191 - 194) were exhibited by Martin Eloi Lignereux in Frankfurt at the time of the coronation of Emperor Leopold II of Austria. The commode and one of the secretaires was purchased on 20 September 1790 by Ferdinand IV of Naples and his wife Marie Caroline, Marie-Antoinette's sister.
These same figures of boys appear on an ormolu lantern in the Mobilier National delivered by Daguerre in 1784 for the château de Compiègne at a cost of 9,750 livres. Pierre Verlet suggested that this model belonged to Daguerre, who used a number of bronziers to cast it. The gilding of the aforementioned lantern was executed by François Rémond and is noted in his Journal for 2-VII-1784 (Pierre Verlet, Les Bronzes Dorés Français du XVIIIe Siècle, 1987,Journal for 2-VII-1784 (Pierre Verlet, pp. 318-319).
This commode and secrétaire belong to a select group discussed by Jean-Pierre Samoyault in Mobilier Français Consulat et Empire, 2009, pp. 31-33. This includes two sets, each with commode and secrétaire en suite, in the Hermitage Museum, St. Petersburg and the Spanish Royal Palaces of Aranjuez and El Pardo (ibid., pp. 31 and 32 respectively). These combine the same essential Louis XVI form with the greco-roman inspired design elements most clearly represented by the triangular base frieze and lion paw feet. Samoyault has suggested that this group, although unsigned, is the product of a collaboration between Weisweiler and Pierre-Philippe Thomire, possibly under the direction of Martin-Eloi Lignereux, the marchand-mercier who had succeeded Daguerre. A related Sèvres porcelainmounted commode and secretaire, in the Hermitage and at Pavlovsk respectively, (illustrated Samoyault, op. cit., p.33 and 34) were purchased by Paul I, Tsar of Russia (1754 - 1801) from the French dealer Laguesse. These were part of a group originally ordered by the dealer Jean-Louis Collignon and sold by him to Laguesse on 27 March 1799 for 20,000 livres. This group included a commode with secretaire en suite (Samoyault, op. cit., p. 30, fig. 37) in the Hermitage by Dehm and Feuchère as well as pieces by Benneman and Dubois. The Sèvres-porcelain mounted commode and secretaire can be securely dated, the plaques having been sold by the Sèvres manufactory to Feuchère on 22 June 1797. Tsar Paul I's furniture orders in Paris were halted by his assassination in 1801. In all likelihood the Safra commode and secretaire were made around 1795, their design placing them between Ferdinand IV's commode purchased in 1790 and the Sevrès porcelain-mounted commode and secretaire discussed above, the plaques for which were supplied in 1797. Although Paul I's Russian purchases have shown that there were a number of ébénistes working in this modern style, the most likely maker is Adam Weisweiler, the superb ormolu mounts provided by Pierre-Philippe Thomire using models and Japanese lacquer panels provided by the marchand -mercier Martin-Eloi Lignereux.
The commode and secretaire at Hamilton Palace
This commode and secrétaire appear in the inventory of Hamilton Palace as early as 1825, when they were recorded in "An Inventory of Furniture in Hamilton Palace Taken 1st January and Copied 1st March 1825:
State Bed Room (p. 32)
A rich French Commode of black and Gold japan
ornamented with bronze, a bureau to match the
Commode. £600 12s. 6d."
They appear again in "An Inventory of Furniture Pictures & ca In Hamilton Palace & ca Taken in February 1835, and continued down to Novemr. [sic] 1840:
State Bedroom (p. 167)
A Japan Cabinet ornamented with Gilt
Bronze and top of Porphery [sic] £300 8s.
A Bureau to match the said Cabinet top
of Marble £200 8s".
Subsequently, a new wing was added to Hamilton Palace which incorporated a new State Bedroom. These pieces remained in what then became known as the 'Old State Bedroom,' and were listed again in "An Inventory of the Furniture Pictures Articles of Vertu &c. &c. &c. at Hamilton Palace 1876:
Old State Bed Room (p. 95)
A Cabinet Japan Lac with raised figures and
foliage, mounted in very fine gilt
Metal work, female figures supported
the upper portion, on which is a rare
Marble Slab. 3 ft by 1 ft 5 in.
Height 4 ft 8 in.
A commode ditto ... Top a Granite
Slab 4 ft by 2 ft 2 in. Height 3 ft 2 in."
The State Bedroom would have been reserved for the use of Royal and other highly distinguished visitors, indicating that these pieces were highly thought of and prized.
Hamilton Palace
When Alexander Douglas-Hamilton, 10th Duke of Hamilton, inherited Hamilton Palace in 1819, it had already been extensively added to and altered between 1684 and 1701 under the direction of the architect James Smith. In 1730, the 5th Duke of Hamilton (1703-43) commissioned William Adam to do a survey of the palace and to suggest improvements, while he was busy designing the palace's dog kennels named Châtelherault, after the French Dukedom which the Hamiltons still claimed. Adam's engravings of the palace, although never executed, eventually were published in his Vitruvius Scoticus, printed in 1812.
In 1819 the 10th Duke commissioned Francesco Saponieri to supply new designs of the north front of Hamilton Palace. In 1822, David Hamilton, a local architect, became the Duke's principal architect and builder taking Saponieri's stoic Italian neoclassical design and amalgamating it with Adam's Scottish baroque façade to create something monumental, albeit neither purely of one style or the other.
By the late 1820s, the Duke's architectural and design tastes had changed from the love of the Italian neoclassical style in favor of the French Empire style. He moved from the Palazzo Pallavinci-Rospigliosi in Rome to the hotel d'Alberg in Paris. In 1827, he commissioned Charles Percier to supply interior designs for seven of the principal public rooms in the palace including drawings for the principal staircase, staircase hall, entrance hall, billiard room, library, dining room and the Tribune. Percier's entrance hall was designed as a monument to the Hamiltons with its vast size 42-foot ceiling and individual niches/positions for artwork, statuary and heraldic devices which glorified and lauded the Hamilton family heroes. The Tribune, which connected the dining room to the picture gallery, was more conventionally neoclassical with grotesques to the ceiling akin to Percier and Fontaine's Recueil de Décorations Intérieures . However, none of Percier's interiors were to be executed as the Duke was ultimately persuaded by hisarchitect David Hamilton to opt for a more simplified solution. By 1831, the decorator and designer Robert Hume, one of the Duke's agents whom he had acquired from his father-in-law William Beckford, had filled the role as interiordesigner, discarding Percier's designs and creating his own brand of a 'Louis' style interior.
The 10th Guke of Hamilton
Alexander Douglas-Hamilton became the 10th Duke of Hamilton and 7th Duke of Brandon (1767-1852) at the death of his father, the 9th Duke, in 1819. He also claimed the French title of Duke of Châtelherault as well as a rather farfetched but legitimate claim to the Scottish throne. In the early 1800s, he shared an enthusiasm for the Napoleonic ideal and its architecture with Luigi Canonica, an art agent and an architect. By 1806 he was sent as ambassador to the court of St. Petersburg, coming into contact with another Italian architect, Giacomo Quarenghi, who designed a Riding School and Turkish Kiosk for Hamilton in 1810, which were never executed. His marriage to Susan Euphemia Beckford, daughter of William Beckford in 1810, put him in contact with some of Beckford's agents, such as Robert Hume, who eventually became the chief interior designer of Hamilton Palace and Franchi, who bought art for the Duke in France during the 1820s and 1830s.
In many ways, Hamilton's enthusiasm for Napoleonic Imperialism echoed his Royal and aristocratic pretensions, driving his voracious collecting and shaping the designs for his palace. His request of Jacques-Louis David in 1811 to paint a full-length portrait of Napoleon I is unconventional if not rather controversial especially as it was during the height of Britain's intense fighting against Imperial forces in the peninsular war. The painting cost upwards of 25,000 francs, of which he only paid 18,650 francs or £1,050, much to the painter's frustration. Hamilton placed the portrait in the dining room together with various portraits including two of other monarchs: Charles I of England after Van Dyck, and Philip IV of Spain by Velázquez, both of whom amassed the two greatest art collections of the 17th century.
Hamilton's patronage of Charles Percier of Percier and Fontaine, Napoleon's chief architects, in 1827 followed Hamilton's program of creating his own Imperial residence at Hamilton Palace. He furnished the palace with great artwork taken from Italian palazzos such as the Palazzo Braschi, as well as from French collections specifically collecting furniture and bronzes with Royal provenance. In 1843 his son married Princess Marie of Baden, who was the grand-daughter or Empress Josephine, and cousin to Napoleon III.
David Wilkie may have described the 10th Duke's view of himself saying that the Duke 'in his own person, represents the noblesse of three great kingdoms – the generous chivalry of France, the baronial aristocracy of England, and the chieftans and thanes of our ancient kingdom [Scotland]: the first of our peers, the first of our cognoscenti; and in his palace possessing the first gallery of art our country can boast of.'
Sotheby's. Property from the Collections of Lily & Edmond J. Safra -Volumes I-VI. New York, 18 Oct 2011 www.sothebys.com