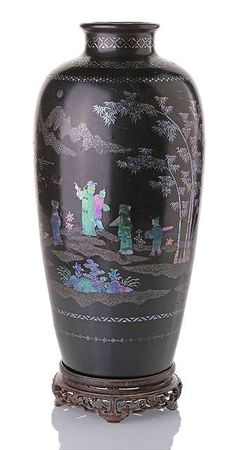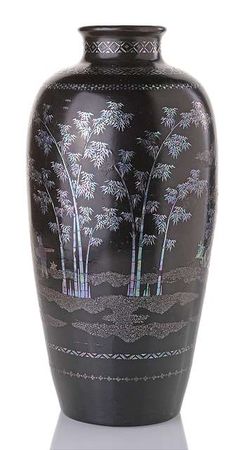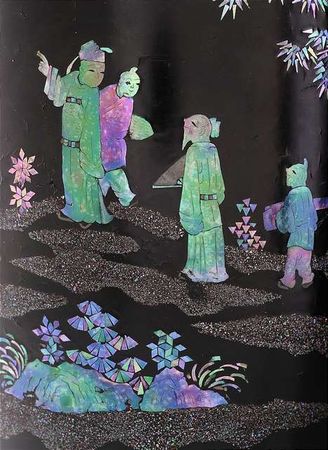 An extremely rare black lacquer mother-of-pearl-inlaid meiping porcelain vase, 18th century. photo Nagel Auctions
The black lacquer ground of the large meiping vase has been decorated with a detailed and finely executed mother-of-pearl inlaid landscape with trees, a bamboo grove and scholars with their servants on the shore of a lake with mountains in the background. The décor has been inlaid, or sprinkled for the ground parts and the distant mountains and clouds, with larger, tiny and powder-like pieces of thin mother-of-pearl from the haliotis sea snail (abalone). Bands with geometric motifs frame the landscape scene and adorn the shoulder and neck of the Vase. To the vase are still existing the finely carved Zitan wood stand and the original Chinese wooden box
Property from an old Japanese private collection
This style of lacquer decoration with detailed landscape scenes with figures, mainly a meeting of scholars with servants, in mother-of-pearl on porcelain is very rare and seems to have come to some degree popular in the latter part of the Kangxi reign, but is still very rare since the application of the lacquer to the surface of the porcelain requires great skill and would have added considerably to the original manufacture cost of the object. It is also rather fragile, and of the few examples of this type made, even fewer have survived into the present day. The custom to use relatively thick and whitish mother-of-pearl inlays from shells of different marine sea snails and mussels in lacquer objects with a wooden or rarely metal core, so-called luodian lacquer, was since the Tang dynasty (AD 618-907) particularly associated with luxury items such as mirrors, sutra boxes, and musical instruments.
During the Song dynasty a new style of mother-of-pearl inlay was adopted, which moved away from the use of the large and thick pieces of shell and employed tiny, thin pieces from the inner layer of the shell of the haliotis (abalone) sea snail which is thinner and more iridescently colourful than the Tang mother-of-pearl inlays. This technique employing this more delicate style of inlay is usually referred to in the West with the French word as "laque burgauté" and was well established by the Yuan dynasty, and it was this type of fine mother-of-pearl inlay that remained the most admired by connoisseurs of the Ming and Qing dynasties. It was, however, usually applied to a base made of wood, or other organic material and only very occasionally to ceramics.
It was under the reign of the Kangxi emperor (1662-1722), who was particularly interested in lacquer art as later the Qianlong emperor too, that there was renewed interest in the lacquering of porcelain continued during the following reigns of the Yongzheng (1723-1735) and especially the Qianlong emperor (1736-1795). However, only a very small number of these porcelain vessels decorated with lacquer as the present meiping vase have survived
Compare: A small jar decorated with mother-of-pearl inlays in the collection of the Gemeentemuseum in the Hague is illustrated by M. Beurdeley and C. Raindre in "Qing Porcelain: Famille verte, Famille rose", London, 1987, p. 65, no. 67
A porcelain rouleau vase decorated with rock, flowers and butterflies in black lacquer and mother-of-pearl inlay in the Metropolitan Museum of Art, dated mid-17th-early 18th century, illustrated by Denise Patry Leidy, "Mother-of-Pearl. A Tradition in Asian Lacquer", The Metropolitan Museum of Art, New York, 2006, p. 43. fig. 32.
Christie's, London, 17.6.2003, lot 66, a porcelain baluster shaped vase, h: 28,4 cm, dated to the 18th C. and with further references
Christie's, Paris, 15.6.2004, lot 110, a tall porcelain pear-shaped bottle with landscape décor, h: 56,5 cm, dated to the 18th C. and with further references
Christie's, New York, 25.3.2010, lot 954, a porcelain brush pot with two scholars standing near a pavilion on the shore, h: 13,5 cm, dated to the Kangxi era and with further references
Apart minor small losses on the sprinkled mother-of-pearl parts of the décor and undertaken minor restorations in the black lacquer ground still, good condition. H. 36 cm. Estimate 50 000 / 80 000 €
Nagel Auctions. Asian Art. November 3rd 2011. www.auction.de