An 18th century South German ivory skull. Estimate £10,000 – 15,000. Photo: Bonhams
LONDON.- On Wednesday 2 November, to coincide with Halloween, Bonhams will hold its first sale dedicated to the Wunderkammer, also known as the 'Kunstkammer' or 'cabinet of curiosities', a collection of fine objects created from the rarest and most exquisite materials and designed to induce excitement and wonder in the viewer.

Comprising works of art ranging from ivory figures and reliefs, early and rare bronzes, fine enamels, chalices and caskets, the Wunderkammer brought together objects produced from the most expensive and highly prized materials of the day, including ivory, tortoiseshell, rhino horn, enamel and gilt bronze.

This unique, one-off sale features one hundred and thirty ivory carvings, including a very spooky South German skull (estimate £10,000 – 15,000) carved with an entwined crown of thorns, with a snake above, later mounted on a perspex rectangular plinth, the ivory 10.5cm high.
For a comparable ivory skull see the Robert and Angelique Noortman Collection: Paintings and Works of Art from Chateau De Groote Mot, sold at Sotheby's, Amsterdam, December 17, 2007, lot 557.
A similar skull monogrammed by Josef Konrad Wiser (1693-1760) but lacking the snake was sold at Sotheby's, London, July 9, 2008, lot 92, £37,250.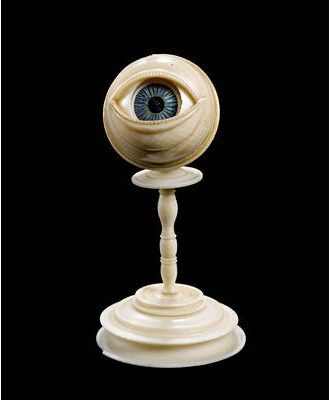 A rare South German anatomical model of an eye, probably late 17th century. Estimate £4,000 – 6,000.
An eerie 17th century anatomical model of an eye composed of ten individual sections including an iris, pupil, and a section painted with veins, with a turned handle to the reverse and on a turned ivory spiralling stem and foot, together with a small 17th century circular carved wood and painted box which the eye fits into when disassembled, glass lense repaired, the ivory 8.5cm high, the box 8cm diameter (2) (estimate £4,000 – 6,000);
The exquisite workmanship combined with the use of a rare and prized material in this miniature model of a human eye are typical of the objects that were collected and displayed in the Wunderkammer. Detailed models of eyes, as well as skulls and skeletons that are now associated with the Wunderkammer, were produced from the 17th century onwards and originally conceived as anatomical teaching tools. Ivory carvers such as Stephan Zick (1639-1715) and Johann Martin Teuber were influenced by the anatomical drawings of Andrea Vesalius in the mid 16th century and later George Bartisch who produced a manuscript relating to the eye in 1583.
For a similar anatomical model of an eye, see Christies, London, December 4 2008, lot 75.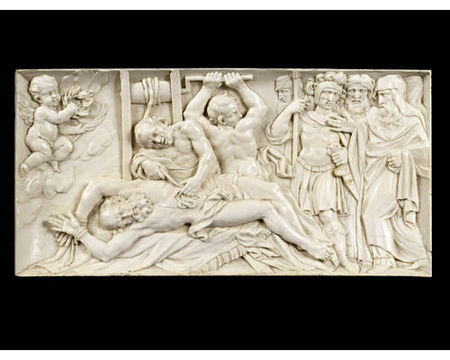 Circle of Francis van Bossuit, Flemish (1635-1692), A 17th century ivory relief depicting the martyrdom of Saint Erasmus. Estimate £10,000 – 15,000
.

A gruesome relief depicting the martyrdom of Saint Erasmus, the saint with his hands tied, his guts extracted from his body by two semi nude male figures using a machine, with a winged putto to the left holding a laurel wreath and a palm frond, and the Emperor Diocletian and his attendants to the right, later mounted in a dark green marble frame, the ivory 27.5cm wide x 14cm high, 39cm x 25cm overall (estimate £10,000 – 15,000).
Saint Erasmus or Saint Elmo as he was also known, was a bishop of Formiae in the Campagna, Italy. He was martyred under the Emperor Diocletian who ordered that his intestines were to be drawn out by a windlass (a machine for moving heavy weights). Because of the instruments similarity to a capstan, sailors invoke him as their patron saint.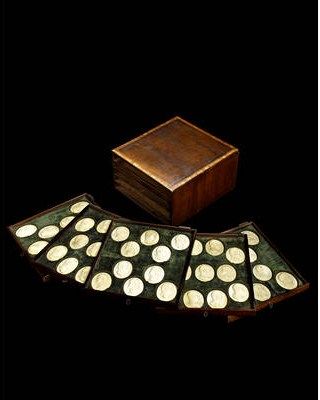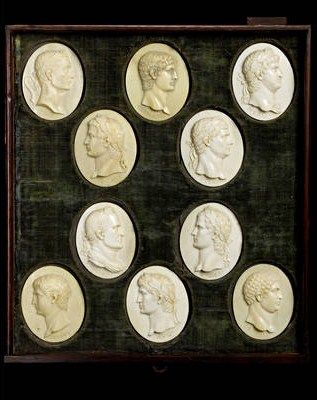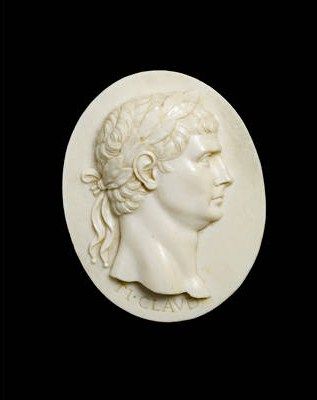 Attributed to Workshop of Giovanni Battista Pozzo (Pozzi), Italian (circa 1670-1752). A rare collection of forty four mid 18th century ivory intaglios of Roman Emperors. Estimate £20,000 – 30,000
.

The top lot is a rare collection of forty four mid 18th century ivory intaglios of Roman Emperors, mounted in the original 18th century mahogany and crossbanded display case in five drawers, the interiors with green velvet lining, each intaglio inscribed in relief with the Emperor's name, originally a set of 52, 8 now lacking, the intaglios 4.75cm high, the box 19.5cm wide x 11cm high x 21cm deep, which has attracted a pre-sale estimate of £20,000 – 30,000.
Pozzo specialised in producing intaglios and reliefs of classical theme for Grand Tourists visiting Rome and Naples. He signed his work Gio. Pozzo, but is often known as Pozzi. Both his sons assisted with his business, Roque Pozzo was an engraver who was known to have produced compositions for both his father and brother to work from, and Andrea Pozzo went on to have his own highly successful workshop, at the Buen Retiro Palace in Madrid, under King Carlos III.

That these miniatures were held in very high esteem by the rich noblemen and antiquarians that purchased them, is demonstrated by the exquisite Walpole Cabinet in the Victoria and Albert Museum. In 1743 Horace Walpole commissioned William Kent to produce a cabinet to house a collection of miniature ivories of classical theme that he had purchased from Pozzo whilst on the Grand Tour. The cabinet was conceived as a 'Classical Temple of Worthies', and was surmounted by ivory figures of Palladio, Inigo Jones and Duquesnoy by the sculptor James Francis Verskovis. The pediment was decorated with eagles and the arms of Horace Walpole, also by Verskovis. Walpole was evidently very proud of his cabinet which, like the German Wunderkammers, demonstrated his wealth, worldliness and good taste. The cabinet was originally displayed in Walpole's house in Arlington Street, London. During the 1760s he moved it to the his country residence, Strawberry Hill in Twickenham, where it formed the centrepiece of the Tribune, a room in which some of the most precious small objects in his collection were displayed.

A further set of Pozzo's ivory intaglios was purchased by Henry Howard, 4th Earl of Carlisle and remains at Castle Howard to this day. The earl travelled on the Grand Tour in 1714-15 and again in 1738-39, and became renowned for his collection of antique sculpture which he installed at Castle Howard. The Museo Oliveriano in Pesaro also has numerous examples of Pozzo's work.

The present collection of forty four ivories has been attributed to Pozzo on the basis of their similarity to the known works in these collections. The extremely finely carved features of the faces that detail the individual characteristics of each of the Emperors, the unusual under-cutting at the neck, which undulates from front to back, and the incised text with the name of each sitter in Latin, is typical of Pozzo's work.
A collection of this size and quality is exceptionally rare. A set of five ivory reliefs of classical theme attributed to Giovanni Battista Pozzi (Pozzo) were sold Sotheby's, London, July 8 2011, lot 110, £15,000.

Related Literature: A. Pirzio Biroli Stefanelli, Studio Oliveriana, Volume XIII, 1993. (referred to as Giovanni Battista Pozzi).
Tardy, Les Ivoires Paris, page 270 (referred to as Giovanni Battista Pozzo).
The first Wunderkammers of note appeared in the early 16th century in Germany, and were most popular in the 17th and 18th centuries in Northern Europe. This sale will include an exceptional private collection of European ivories, a collection of European ivories from the Channel Islands and a private Dutch collection of European bronze reliefs and statuettes.

In addition, it will offer The Messel Collection of works of art from Nymans. The Messels were a well-established German banking family, who lived at Nymans in West Sussex, a house today owned by the National Trust. Fervent collectors, the Messels travelled each year to Italy, Germany, the Netherlands and France, bringing back furniture, textiles, early continental glass, ceramics and jewellery. They also accumulated fans, which can today be found in the Fitzwilliam Museum in Cambridge. A highlight from this collection is a 16th century North Italian ebony and ivory gaming board, which has been estimated at £2,000 – 3,000.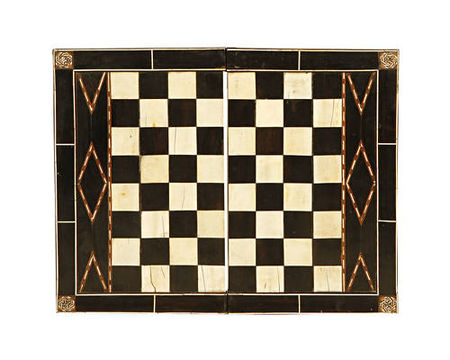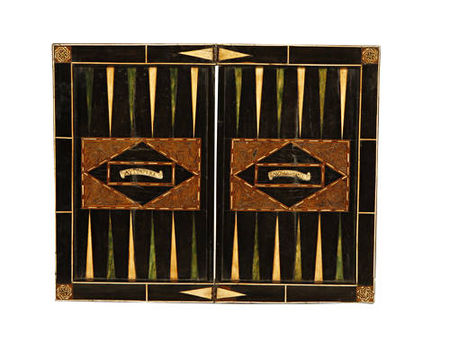 A 16th century North Italian ebony, ivory and stained bone gaming board. Estimate £2,000 – 3,000.
the corners with geometric medallions, with a bands of chequered strung decoration flanking the games board, the reverse with a pair of panels inscribed AVT PATERE and AVT ABSTINE (Place your bets or abstain), 58cm wide when unfolded,
For a comparable gaming board see Schach Partie, Edition Braus, 2005, page 99, no 24.