A highly important and rare cushion-shaped diamond weighing 38.88 carats. Photo Sotheby's
The unmounted cushion-shaped diamond weighing 38.88 cts. Estimate Upon Request
Accompanied by GIA report stating that the 38.88 carats diamond is D Colour, Flawless Clarity, Excellent Polish and Excellent Symmetry. Further accompanied by a GIA type classification report, stating that this diamond is Type IIa.
NOTE: Introduced at the beginning of the 20th century, the modern cushion-cut derives from ancient cushion-cut diamonds, sometimes referred to as 'old mine' cuts. The most famous predecessor of today's cushion-cut is the 140.64 carat Regent diamond, formerly a part of the French Crown Jewels, currently conserved at the Louvre, Paris. Discovered in Golconda, India in 1698 and sent to England to be cut between 1704 and 1706, the Regent became one of the first important examples of cushion-shaped diamonds. Probably developed in the 17th century, this cut slowly replaced the former dominant style of faceting, step-cutting. This experimentation with perpendicular cuts, as opposed to horizontal ones, ultimately led to the development of the true round brilliant-cut, in the late 19th century.
As stated by the GIA, "The allure of a particular diamond depends more on cut than anything else. Though extremely difficult to analyse or quantify, the cut of any diamond has three attributes: brilliance (the total light reflected from a diamond), fire (the dispersion of light into the colours of the spectrum), and scintillation (the flashes of light, or sparkle, when a diamond is moved)". A well cut cushion-shaped diamond - and this 38.88 carat stone has been graded
Excellent Polish and Excellent Symmetry - can bring these three attributes together, allowing light to perform in magical, breath-taking ways.
This superb 38.88 carats cushion-shaped diamond has not only received the highest colour and clarity grade from the GIA for white diamonds, D Colour, Flawless Clarity but has also been found to be part of the rare Type IIa subgroup.
Stones in this group, which comprise less than 2 % of all gem diamonds, are chemically the purest of all diamond crystals and often have extraordinary optical transparency.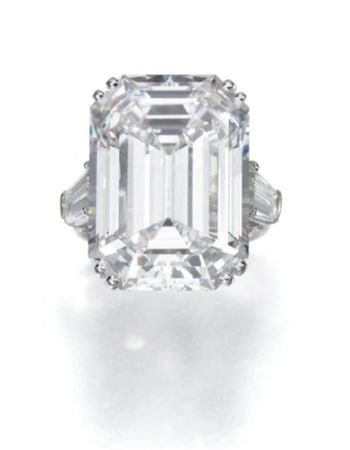 Important diamond ring, Graff. Photo Sotheby's
Centring on a step-cut diamond weighing 24.47 carats, between tapered baguette diamond shoulders, mounted in platinum, signed Graff. Estimate 1,650,000-2,370,000 CHF
Property of a lady of title
Accompanied by GIA report no. 5128888, dated 16 February 2000, stating that the diamond is D colour, VS1 clarity.
Fine diamond ring. Photo Sotheby's
Claw-set with a modified pear-shaped diamond weighing 7.41 carats, mounted in platinum, size 51½. Estimate 780,000-1,150,000 CHF
Accompanied by GIA and Gübelin reports no. 2135777487 and no. 11080036 both stating that the 7.41 carat diamond is D colour, Internally Flawless and GIA type classification report and Gübelin note and appendix stating that the stone is a Type IIa diamond.
"The diamond of 7.41 carats possesses an antique cutting style which is rarely encountered in the gem trade today. In addition, this diamond is classified as type IIa (a chemically very pure type of natural diamond). It displays a colour and a degree of transparency which are particular to these unique gemstones. Diamonds of this type, exhibiting an antique cutting style as well as a fine quality, are rare and will most certainly evoke references to the historic term of Golconda". Gübelin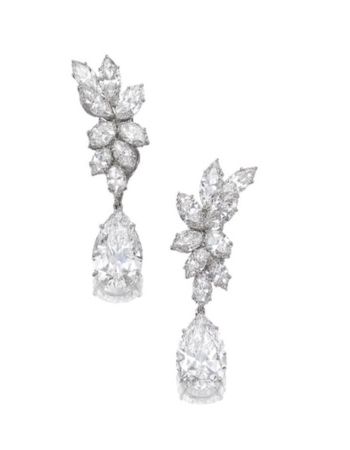 Important pair of diamond pendent earrings. Photo Sotheby's
Photo Sotheby'sEach surmount of cluster design set with marquise-shaped diamonds, suspending detachable pear-shaped diamond drops weighing 7.46 and 7.62 carats respectively, clip fittings. Estimate 550,000-825,000 CHF
Property of a lady of title
Accompanied by GIA reports no. 2135891798 and 2135891805 stating that the 7.46 and 7.62 carat diamonds are D Colour, and respectively VS1 and VVS2 Clarity. Further accompanied by GIA worksheet stating that the 7.62 carat diamond may be Improvable after repolishing.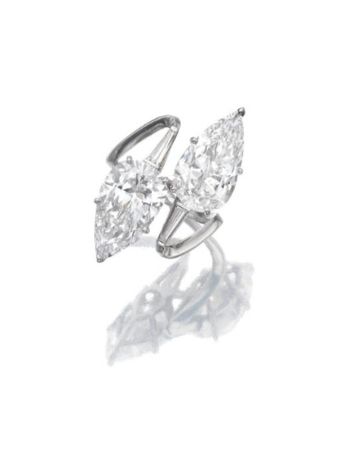 Diamond ring. Photo Sotheby's
Of crossover design, claw set with two pear-shaped diamonds weighing 4.14 and 4.33 carats respectively, further accented with tapered baguette, mounted in platinum, size 51. Estimate 175,000-275,000 CHF
Accompanied by GIA reports no. 2135940865 and 1132940881 stating that the 4.14 and 4.33 carat diamonds areboth D Colour, respectively VVS2 and VS1 Clarity.
Diamond ring, Harry Winston.. Photo Sotheby's
Centring on a cushion-shaped diamond weighing 8.02 carats, the shoulders set with brilliant-cut stones, mounted in platinum, size 47½, signed Winston. Estimate 46,000-70,000 CHF
Sotheby's, Magnificent Jewels, Geneva , 15 Nov 2011 www.sothebys.com