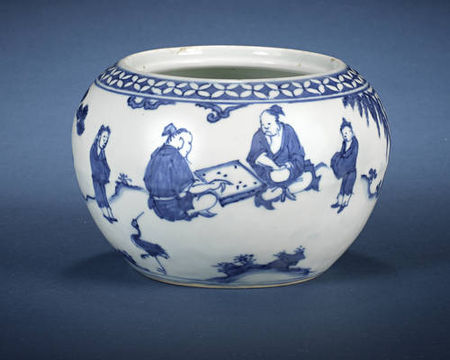 A blue and white globular jar. Jiajing kuei mao nian zhi cyclical date corresponding to AD1543 and of the period. Photo Bonhams
Painted on one side with two seated figures playing weiqi, each attended by a standing boy, the reverse with a scholar and an attendant holding a qin, wood stand. 13.5cm (5¼in) wide (2). Estimate: £15,000 - 18,000, CNY 150,000 - 180,000, HK$ 180,000 - 220,000
Provenance: S.Marchant and Son, London
The Harriet Szechenyi Collection, Switzerland

Exhibited: S.Marchant and Son, Ming Blue and White:
Jiajing-Chongzhen including dated examples, November 2004, no.6

It is believed that jars of this particular shape were made to contain weiqi counters. Another one in the Percival David Foundation of Chinese Art, London, interestingly bears the same date 1543; it is illustrated by M.Medley, Illustrated Catalogue of Porcelains Decorated in Underglaze-blue and Copper-red,, London, 1963, no.B643, pl.XIX. Scholars believe that the game of weiqi (surrounding chequers) is the Chinese prototype for what has become the better-known Japanese game called go; see C.A.S.Williams, Outlines of Chinese Symbolism and Art Motives, Singapore, 1974, pl.419.
Bonhams. Fine Chinese Art, 10 Nov 2011, New Bond Street www.bonhams.com