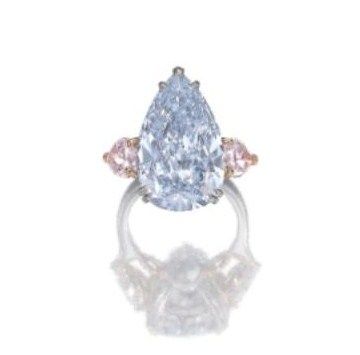 Important fancy intense blue diamond ring. .Photo Sotheby's
Set with a fancy intense blue pear modified brilliant-cut diamond weighing 10.09 carats, between similarly cut fancy light pink diamonds weighing 1.02 and 1.00 carats respectively, mounted in platinum and pink gold, size 52. Estimate 6,850,000-9,150,000 CHF
Accompanied by GIA report no. 2125609930 stating that the 10.09 carat diamond is Fancy Intense Blue, Natural Colour, Internally Flawless and additionally accompanied by GIA reports no. 15315952 and no. 15676417 stating that the two pear-shaped diamonds weighing 1.02 and 1.00 carats respectively, are Fancy Light Pink, Natural Colour, VS1 and VS2 clarity.
NOTE: The conditions required to form a fine coloured diamond scarcely ever occur in nature, making them extremely rare and therefore increasingly coveted by gem collectors the world over. Diamonds owe their colour to the presence of trace elements, or impurities and distortions, resulting from the pressures to which the diamond has been exposed as it formed. The presence of nitrogen causes the diamond to take on the most common hue, which is yellow; contact with radiation can saturate a diamond with a rare green tint; and, when a diamond come into contact with the element boron during its creation, it may exhibit a highly sought after extraordinary colour – blue. In addition to the exceptional intense blue diamond found on this page, there are two other excellent examples in this catalogue, lots 483 and 491, which illustrate some of the variety in which these magnificent and sublimely rare gemstones can be found.
Immportant fancy vivid blue diamond ring. Photo Sotheby's
Claw-set with a fancy vivid blue cut-cornered rectangular modified brilliant-cut diamond weighing 4.16 carats, flanked by tapered baguette diamonds, mounted in platinum, size 51. Estimate 3,100,000-4,000,000 CHF
Accompanied by GIA report no. 2115125993 stating that the 4.16 carat diamond is Fancy Vivid Blue, natural colour, SI1 clarity.
Attractive fancy blue diamond ring. Photo Sotheby's
Claw-set with a marquise-shaped fancy blue diamond weighing 4.08 carats, mounted in white gold, size 57. Estimate 730,000-1,280,000 CHF
Accompanied by GIA report no. 2135772370 stating that the 4.08 carat diamond is Fancy Blue, natural colour, VVS2 clarity.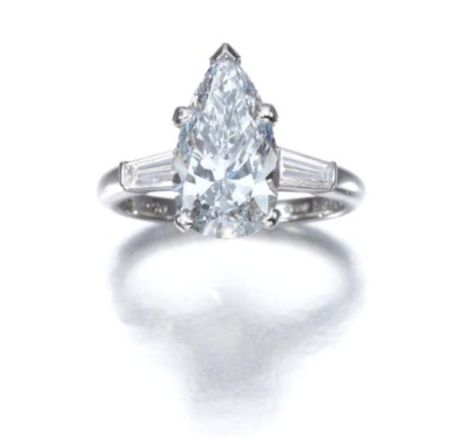 Light blue diamond ring, Cartier London. Photo Sotheby's
Set with a light blue pear-shaped diamond weighing 3.07 carats, between tapered baguette diamond shoulders, mounted in platinum, size 52, signed Cartier, London and numbered, maker's marks. Estimate 140,000-230,000 CHF
Accompanied by GIA report no.8762495 stating that the diamond is Light Blue, Natural Colour, VS2 Clarity
Sotheby's. Magnificent Jewels, Geneva | 15 Nov 2011 www.sothebys.com