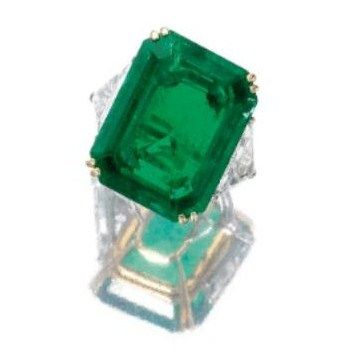 Important emerald and diamond ring. Photo Sotheby's
Set with a step-cut emerald weighing 36.54 carats between shoulders set with triangular diamonds, mounted in yellow gold and platinum, size 52, numbered, French assay and indistinct maker's marks. Estimate 460,000-730,000 CHF
Accompanied by Gübelin report no. 11060060 stating that the emerald is of Colombian origin, with indications of minor clarity enhancement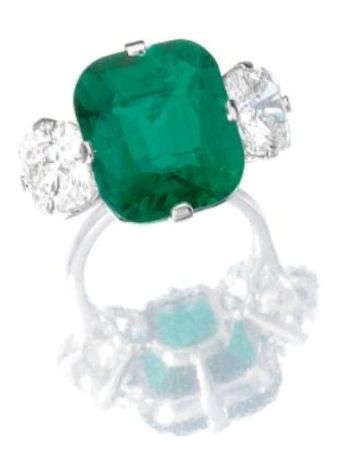 A very fine emerald and diamond ring. Photo Sotheby's
Set to the centre with a cushion-shaped emerald weighing 10.88 carats between shoulders set with cushion-shaped diamonds weighing 2.17 and 2.11 carats respectively, mounted in platinum, size 51. Estimate 365,000-635,000 CHF
Accompanied by Gubelin report no. 11085185 and AGL report no. CS44806 with additional information stating that the emerald was found to be of Colombian origin, with no evidence of clarity enhancement.
Additionally accompanied by GIA report no. 6137498489 and report no. 1123327185 stating the diamonds weighing 2.11 and 2.17 carats are both G colour, SI1 clarity.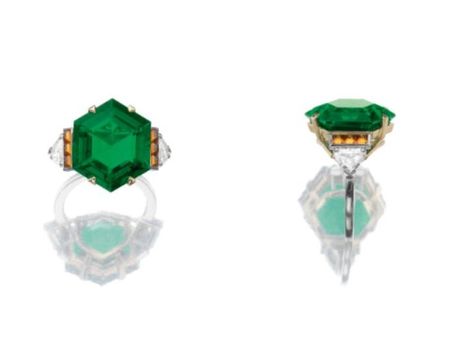 Very fine emerald, spessartite garnet and diamond ring. Photo Sotheby's
emerald Centring on a hexagonal emerald weighing 12.01 carats between shoulders set with kite-shaped diamonds and calibré-cut cabochon spessartite garnets, mounted in yellow gold and platinum, size 51. Estimate 365,000-550,000 CHF
Accompanied by SSEF report no. 59427 stating the 12.01 carat emerald is of Colombian origin, with no indications of clarity modification. Further accompanied by a certifcate of authenticity from Muzo Emeralds stating that the 12.01 carat emerald was cut from a rough emerald crystal which was extracted from the Tequendama shaft in Muzo.
NOTE: Emerald, a silicate of beryllium is the most important gem belonging to the beryl family. Colombian emeralds primarily owe their incomparable and intense green colour to chromium, the same element that gives ruby its distinctive red hue. This unique chromophor while positive in respect to colour can have a negative impact on clarity. In regards to the atomic structure of an emerald, high levels of chromium, in combination with low levels of iron, may result in crystallographic stress fractures, lowering the clarity of vivid green emeralds. It is therefore extremely rare to yield emeralds with both a beautiful colour and high clarity, as seen in the 12.01 carat gemstone.
Fascinating, intense green and luminous, emeralds are among the most coveted and prestigious gemstones since ancient times. Their unique colour explains their remarkable history. The Egyptians were exploiting emeralds from the so-called Cleopatra's mines over 4000 years ago. These mines were the major source of fine emeralds until the discovery of the New World in the 15th century.
The finest, vivid green emeralds come from Colombia, which for centuries has been the largest producer of gem quality emeralds in the world. Though they were initially searching for gold, the Spanish Conquistadores were also to discover emeralds and emerald-set jewellery. The quality of these emeralds surpassed that of all other gemstones seen in Europe, enamouring all who came to look upon them. It was in 1560 that the spectacular Colombian mine of Muzo, a sacred gemstone site of the native Indians, was discovered. Situated approximately 100 km northwest of Bogota in the eastern foothills of the Andes in central Colombia, the mining district of Muzo is rich in history. The oldest emerald mines still in operation, for over five centuries without interruption, the legendary Muzo mines are comparable to that of Mogok rubies and Golconda diamonds.
With the discovery of the Muzo mines, carats of these newly mined emeralds began to flow from the jungles of Colombia to Spain. One fifth of the finest emeralds were reserved by the 'Mina Real' (Royal Mine) for the Spanish Court, while others appeared in the finest Indian jewels of the Mughal period. According to the famous gem merchant Jean-Baptiste Tavernier, who visited the courts of Louis XIV and that of the Mughal rulers, a selection of the best gemstones were shipped from Colombia to the emerald-adoring Moghul rulers in India. Later the Romanov, the Napoleonic emperors and the European Royal families became avid collectors of Colombian emeralds. In the 20th Century, great jewellery houses such as Cartier, Van Cleef & Arpels, Boucheron and later Winston purchased and sold fine examples of these 'old-mine' stones.
In November 2009, Muzo International, a branch of Texma Group, was awarded exclusive mining rights to the Muzo mines. Muzo is known in Colombia as the world capital of emeralds and today approximately 75% of its population is involved in the emerald industry. Muzo International holds a unique position in the industry, having complete control of all gemstones from the mines to the market, guaranteeing the full traceability for every gemstone. This ensures the highest quality and ethical standards.
Muzo mines produce the most desirable emeralds in the world and Sotheby's is thrilled to have the opportunity to offer at auction one of the finest and rarest gem originating from the legendary Muzo mines. This superb emerald, weighing 12.01 carats, displays an evenly saturated, deep bluish-green colour combined with a high transparency. An emerald of such size and quality which has been spared of any enhancement is very rare and will surely appeal to international gem connoisseurs.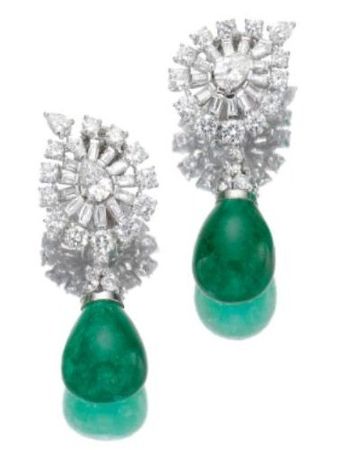 Attractive pair of emerald and diamond earrings , Cartier, circa 1960. Photo Sotheby's
Each suspending a detachable emerald drop highlighted with circular-cut diamonds, from a drop shaped surmount set to the centre with a pear-shaped diamond within a radiating border of pear-shaped, circular-cut and baguette diamonds, clip fittings, signed Cartier and numbered. Estimate 275,000-400,000 CHF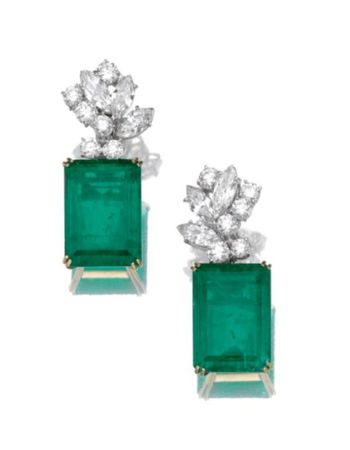 Pair of emerald and diamond ear clips. Photo Sotheby's
Each set with a detachable step-cut emerald weighing 35.53 and 36.03 carats respectively, suspended from a cluster surmount of marquise-shaped and brilliant-cut diamonds, mounted in gold, clip fittings. Estimate 210,000-300,000 CHF
Accompanied by Gem Tech Lab report no. Nr 11-G-3734 stating the emeralds are of Colombian origin, with moderate enhancement.
Emerald and diamond necklace, Harry Winston, 1960s Photo Sotheby's
Harry WinstonDesigned as an undulating line of baguette, circular- and brilliant-cut diamonds, highlighted at the front with step-cut emeralds, the clasp similarly set, mounted in platinum, inner circumference approximately 365mm, signed HW. Estimate 140,000-220,000 CHF
Sotheby's. Magnificent Jewels, Geneva | 15 Nov 2011 www.sothebys.com