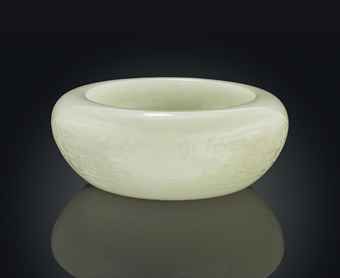 A rare white jade bajixiang alms bowl. Qianlong period (1736-1795). Photo Christie's Image Ltd, 2011
The compressed globular body tapering towards the base from the inward rounded shoulder, the exterior finely carved in shallow relief with linking ruyi-shaped cartouches enclosing the 'Eight Buddhist Emblems', bajixiang, interspersed by further smaller shaped cartouches enclosing xi (happiness) characters, the stone of an even white tone; 4¾ in. (12 cm.) diam., wood stand. Estimate £100,000 - £150,000. Price Realized £361,250.
清乾隆 白玉八吉祥鉢
Provenance: The Collection of Sir Framjee Dinshaw Petit, 3rd Baronet & Lady Sylla Dinshaw Petit (Née Tata)
With John Sparks, Ltd., London, purchased 31st July 1957.
Notes: It has been noted that the emperor Qianlong became fascinated with this type of Buddhist bowl after having seen such a vessel when he visited a temple in Jiannan during one of his "Southern Grand Tours" in 1758, and subsequently requested similar bowls to be carved of jade (see The Life of Emperor Qianlong, Hong Kong, 1995, p. 146).

However, it is very unusual to find an alms bowl made of white jade, exemplified by the present lot. Compare with a white jade alms bowl of similar form but with a flat base, depicting the 'Seven Buddhas of the Past' illustrated in The Complete Collection of Treasures of the Palace Museum, Jadeware (III), Commercial Press, Hong Kong, 1995, p. 146, no.118. Compare also with a blue and white alms bowl of similar shape to the current lot, decorated with lotus scrolls in Beijing, illustrated in Blue and White Porcelain with Underglazed Red (III), The Complete Collection of Treasures of the Palace Museum, Hong Kong, 2000, pl.142.
Christie's. Fine Chinese Ceramics and Works of Art, 8 November 2011; London, King Street www.christies.com