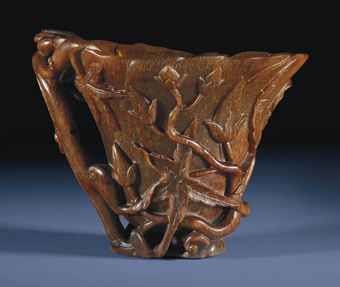 A rare rhinoceros horn 'Hibiscus' libation cup, 17th century. Photo Christie's Image Ltd, 2011
Finely carved as a large hibiscus flower, detailed in relief with a small chilong beside the stamen to the centre of the interior, one side of the exterior with hibiscus buds and leaves borne on strudy stems, the other with a day-lily amidst elegantly long curled leaves, the openwork handle formed by a chilong peering into the interior, the striated horn of an even caramel tone; 5¾ in. (14.6 cm.) wide. Estimate £100,000 - £150,000. Price Realized £121,250.
明末/清初 十七世紀 犀角雕芙蓉花紋龍盃 5¾ in. (14.6 cm.) wide
Notes: The decoration carved on the present lot is not only expertly rendered but also conveys a wealth of auspicious wishes. Hibiscus, mufurong in Chinese, is a pun for 'wealth' and 'glory'. Day-lilies, called baihe in Chinese, meaning 'hundred together', are associated with weddings.

Compare with a smaller rhinoceros horn libation cup also carved as an open hibiscus flower with a stamen to the centre, with a day-lily to the exterior which sold in our New York rooms, 22 March 2007, lot 150.
Christie's. Fine Chinese Ceramics and Works of Art, 8 November 2011; London, King Street www.christies.com