Jan Steen, The Card Players in an Interior, 45.8 x 60.3 cm Estimated at £4.5 – 6 million. Photo: Sotheby's
LONDON.- Sotheby's London, 22nd November 2011, announces that the Old Master and British Paintings Evening and Day Sales on 7th and 8th December 2011 will offer a selection of important works of exceptional quality and rarity, many of which have remained in private collections for decades, including the masterpiece by Jan Steen Card Players in an Interior (est. £4.5-6 million*). The sales, which comprise 237 lots, are estimated to fetch a combined total in excess of £21 million.

Alex Bell, Sotheby's Co-Chairman, Old Master Paintings, Worldwide, said: "We are extremely pleased to continue Sotheby's eleventh successive year of leading in Old Master Paintings auction sales with a carefully curated offering which responds to the market demand for a wide variety of works of exceptional quality from a broad array of schools. The sale highlights demonstrate the mastery of some of the most important artists in the field, including Jan Steen, Jacob van Ruisdael, Lucas Cranach, Anthony Van Dyck, Johann Zoffany and Joseph Wright of Derby."

Jan Havicksz Steen's oil on panel Figures Seated in an Interior with a Man and a Woman Seated at a Table Playing Cards (circa 1660) is a superb example of the artist's painting, one of his best preserved works and a masterpiece of seventeenth-century Dutch genre painting. Estimated at £4.5-6 million, the work's combination of both technical and intellectual mastery, demonstrated in the unusually high degree of finish in the details as well the background, make it one of the foremost examples of Steen's work and of seventeenth-century Dutch genre to come to the market in recent years. Steen's choice of subject - a soldier being disarmed by a woman's charms - is an exploration of one of the most popular themes of the mid-seventeenth century, with its roots in the biblical story of Samson and Delilah. The artist's interpretation is characterised by his unusually complex and humorous exploration of human nature and the interaction between the sexes.
Further Old Master Paintings Highlights
Jacob van Ruisdael, Dune Landscape with a Farmer on a Sandy Road, and a Distant View of Haarlem .Estimated £1.2–1.6 million. Photo: Sotheby's
is unquestionably one of Jacob van Ruisdael's greatest works. Executed in 1647, it bears the characteristics of all Ruisdael's finest works - a complete mastery of the representation of nature, weather, the time of day, and is highly observant of the effects of nature. The painting's evocation of mood and spirit of place on the rutted, sandy road on the outskirts of Haarlem, is an astonishing achievement from an artist still under twenty years old at the time.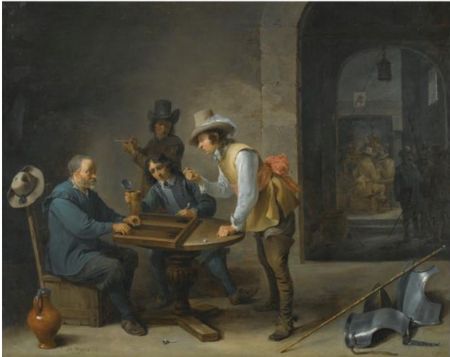 David Teniers the Younger, A Guardroom Scene with Tric-Trac Players in the Foreground. Estimate £400,000–600,000. Photo: Sotheby's
This beautifully preserved oil-oncopper is an exceptional example of Teniers' work from the 1640s, at the height of his artistic powers, and is among the finest achievements of his Antwerp period. Teniers was a sharp observer of human nature, and in this work he emphasises the serious nature of the competition between the players, while exploring his interest in still life within the interior setting. In 1819 the painting was displayed in the Duchess Street gallery of renowned tastemaker Thomas Hope. It is offered for sale at auction for the first time in almost 100 years.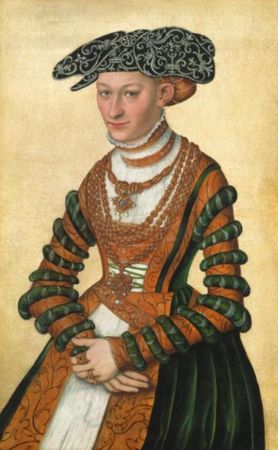 Lucas Cranach the Younger, Young Lady Three Quarter Length, in a Geen Velvet and Orange Dress and Pear-Embroidered Black Hat. Est. £800,000-1,200,000). Photo: Sotheby's
The elegant oil on panel portrait is attribured to Lucas Cranach the Youngerand is thought to be a collaborative work between Lucas Cranach the Elder and Lucas Cranach the Younger from the period around 1533. This portrait is characteristic of the style Cranach perfected during his years in Wittenberg studying with his father. The wonderfully insightful character study combines acute realism with courtly refinement. The portrait is very close stylistically to a beautiful female portrait by Lucas Cranach the Younger in the Staatsgalerie, Stuttgart, whose companion portrait is dated 1543. Although the pose of the present sitter might suggest that the picture originally had a pendant, none has ever been connected and the direct outward glance of the sitter suggests that that it was equally likely to have been conceived as a single portrait in its own right.
Early Italian Works of Art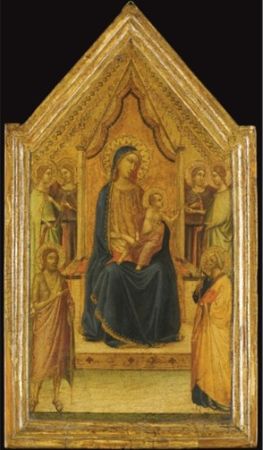 Bernado Daddi, The Central Panel of a Tabernacle: The Madonna and Child Enthroned flanked by Four Angels and Saints John the Baptist and Peter. Photo: Sotheby's
Regarded as one of the most important painters of the early 14th century in Florence, Bernado Daddi's remarkably well-preserved and beautiful panel (est. £400,000–600,000) originally formed the centre of a small portable altarpiece or tabernacle, and was painted in around 1340 for a patron's private devotional use. The present work features the Madonna and Child enthroned, with Saints John the Baptist and Peter before them and flanked by four angels, towards one of whom the Christ Child playfully extends his fingers. Generally thought to have been a pupil and associate of Giotto himself, the skill demonstrated in this panel is in contrast to Giotto's more monumental style. The 'miniature tendency', a trend in Florentine painting in the second quarter of the fourteenth century, was an ideal format with which Daddi was able to display his technical accomplishments and also his unceasing inventiveness of gesture and design, which had a profound influence on Florentine painting for a generation or more after his death.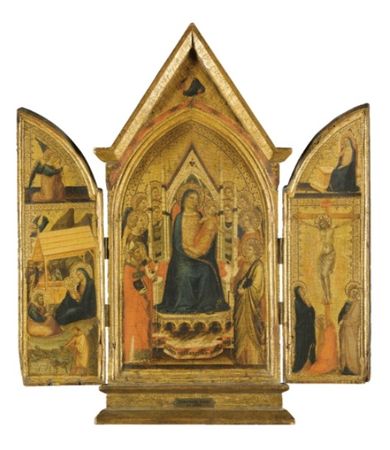 Jacopo del Casentino, The Madonna and Child Enthroned with Saint Nicholas of Bari. Est. £200,000-300,000. Photo: Sotheby's
The well-preserved tempera on panel triptych is a very early example of the type of portable tabernacle intended for private devotion that was produced in Florence in the 1330s. It is one of a small number of similar small-scale works Jacopo produced which clearly reflect the prevailing so-called 'miniaturist tendency' among Florentine painters moving away from the monumentality of the style of Giotto. While very little is known of the life and career of Jacopo del Casentino, his reputation amongst his peers is reflected by the fact that he was elected as the first consigliere of the newly founded Painters' Guild, the Compagnia di San Luca in 1339, and Vasari devoted a chapter of his celebrated Lives to him. The punchmarks in the present work appear to be those which were used by Jacopo and his shop in the period from around 1339-1342, and their relationship to those used in the Daddi workshop suggest that Jacopo had a close relationship with Daddi and may even have worked in his shop. Similar triptychs which also incorporate the Nativity and The Crucifixion in the wings include that in the Palazzo Barberini in Rome and those formerly in the Guggenheim and Goldschmidt collections.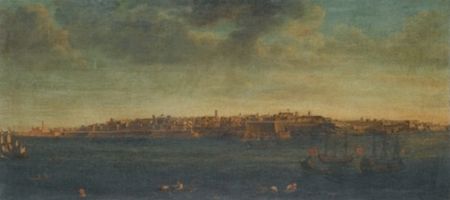 Alberto Pullicino, Seven Views of Malta. Estimated £200,000–300,000. Photo: Sotheby's
Offered at auction for the first time, Alberto Pullicino's Seven Views of Malta represents the largest and most complete set of views of the island and harbours of Malta to have survived from the eighteenth century, and the only such set to have remained together since its acquisition or commission. In contrast to the relatively large numbers of vedute of Naples, Rome or Venice, views of Malta in the eighteenth century were, and remain, of the greatest rarity. Pullicino broke with the prevailing tradition of birds-eye panoramic views, instead painting directly at eye level and from specific viewpoints – most of which can still be identified today. Few Grand Tour travellers journeyed to Malta as the trip was a long and difficult one. The works were probably acquired by Robert Clements, 1st Earl of Leitrim, during his travels in Italy in 1753-4 and have passed by descent through his family.
Early British Paintings Highlights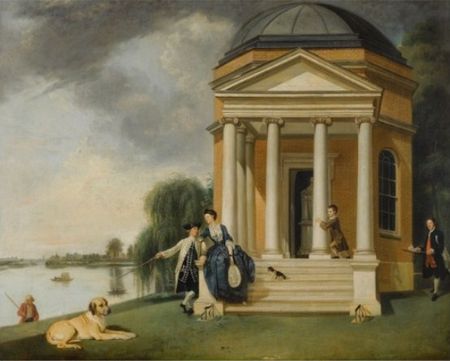 Johann Zoffany, The Shakespeare Temple at Hampton House, with Mr and Mrs David Garrick. Photo: Sotheby's
The Garden at Hampton House, with Mr and Mrs David Garrick taking tea, and The Shakespeare Temple at Hampton House, with Mr and Mrs David Garrick painted in 1762 represent the two most important works by Johann Zoffany to appear on the market in recent years (est. £6-8 million). Both commissioned by David Garrick, Britain's greatest actor, the paintings depict him with his family and friends in the garden of his house on the banks of the river Thames at Hampton. Painted in 1762 they have only appeared once on the open market, when they were sold in 1823 from Garrick's estate, and have descended in the family of a distinguished private collection ever since. From 2007 until 2010 the paintings hung together on loan at Tate Britain, in London, and are highlights in the recently published book on Zoffany by Mary Webster.

Emmeline Hallmark, Sotheby's Head of Early British Paintings, comments: "These exceptional conversation pieces are outstanding examples of the artist's style and his genius for compositional originality. Johann Zoffany's remarkable ability to paint lively figures in a moment of private interaction, to catch a fleeting expression and to portray a likeness won him the reputation as one of the foremost painters in Britain at the time. As such, he secured the patronage of David Garrick, the most famous celebrity of his day, and these two works are superb examples that represent their close friendship, as well as artistic relationship which endured over the course of their lives."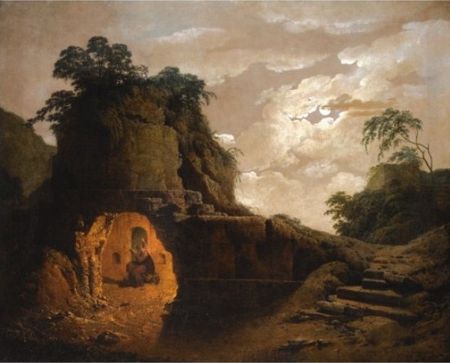 Joseph Wright of Derby, Virgil's Tomb by Moonlight. Photo: Sotheby's
Offered at auction for the first time, Joseph Wright of Derby's Virgil's Tomb by Moonlight (£600,000-800,000) is an instantly recognisable masterpiece of the British Romantic movement. Painted in 1779 it is one of a distinguished group of paintings inspired by the artist's travels in Italy. Wright painted six versions of Virgil's Tomb – an obligatory stop on the Grand Tour – but this, his first, is the prime version. The deployment of twin light sources, the juxtaposition of candlelight and moonlight is a magnificent example of Wright's genius and is what gives the composition its innate romanticism.
Sir Anthony Van Dyck, Portrait of William Russell, 5th Earl and later 1st Duke of Bedford. Estimate £150,000-200,000. Photo: Sotheby's
Also appearing at auction for the first time, Sir Anthony Van Dyck's Portrait of William Russell, 5th Earl and later 1st Duke of Bedford, is estimated at £150,000-200,000. Painted circa 1640, the oil on canvas is characteristic of Van Dyck's strong and dynamic style found in his late portraiture. William Russell (1616-1700) was a charismatic and talented courtier and politician, who fought on both sides during the Civil war and represented the family borough of Tavistock in both the Short and Long Parliaments. The work passed from the sitter to his daughter Margaret (d.1702), and comes to auction by direct descent through the family.
John Glover, Durham Cathedral. Photo: Sotheby's
A beautiful and romantic view of Durham Cathedral (est. £200,000-300,000) by John Glover is arguably the artist's most impressive English masterpiece. Glover was one of the most important figures of the British Regency art world and one of the first to stage his own solo exhibitions. This painting of Durham - one of the artist's favourite subjects - was acquired directly from Glover by George Lambton, 1st Earl of Durham, following its exhibition at the British Institution in 1812. He paid the then-record price of 500 guineas for the oil on canvas, possibly in celebration of his election to parliament that year as Member for County Durham. It has remained in the same family since, and is offered for sale for only the second time in its almost 200-year history.

Sporting Works
The Old Master and British Paintings Day Sale features an impressive selection of sporting works from the collection of Edward P. Evans. Highlights include George Stubbs, Lord Grosvenor's Sweet William in a Landscape (est. £50,000-70,000) and the magnificent The Marquess of London derry's Arabian Stallion in a Landscape by James Ward, arguably the greatest animal painter of his generation and one of the leading artists of the British Romantic movement (est.£100,000-150,000).