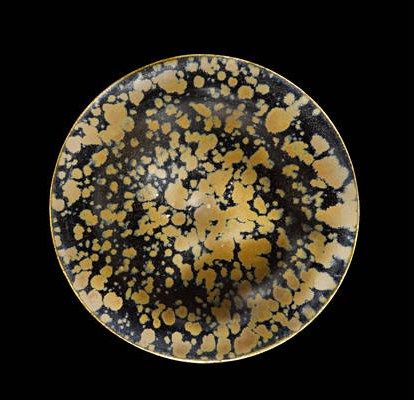 An outstanding Cizhou 'partridge feather' bowl. Northern Song-Jin dynasty. Photo Bonhams
Of deep conical form, the steep sides springing from a pronounced footrim and flaring to a wide everted rim, applied with a lustrous bluish-black glaze, decorated to the interior with a profusion of russet 'partridge feather' markings of varying size, the underside additionally applied with a rich persimmon slip thinning in areas to reveal the bluish-black slip, the unglazed footring revealing the greyish buff ware. 13cm diam. Sold for HK$275,000
北宋/金 磁州窯黑釉褐鷓鴣斑盌

Provenance 來源: The Collection of Mr and Mrs Yeung Wing Tak, Hong Kong
Eskenazi Ltd., London

Illustrated 出版: Black Porcelain from the Mr and Mrs Yeung Wing Tak Collection, Hong Kong, 1997, pl. 106.

Exhibited 展覽: The Museum of the Western Han Tomb of the
Nanyue King, Guangzhou, 1997
The Art Gallery, The Chinese University of Hong Kong, 8 July to 14 November 1999

It is rare to find a Cizhou bowl of this outstanding quality, on which the decoration is so vividly applied, but a comparable example is illustrated by Robert D. Mowry, Hare's Fur, Tortoiseshell and Partridge Feathers, Harvard University Art Museums, 1996, p.140-144, pl. 37a-38b.
Bonhams. FINE CHINESE ART, 28 Nov 2011. Hong Kong www.bonhams.com