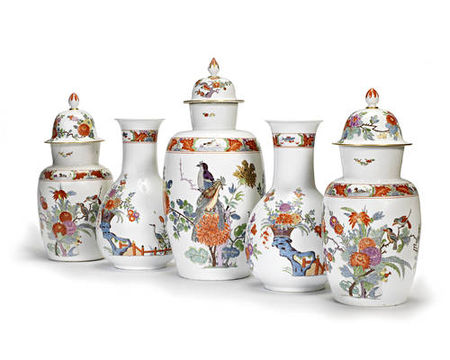 The Brühl "Garniture de Cheminée": a highly important garniture of five Meissen Augustus Rex vases, circa 1730. Photo Bonhams
An immensely rare and important garniture of five Meissen Augustus Rex vases, circa 1734, is to be sold at Bonhams, New Bond Street, London on 7th December 2011. It is estimated to sell for £300,000-500,000.

This is an extraordinary five-vase garniture, comprising a central ovoid vase and cover, two smaller ovoid vases and covers and two bottle vases. It is likely that the five were originally part of a garniture of seven vases. The fact that these five have stayed together since the 18th century is exceptional. They were created for the use of the Elector of Saxony and King of Poland, Augustus III, and are marked with the AR monogram (for Augustus Rex). The Meissen factory was owned by Augustus and in the late 1720s and early 1730s produced huge quantities of porcelain for an elaborate porcelain palace on the banks of the Elbe River in Dresden, known as the Japanese Palace. This ambitious project was never completed, and some of the pieces produced for the palace were later removed for the use of Count Brühl, the powerful Prime Minister of Saxony. These vases remained in Count Brühl's family until they were sold at auction in 1926. After this they were in two distinguished private collections in Switzerland. For the last thirty years they have been on display in the Getty Museum in California. This garniture is exceptional for its highly detailed and original Oriental-style decoration, monumental impact and unbroken and impressive provenance.

Nette Megens, Bonhams European Ceramics Specialist, comments, "this may be the last opportunity to purchase a garniture of five Meissen Augustus Rex vases, one of the few to remain together from the 18th century. It is a rare reminder of the grandeur of 18th-century Dresden, and in particular, of the splendour of Meissen porcelain that was designed for royal palaces."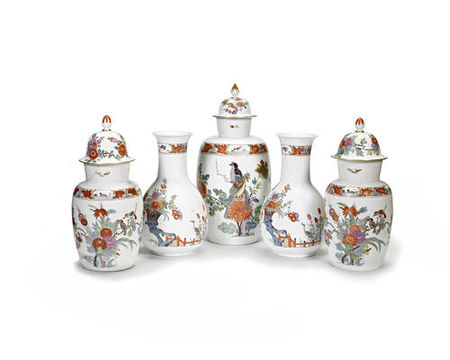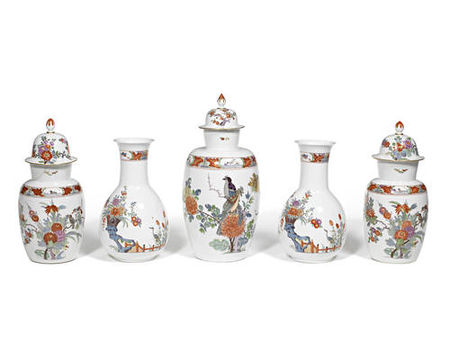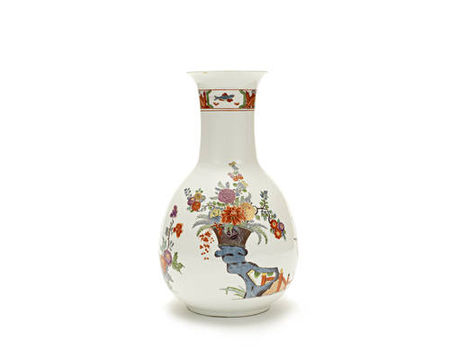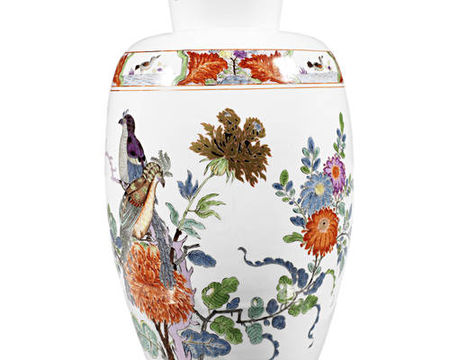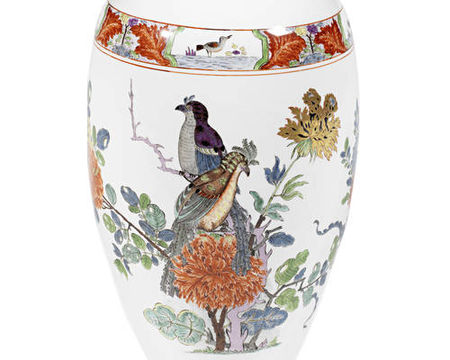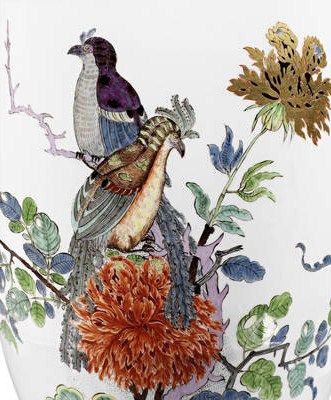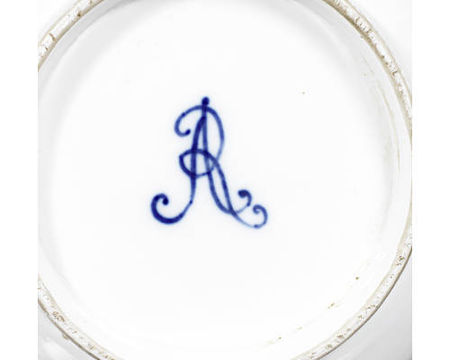 The Brühl "Garniture de Cheminée": a highly important garniture of five Meissen Augustus Rex vases, circa 1730. Photo Bonhams
Comprising a large ovoid vase and cover, superbly painted with two birds perched on bushes of flowering indianische Blumen, a butterfly on the reverse, beneath a seeded band of foliage reserved with panels depicting a bird standing in water, the neck with scattered flower sprigs, the gilt-edged, domed cover with a flowering tree-trunk and flower sprig on the reverse, the finial embellished in iron-red and gilding; two smaller ovoid
vases, similarly decorated, the borders around the shoulder with panels of swimming ducks, the domed covers with a flowering branch of indianische Blumen and a finial embellished in iron-red, the underside of one cover incised '1734' beneath the rim; and two bottle-shaped vases with flared rims, painted with a crane perched on a fence in front of tall flowers, facing an elaborate flower basket on stylised, pierced rockwork, the reverse with a butterfly, two flowering branches of indianische Blumen and smaller stylised flowering branches, the borders around the neck reserved with panels of fish, 49.5cm, 42.5cm, 35.5cm, AR marks in underglaze-blue (one smaller ovoid vase with section of neck restuck, a haircrack to the rim of each bottle-vase (8). Estimate: £300,000 - 500,000, € 350,000 - 580,000
Provenance: Probably commissioned for the Japanese Palace, Dresden;
Heinrich Graf von Brühl (d. 1763);
Thence by descent, until sold at Paul Cassirer & Hugo Helbing, Berlin, 23-24 March 1926, lots 405-409;
Dr. Albert Kocher Collection, Bern;
The Property of a European Nobleman, probably a gift from the above;
Thence by Descent

Literature: Rainer Rückert / Johann Willsberger, Meissen: Porzellan des 18. Jahrhunderts (1977), pl. 73 (one smaller ovoid vase)

Exhibited: Bern, Schloss Jegenstorf, Keramische Kunstwerke des 18. Jahrhunderts, 1951;
Los Angeles, J. Paul Getty Museum, 1984-2011

A bottle-shaped vase, one of the two outer flanking vases of this garniture, which originally comprised seven vases, is in the Uměleckoprůmyslové museum (Museum of Decorative Arts) in Prague, inv. no. 18.1947 (see illustration), published by Jan Diviš, Europäisches Porzellan (1984), no. 9. The vase was acquired in 1933 from the collection of Karel Buchtela in Prague.

It is most likely that this garniture was intended for the decoration of Augustus the Strong's Japanese Palace, his hugely ambitious 'porcelain palace' on the banks of the Elbe, that was intended to demonstrate the superiority of his Meissen porcelain, as well as represent his power and political ambition. The palace was not completed by the Elector's death in 1733. Although his son, Augustus III, allowed production for the palace to continue until 1738, it was more out of filial piety than conviction, and the project was finally abandoned. It is not clear when the garniture came into the possession of Count Brül; it may have been a gift from the king, or perhaps he was able to avail himself of such royal pieces after Augustus the Strong's death (see below), or when the plans for the Japanese Palace were finally abandoned.

The significance of the incised numerals '1734' beneath the rim of one of the lids is not certain. It seems probable that the number was incised after the vases were made and so likely that it is not the date of manufacture. The number has been interpreted as a date, though the reason for it has not been explained, though it may also be an inventory number.

Heinrich Graf von Brühl
Brühl (1700-1763) began his career as a page at the court of the Duke of Weissenfels and, from 1719, at the court of Augustus the Strong in Dresden. In 1730, he still occupied the relatively lowly position of a Gentleman of the Royal Wardrobe, but from 1731 he enjoyed a meteoric rise, after his organisation of the entertainment for Augustus the Strong and 47 princes and their entourages on month-long manoeuvres was judged a great success. Brühl was a brilliant organiser, who understood the political importance of courtly display and magnificence to Augustus the Strong and his successor, Augustus III. He also became Director at the Meissen factory in March 1733, and was promoted to 'Oberdirektor' in 1739. Rainer Rückert notes that it is astounding that this post, held firmly and with immense success by Augustus the Strong himself until his death, would have been given away to a minister by Augustus III. It was a sign of the rulers' weakness, not only in political sense, but also as a Maecenas of the arts.

Brühl was very successful as 'Oberdirektor', and can be held personally responsible for a huge increase in profits at the Meissen manufactory. Between 1733 and 1752 the factory had a turnaround of 2.793.008 Thaler, against profits of 1.435.091 Thaler. He had a very personal commitment to the success of then factory, and sent the factory many engravings from his private library to serve as examples for decoration and modelling. He also personally possessed a large amount of Meissen porcelain. Although perhaps not instinctively very taken by matters of beauty, he was aware of the political importance of porcelain, and, possibly guided by his wife, amassed large amounts of the appropriate 'Princely Luxury': in Schloss Pförten alone there were 2676 Meissen figures and groups.

So little did Augustus III know about the day-to-day business of his porcelain manufactory, that his ministers, all keen to demonstrate their own power and wealth through porcelain, were able to place the most opulent orders at the Factory without his knowledge. Count Sulkowski ordered, without the King's approval, one of the most opulent services at the factory for his private use. The Sulkowski-service, made between 1735 and 1737, was the first true magnificent service made at the Meissen factory. Sulkowski even had the audacity to order for the finished parts to be sent directly to the Japanese Palace, the Royal Palace of King Augustus III himself. Brühl was even cleverer, and did seek the approval of the King when he placed the enormously ambitious order of the 2200 pieces that were to make up his personal service, known as the Swan Service. Brühl also obtained the King's explicit consent on several occasions, because this enabled him to place orders in the Kings name, and therewith avoiding payment.

As he occupied more ministerial positions, culminating in his appointment in 1747 as Prime Minister, Brühl acquired great wealth and property commensurate with his position, and understood the need to represent the Elector and King of Poland and indeed himself, in dealing with the outside world. The British Minister in Dresden, Sir Charles Hanbury-Williams, who was himself the recipient of a lavish gift of porcelain from Augustus III (see lot 89 from Hoffmeister Sale II), noted of Count Brühl: "I was once at a Dinner where we sat down at one table two hundred and six People (twas at Count Brühl's) when the Desert was set on, I thought it was the most wonderful thing I ever beheld. I fancyd myself either in a Garden or at an Opera, But I could not imagine that I was at a Dinner. In the middle of the Table was the Fountain of the Piazza Navona in Rome, at least eight foot high, which ran all the while with Rose-water, and tis said that Piece alone cost six thousand Dollars. I verily believe that Count Brühl has above thirty thousand Pounds worth of China in his house." (quoted by Ilchester 1929, p. 188).

The inventory of Brühl's possessions made after his death includes several chimney garnitures ('Camin Aufsatz') consisting of between five and eight vases, as well as combinations of vases with figures and birds. The descriptions are mostly very general, however there is an entry, 'Ein groser Aufsatz weis und bunt gemahlt zu 5. Stück' [a large garniture of five pieces, white and coloured painting] (U. Pietsch (ed.), Schwanenservice (2000), p. 251).

Dr. Albert Kocher
Dr. Albert Kocher (1872-1941), whose father, Dr. Theodor Kocher, was awarded the Nobel Prize for Medicine, was one of the earliest and most
distinguished Swiss collectors of 18th-century German porcelain. His collection ranks in quality alongside those of his better-known contemporaries: Ludwig Darmstaedter, Hermine Feist, Fritz Mannheimer and Catalina von Pannwitz. Dr. Kocher was advised on his acquisitions by Ludwig Schnorr von Carolsfeld, the Director of the Schlossmuseum, Berlin, and one of the great porcelain scholars of the pre-War era. See Paul Schnyder von Wartensee, Das Legat von Dr. med. Albert Kocher ans Berner Historische Museum, in Mitteilungsblatt der Keramikfreunde der Schweiz 26 (1953), pp. 24-27, and Robert Wyss, Porzellan Sammlung Kocher (1965).
Bonhams. Fine European Ceramics, 7 Dec 2011 New Bond Street www.bonhams.com