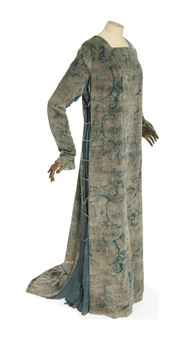 A velvet 'tabard' gown and cover, Mariano Fortuny, circa 1900-1920. Photo Sotheby's
the aquamarine robe stencilled in gold, with pleated silk inserts at the sides and the sleeves, embellished with lacing and Murano glass beads; and a stencilled grass green velvet cover; the cover 94 x 50 in. (239 x 127 cm.); the cover labelled Mariano Fortuny, Venise (2). Estimate £3,000 - £5,000. Price Realized £6,875
Provenance: Property of the late Amanda Czaroline Severne of Shakenhurst
Notes: Sold with this lot is the original purchase receipt, for the cover described in this lot, dated 26 June 1924. In addition, this lot contains a copy of The Sunday Times Magazine, dated July 23, 1978, which features the panel on the cover and an article about Mariano Fortuny.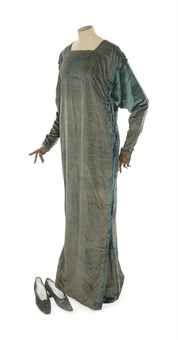 A full length velvet 'tabard' gown and a pair of matching shoes, Mariano Fortuny, circa 1900-1920. Photo Sotheby's
the jade green ground stencilled with an imitation lace pattern in gold to the front, back and lower sleeves, with velvet side panels inserts, embellished with lacing and teal beads; the shoes with pointed toe and waisted heel and with gilt metal buckles; the shoes labelled 'W.H.SMITH, MAKER' (2). Estimate £3,000 - £5,000. Price Realized £6,250
Provenance: Property of the late Amanda Czaroline Severne of Shakenhurst
Notes: Amanda Severne's direct ancestors, the Meyseys were granted Shakenhurst outright by Edward III in 1349 for services rendered overseas. They had held the estate as vassals of the crown long before that and the Meyseys, a Norman family who fought at Hastings, were first recorded in Worcestershire as early as 1110. In 1906 the estate was left away from the family but in 1961 Shakenhurst, the surviving contents and the sadly denuded estate passed back to Michael Meysey Wigley Severne, the great-great-great grandson of Anna Maria and Edmund Meysey Wigley who had rebuilt the Hall in the 1790s. Michael Severne married Rachel Fitzgerald, daughter of the 28th Knight of Glin and a renowned model in the 1950s. Together they restored the mansion, estate and gardens. The Meysey-Wigley Severne occupation of Shakenhurst that stretches back over three-quarters of a millennium came to an end following the tragic and untimely death of their only child Amanda, some 55 weeks after her father.
Sotheby's. Fashion, 1 December 2011, London, South Kensington www.sothebys.com