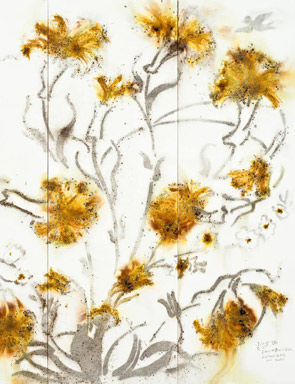 Cai Guo-Qiang, Flora on Porcelain, from Miniature Series (2011). Gunpowder on paper, mounted on wood as three-panel screen, 230 x 232.5 x 2.8 cm. Photo: Hiro Ihara, courtesy Cai Studio
DOHA.-
Mathaf: Arab Museum of Modern Art
presents Cai Guo-Qiang: Saraab, a major exhibition featuring newly commissioned work by Cai Guo-Qiang, one of the preeminent artists of our era. As Cai's first solo exhibition in the Middle East and the first single-artist exhibition presented by Mathaf, Saraab opens new avenues of dialogue for the Arabian Gulf, as the region explores its historic and contemporary links across Asia.
On view from December 5, 2011 through May 26, 2012, Saraab ("mirage" in Arabic) connects the history and culture of Cai's hometown of Quanzhou, China, to that of Doha Qatar. The exhibition illuminates the long-standing but little-known multilayered relationship between China and the Arab world, dating back to the ancient maritime Silk Road. Curated by Wassan Al-Khudhairi, director of Mathaf, the exhibition showcases over 50 works installed throughout the entire museum, including 17 newly commissioned pieces, a selection of recent works on paper,
canvas, and porcelain, and documentary videos on the making of Saraab and on previous works by Cai. The December 5 public opening will be preceded by a large-scale daytime explosion event, titled Black Ceremony.
"Mathaf: Arab Museum of Modern Art is the first institution of its kind in our region, and a major new center for art and education throughout the world,"
said Qatar Museums Authority Chairperson Her Excellency Sheikha Al Mayassa bint Hamad bin Khalifa Al-Thani.
"Mathaf, and the entire Qatar Museums Authority, are expanding people's ideas about art and culture in this region. With this exhibition by Cai Guo-Qiang, we open fascinating new territory for the artist and our audience to interact and engage in exciting new ways."
Saraab is a first for both Cai Guo-Qiang and Mathaf," said Wassan Al-Khudhairi.
"For Cai, it is the first time he has had a solo exhibition in the Middle East. And for Mathaf, it is the first time we have turned our eyes eastward, to consider the dynamics of cultural exchangebetween our region and China. By re-imagining Asian connections in this way, Saraab can help viewers to look beyond an
"East/West"
relationship in contemporary art. It has been a great pleasure to collaborate with Cai on this extraordinary exhibition."
"Although Qatar is one of the smallest nations in the region, it acts big and dares to take on ambitious projects,"
said the artist
. "From the 2006 Asian Games in Doha and the World Cup in 2022, to the Qatar Museum Authority and Mathaf in particular, Qatar repeatedly makes appearances on the world stage. It is exciting to be part of this larger context with Saraab." "The new commissions reflect my relationship with Arab culture, and draw from the relationship between my hometown Quanzhou with the Arab world,"
the artist continued.
"These works embody my attention and contemplations throughout the years on the relationship between the Middle East and the world, as well as my sentiments and confusions towards the Arab world. Through the collaboration and exchange with volunteers in making gunpowder drawings and by opening the creative process to the public, I had the chance to work together with young artists, and discuss how to transform traditional mediums and cultural symbols into contemporary concepts and art forms. The past works and documentary videos on the upper floor of the museum form a mini retrospective that attempts to share with the Arab audience my growth as an artist in a multicultural world."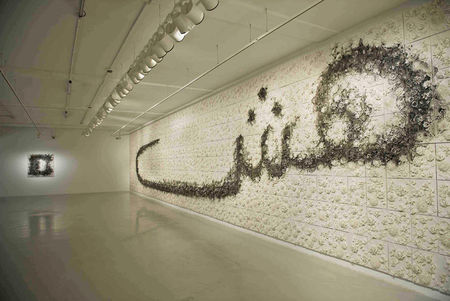 Cai Guo-Qiang (b. 1957, Quanzhou, China; Lives in New York), Installation view of Fragile (2011). Gunpowder on 480 panels of
porcelain, 318 x 1800 cm (125 3/16 x 708 11/16 in.) overall, approximately, 30 x 39.75 cm (11 13/16 x 15 5/8 in.) each panel, 480 panels in total. Commissioned by Mathaf: Arab Museum of Modern Art. Photo by Hiro Ihara, Courtesy Cai Studio.