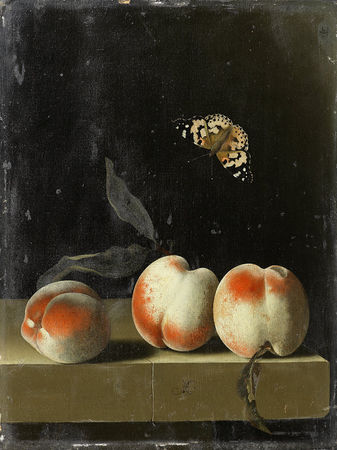 Adriaen Coorte (active Middleburg, circa 1683-circa 1707), Three peaches on a stone ledge with a Red Admiral butterfly; signed with monogram 'AC' (in ligature, on stone ledge, lower centre), oil on paper, laid down on panel, 31.3 x 23.3cm (12 5/16 x 9 3/16in).. Photo Bonhams
A painting of Three peaches on a stone ledge with a Painted Lady butterfly, which was consigned in Australia sold for £2.1million on Wednesday 7th December 2011 in the Old Master Paintings auction at Bonhams, 101 New Bond Street, London, smashing its pre-sale estimate of £300,000-500,000 and setting a new record price for the Dutch artist Adriaen Coorte.
This previously unrecorded painting was spotted by a Bonhams specialist and its discovery is an interesting addition to Coorte's oeuvre. It belongs to a group of still lifes, all undated, which are signed with initials only. Compositionally this group is very close to another recently discovered painting, of 1693, which allows a dating of 1693-95 for the Bonhams picture and the rest of the initialled group. After being identified by Bonhams' Old Masters Department the attribution was confirmed by Dr. Quentin Buvelot and Fred Meijer of the RKD.
Adriaen Coorte (c.1665-1707) was an artist in the Golden Age of Dutch painting, and known for his intimate still life works. His paintings are celebrated for their meticulous detail and beautiful handling of light.
Andrew McKenzie, Head of the Old Master Department in Bonhams, London, comments, "The large number of connoisseurs of seventeenth century Dutch till lifes that I spoke to said this was the best example of Coorte's work that they had ever seen. It is fantastic that the price it fetched reflects this."