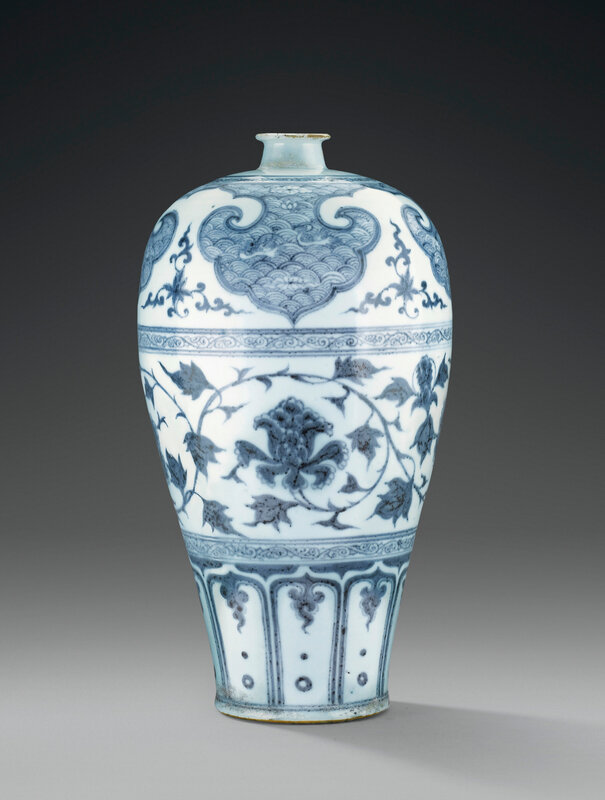 Lot 109. Vase en porcelaine bleu blanc, meiping, Chine, Dynastie Yuan (1279-1368); 42 cm, 16 1/2 in. Estimate 70,000-90,000 EUR. Lot sold 84,750 EUR. Photo Sotheby's
le décor du vase divisé en trois registres : le registre inférieur peint de pétales stylisés, le registre central de fleurs de lotus dans des rinceaux feuillagés et le registre supérieur de cartouches en forme de ruyi contenant lotus et canards mandarins au milieu de vagues stylisées se détachant sur un fond blanc et alternant avec des rinceaux; restauration.
A blue and white porcelain Meiping vase, China, Yuan Dynasty (1279-1368)
Note: This meiping is unusual for the decoration of lotus flowers painted on a dense wave-ground within four large ruyiheads at the shoulders. Two closely related vases with a similar lappet design are illustrated in Zhongguo taoci quanji, vol. 11, Shanghai, 2000, pl. 143 and 145, from the collection of the Gao'an City Museum in Jiangxi province. The decoration of ruyi-heads with a dense flowering scroll can also be seen on a covered meiping from the collection of Ernst Schaefer and later in the Su Lin An collection, sold in our London rooms, 2nd April 1974, lot 188, and again in our Hong Kong rooms, 31st October 1995, lot 308; on a vase from the S.C. Ko Tianminlou collection published ibid., pl. 148, and on a meiping previously sold in our London rooms, 10th December 1985, lot 191.
The motif of 'waves and flowers' can also be found on bottle-form vases (yuhuchun ping) of the Yuan dynasty; for example see one in the Nelson-Atkins Museum, Kansas City, included in Zhu Yuping, Yuandai qinghua ci, Shanghai, 2000, p. 274.
For a related meiping painted with a similar peony scroll band decoration on the main body and large ruyi-heads at the shoulders see one illustrated in Margaret Medley, Yuan Porcelain and Stoneware, London, 1974, pl. 49, later in the Museum of Fine Art, Boston; and a vase in the Idemitsu collection published in Chinese Ceramics in the Idemistu Collection, Tokyo, 1987, pl. 138, with the panels around the shoulder painted with birds soaring amidts flower sprays.
Possibly the companion to the Idemitsu vase, now in the Metropolitan Museum of Art, New York, was included in the exhibition Chinese Art Under the Mongols: The Yuan Dynasty (1279-1368), Cleveland Museum of Art, Cleveland, 1968, cat. no. 138.
Sotheby's. Arts D'Asie. Paris, 15Dec2011