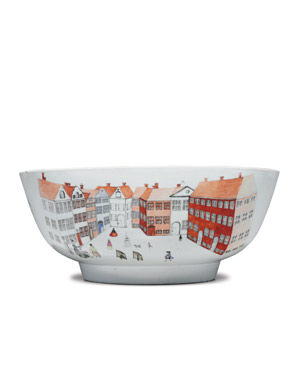 A Rare Chinese Export Copenhagen Punchbowl, circa 1775. Est: $30,000-50,000. Photo: Christie's Images Ltd 2011
New York – Christie's is proud to present the Peter H. B. Frelinghuysen, Jr. Collection of Chinese Export Porcelain on Tuesday, January 24, 2012, which will conclude the series of sales comprising Americana Week. The late Peter Frelinghuysen, longtime U.S. Congressman from New Jersey and last grandchild of the famed collectors H. O. and Louisine Havemeyer, collected classic Chinese export throughout his lifetime, with an emphasis on American market, pieces with historical or political interest, and Dutch armorial, reflecting his family heritage. The collection is comprised of approximately 160 lots and is expected to realize in the region of $660,000.
Peter H. B. Frelinghuysen, Jr. was a life-long resident of New Jersey, where his family first settled in 1720. A graduate of Princeton and Yale, he served 11 terms in the United States Congress (1953-74), carrying on a family tradition that included four senators, a Secretary of State and a Vice-Presidential candidate. During his years in Washington, D.C. he began to expand his Chinese export collection in earnest, finding examples that appealed to his eye, had a compelling story or reflected events long ago or far away.
Particularly rare examples in the collection include a unique plate with golfing scenes, late 18th century, decorated to order after a pair of golfing prints celebrating the game that, by this period, was well-established in Scotland, land of its origin (estimate: $20,000-30,000). A unique pair of dishes painted with the Hongs at Canton and Whampoa Anchorage, circa 1830, has not appeared on the market for decades (estimate: $30,000-50,000).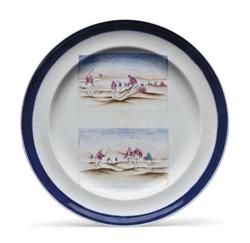 A Very Rare Chinese Export Golfing Plate, circa 1800 $20,000-30,000. Photo: Christie's Images Ltd 2011
Another sale highlight is a large Hong bowl, circa 1785, which depicts a lively Canton waterfront buzzing with the activity of Chinese and foreigners alike, and was among the most extraordinary souvenirs available to Western visitors in the period (estimate: $40,000-60,000). A wonderful example made for the Scandinavian market is a Copenhagen punchbowl, circa 1775, painted in bright colors on each side and illustrating Graabroedretorv (Gray Monks Square) in Copenhagen, with small figures selling their wares in the foreground (estimate: $30,000-50,000).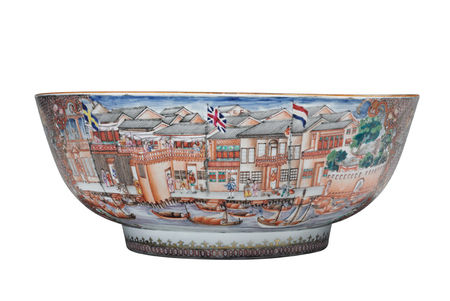 A Hong Bowl, circa 1775. Est: $40,000-60,000. Photo: Christie's Images Ltd 2011
A large pair of grisaille Battle of the Saintes punchbowls, circa 1784, are among several striking bowls made to commemorate the famous 1782 British naval victory, each faithfully copying engravings after the pair of grand paintings of Robert Dodd (1748-1815), known for his meticulous and accurate renderings of naval battles (estimate: $30,000-50,000).
Peter's interest in Chinese export began with an inherited set of American Eagle orange Fitzhugh, circa 1800-1810, including a large platter (estimate: $12,000-18,000). The so-called Fitzhugh patterns, named after the English family who ordered a blue and white service with this distinctive decoration about 1780, became particularly popular in America.
A Very Rare Pair Of China Trade Saucer Dishes, circa 1830 $30,000-50,000. Photo: Christie's Images Ltd 2011