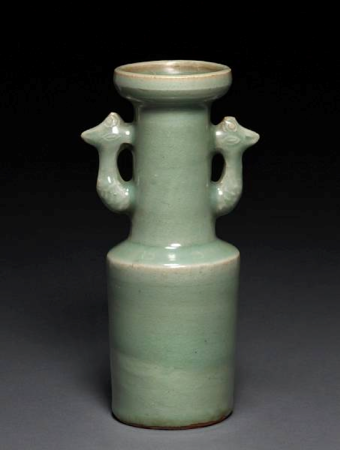 A Longquan celadon glazed mallet vase with phoenix head handles. Ming dynasty. Photo Bonhams
Thickly potted in the shape of a fuller's mallet with cupped mouth, cylindrical neck supporting the molded handles, canted shoulder and cylindrical body raised on a short foot, the rich sea-green glaze covering the interior neck, exterior body and recessed base. 8 1/8in (20.5cm) high. Estimate: US$6,000 - 8,000
Note: A pair of Ming period mallet-shaped vases with similar foot construction, but with mock rings supported by dragon handles, in the collection of the Wenzhou Museum, were published in Zhu Boliang, Longquan yao qing ci (Taipei, 1998), p. 253, cat. no. 238.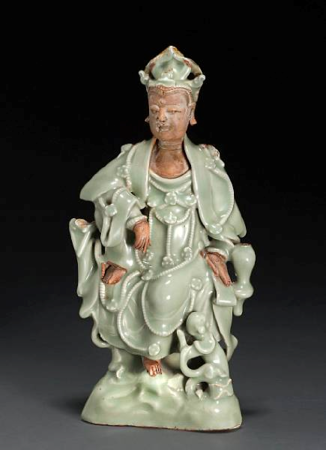 A Longquan celadon glazed porcelain figure of Guanyin. Ming dynasty. Photo Bonhams
Seated in 'royal ease' upon a tree stump with the child Shancai kneeling near her left foot, her clothing overlaid with elaborate pearled pendants and necklaces and her face, hands and feet left unglazed to contrast with the olive green glaze covering most other surfaces. 10 1/4in (26cm) high.
Estimate: US$3,000 - 5,000.
Provenance: purchased by the original owner in Portland, Oregon in 1951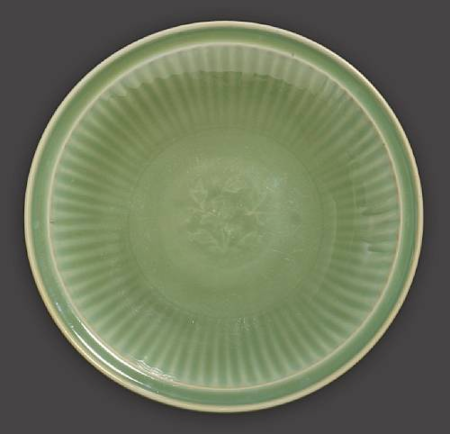 A Longquan celadon glazed porcelain charger. Ming dynasty. Photo Bonhams
Thickly molded with a raised exterior edge to the rim flange, recessed ribs along the shallow curving walls and a peony spray impressed to the floor of the well, the reverse without decoration and the lustrous olive-green glaze layer applied to all surfaces except a narrow cinnamon-burnt firing on the recessed base.14 3/4in (37.5cm) diameter. Estimate: US$2,000 - 3,000
Bonhams. Fine Asian Works of Art, 20 Dec 2011. California, San Francisco www.bonhams.com