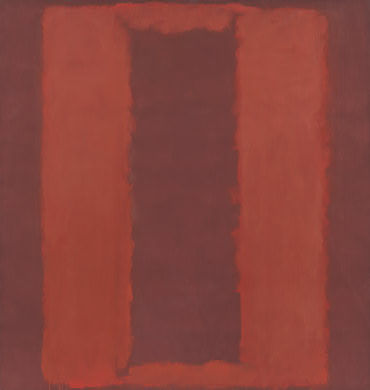 Mark Rothko, Untitled (Seagram Mural sketch), 1958, oil on canvas. National Gallery of Art, Washington. Gift of The Mark Rothko Foundation, Inc. Copyright © 1997 Christopher Rothko and Kate Rothko Prizel
Mark Rothko, Untitled (Seagram Mural sketch), 1958, oil and acrylic on canvas. National Gallery of Art, Washington. Gift of The Mark Rothko Foundation, Inc. Copyright © 1997 Christopher Rothko and Kate Rothko Prizel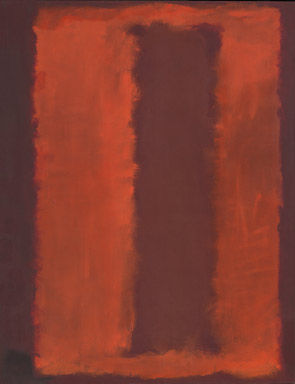 Mark Rothko, Untitled (Seagram Mural sketch), 1959. Oil and acrylic on canvas, overall: 183.5 x 152.7 cm. Gift of The Mark Rothko
Foundation, Inc. © 1997 Christopher Rothko and Kate Rothko Prizel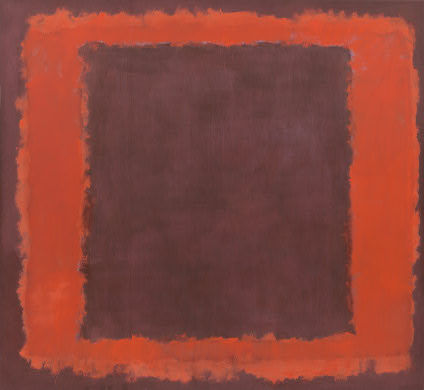 Mark Rothko (American, born Russia, 1903–1970), Untitled (Seagram Mural), 1959. Oil and mixed media on canvas, overall: 265.4 x
288.3 cm (104 1/2 x 113 1/2 in.). Gift of The Mark Rothko Foundation, Inc. © 1997 Christopher Rothko and Kate Rothko Prizel.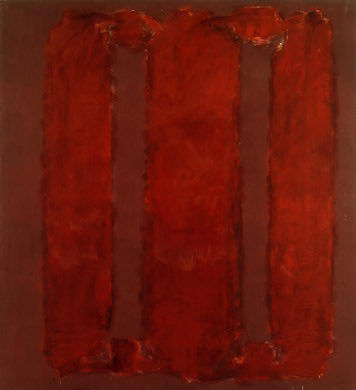 Mark Rothko, Untitled (Harvard Mural sketch), 1962, oil and mixed media on canvas. National Gallery of Art, Washington. Gift of The Mark Rothko Foundation, Inc. Copyright © 1997 Christopher Rothko and Kate Rothko Prizel
WASHINGTON, DC.-
The National Gallery of Art
presents a special installation of three of Mark Rothko's paintings made for the so-called Seagram Mural Project, timed to coincide with the presentation of John Logan's play Red at Arena Stage at the Mead Center for American Theater (January 20 to March 4), which dramatizes Rothko's struggle with the commission. Mark Rothko: Seagram Murals is on view in the Concourse galleries of the East Building from December 6, 2011, through August 15, 2012. These works became part of the Gallery's collection in the mid-1980s, as part of a vast gift of works from the Mark Rothko Foundation (now closed), making the Gallery the largest public repository of the artist's work.
"We are pleased to present these paintings in conjunction with the Arena Stage's production of Red so that Washington, DC, audiences can see the work depicted in the play,"
said Earl A. Powell III, director, National Gallery of Art. "As the most important repository and study center of Rothko's work, the Gallery has a particular interest in bringing this special installation to the public."
The Gallery last presented these works with five others from the Seagram Mural project and one Harvard Mural work in an installation entitled Mark Rothko: The Mural Projects, which was on view in the East Building Concourse galleries from October 12, 2003, through August 12, 2007.
The Seagram Mural Project
In June 1958, Mark Rothko accepted a commission to decorate a dining room in the Four Seasons restaurant of the
Seagram Building on Park Avenue in Manhattan, a new modernist skyscraper by Philip Johnson and Mies van der Rohe. Departing from his wonted format of floating rectangles in glowing colors, Rothko produced wine-dark paintings with ambiguous portal shapes evoking what he called a "closed space." From the fall of 1958 through 1959 he was completely absorbed, making some thirty paintings even though the room only offered places for seven. At the same time, he became increasingly doubtful that a luxury restaurant with its wealthy patrons was the appropriate venue for his art. He withdrew, canceling what would have been his first painted environment—a "place," as he ambitiously said, rather than just a group of paintings. He did, however, complete commissions for a room at Harvard University and a chapel in Houston before his death in 1970.
Red at Arena Stage
Edward Gero and Patrick Andrews star in Red at Arena Stage at the Mead Center for American Theater, produced in association with Goodman Theatre. John Logan's Tony Award-winning playran at Goodman Theatre September 17–October 30, 2011, including a weeklong extension to accommodate popular demand. Now bringing his production to Arena Stage for its D.C. premiere is Tony Award winner and Goodman Theatre Artistic Director Robert Falls (Broadway's Death of a Salesman, Long Day's Journey into Night, Talk Radio). Red runs January 20–March 4, 2012, in the Kreeger Theater.
Installation of Mark Rothko's Mural Commissions Untitled (Harvard Mural sketch), 1962; Untitled (Seagram Mural sketch) 1959;
Untitled (Seagram Mural sketch), 1958

(Left to Right).

Photo: Rob Shelley, National Gallery of Art

Installation of Mark Rothko's Mural Commissions Untitled (Seagram Mural) 1959; Untitled (Seagram Mural sketch), 1958

(Left to Right).

Photo: Rob Shelley, National Gallery of Art

Installation of Mark Rothko's Mural Commissions Untitled (Seagram Mural) 1959; Untitled (Seagram Mural sketch), 1958

(Left to Right).

Photo: Rob Shelley, National Gallery of Art