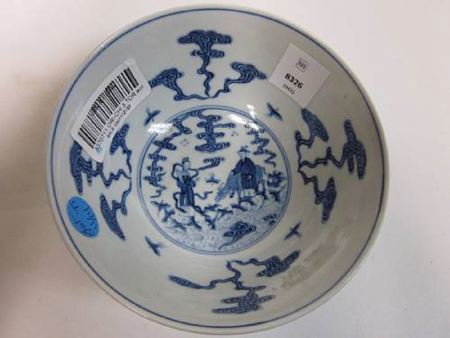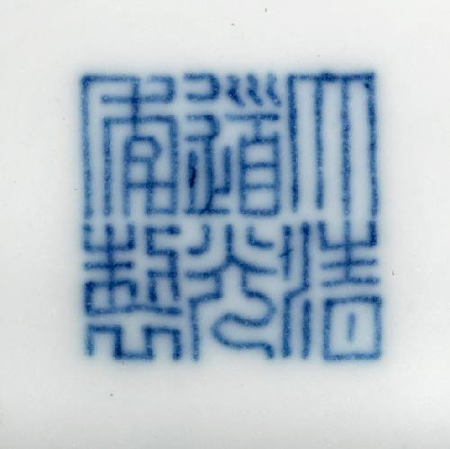 A sgraffito blue enamel ground porcelain bowl with underglaze blue and famille rose enamel decoration.Daoguang mark and period. Photo Bonhams
Its wide, curving well painted in underglaze blue with a roundel of the ox herder and weaver maid surrounded by lingzhi fungus branches that repeat on the exterior walls in bright colors against the blue enamel ground incised with scroll motif, the six-character mark in underglaze blue seal script centering the recessed base. 5 7/8in (15cm) diameter. Sold for US$18,750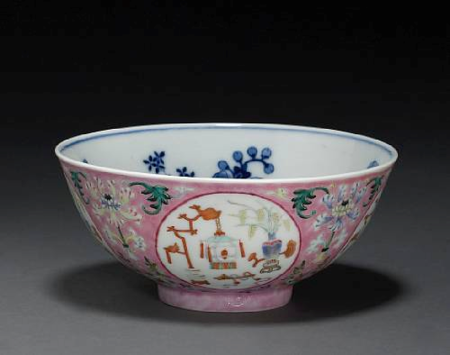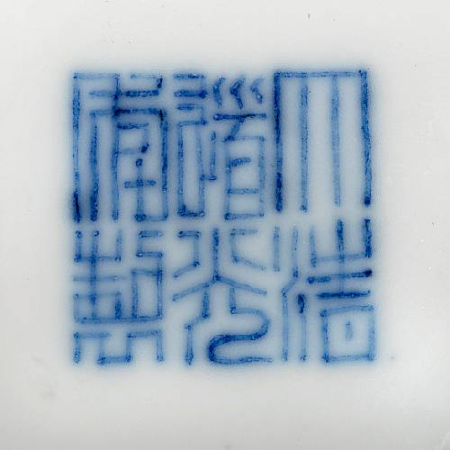 A rose sgraffito ground porcelain bowl with underglaze blue and famille rose enamel decoration. Daoguang mark and period. Photo Bonhams
Its wide, curving well painted in underglaze blue with four sprays of seasonal blossoms surrounding a garden and rock roundel and reversed by brightly enameled roundels of lanterns and grain-filled vases separated by composite flowers and leaf scrolls on a rose enamel ground incised with scroll designs, the six-character mark in underglaze blue seal script centering the recessed base. 5 3/4in (14.5cm) diameter. Estimate: US$12,000 - 18,000. Unsold
Note: Terese Tse Bartholomew has identified the combination of a lantern (denglong) and ears of grain (wugu) as a rebus meaning 'May there be a bumper harvest of the five grains.' See her Hidden Meanings in Chinese Art (Asian Art Museum of San Francisco, 2006), p. 241, entry 8.16.1.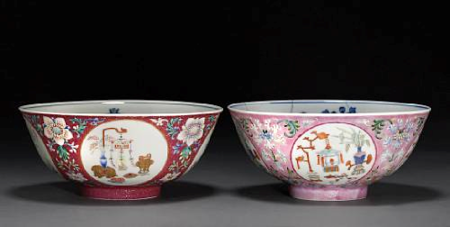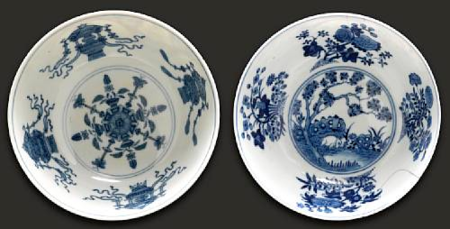 Two famille rose enameled bowls with underglaze blue decoration.Daoguang marks and period. Photo Bonhams
The first painted in underglaze blue with festival lanterns across the floor and curving walls of the interior and included with other auspicious objects in circular reserves surrounded by floral sprays all rendered in famille rose enamels against a ruby red sgraffito ground; the second bowl painted in similar enamels also with festival lanterns in the circular roundels and floral sprays against a sgraffito lavender enamel ground, but the interior well featuring seasonal blossoms on the walls and a garden and rock roundel with animal; both displaying the six-character mark in seal script to the recessed base. 5 3/4in (14.5cm) diameter.
Bonhams. Fine Asian Works of Art, 20 Dec 2011, California, San Francisco www.bonhams.com