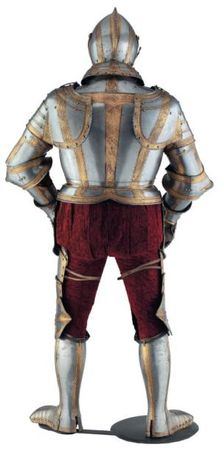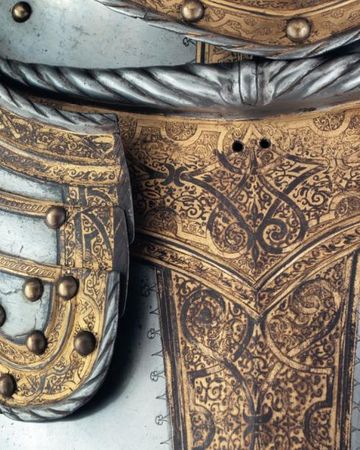 Imposante armure de bataille à bandes décorées à l'eau forte et dorées, dans le style allemand d'Augsbourg vers 1540-50, homogène et
d'exceptionnelle qualité, très vraisemblablement Vienne début du XIXe siècle. Photo Pierre Bergé & associés
An imposing German etched and gilt full armour for the field, in the Augsburg style of circa 1540-50, homogenous and of exceptional quality, most probably Vienna, early 19th century.
Constructed in an authentic manner and to bold proportions throughout, comprising close helmet with visor drawn out to a sharply pointed prow, upper-bevor pierced with an arrangement of slotted breathes left and right, lower-bevor formed with a prominent chin, the three parts moving on common pivots, and neck-guard of two articulated plates front and rear, hinged gorget of four lames front and rear, breast-plate of broad construction formed with a strong medial ridge and pronounced roped turns at the neck and at the moveable arm-gussets, skirt of three articulations carrying a pair of short tassets, folding lance-rest, back-plate with waist lame, skirt of one articulated lame and fitted with hinged armoured shoulder-straps, a pair of spaulders correctly asymmetrical for the fighting arm, full arm defences moving on turners and including a pair of large bracelet couters embossed with pairs of volutes and a prominent roped ridge over the point of the elbow, a pair of mitten-gauntlets ornamentally fluted, full leg defences formed of extendable cuisses fitted with articulated poleyns, greaves slotted for spurs, and "bear paw" sabatons with embossed roped toe-caps, the entire armour decorated with a rich design of etched and gilt bands of arabesque strapwork patterns set within gilt foliate borders, the edges turned and roped, the subsidiary edges of the smaller principal lames also decorated with cusped ornament at their centres, and in fine condition throughout: mounted on a purpose-built mannequin, the leathers complete and partly expertly replaced.
H.: 182 cm - W.: 24.182 kg. Résultat : 85 000 €
Provenance: By tradition, The Princes von Hohenlohe.
Bachereau, Paris, circa 1900.
The Lord Astor of Hever, Sotheby's The Hever Castle Collection, Arms and Armour, 5th May 1983, lot 52, sold £ 28,600.
The formidable proportions and lavish decorative treatment of the construction give this armour a striking and sculptural presence. As such, this armour is almost certainly unique in private hands within the known group of armours produced in Vienna in the late 18th and early 19th centuries. The late Dr. J.F. Hayward drew the close comparison between this armour and those built in the Kaiserliche Hofplattnerei, Vienna, to replace losses from the Imperial Armoury, the consequence of looting by order of Napoleon Bonaparte. Hayward further supposed that this armour may have been
ordered by the Princely Hohenlohe family to replace a lost armour, to date not identified (see Sotheby's catalogue of The Hever Castle Collection, 1983, lot 52).
The Imperial armourers had retained the skills of their 16th century forebears within a close-knit ancestral tradition. Two early 19th century Viennese armours are preserved in the Kunsthistorisches Museum, Vienna (A 1409 and A 1042); for a discussion of these see GAMBER, Ortwin, Romantische Harnisch des 18 Jahrhunderts in Wien, in Jahrbuch des Kunsthistorisches Sammlung in Wien, Band 77 (1981), pp. 194-5.
For a further comparable example see GRANCSAY, Stephen. V., Catalogue of The John Woodman Higgins Armory, 1961, p.66. In his published notes relating to the reproduction of armour in the 19th century, Dr. Hans Schedelmann attributes a fine copy of the etched armour of King Philip II
of Spain (A547, in the former Imperial collection in Vienna) to an unidentified Viennese workshop, circa 1800. See, SCHEDELMANN, Hans, Der Waffensammler, in Waffen-und Kostümkunde 1964, Heft I, pp.50-57 pl.18.
Pierre Bergé & associés. Mardi 13 décembre à 15h00. Grand Sablon 40 Grote Zavel, Bruxelles. « Le musée fantastique » de Karsten Klingbeil armes et armures anciennes. EMail : contact@pba-auctions.com - Tél. : Paris +33 (0)1 49 49 90 00 - Bruxelles + 32 (0)2 504 80 30