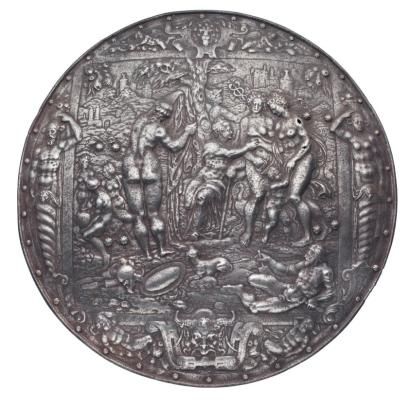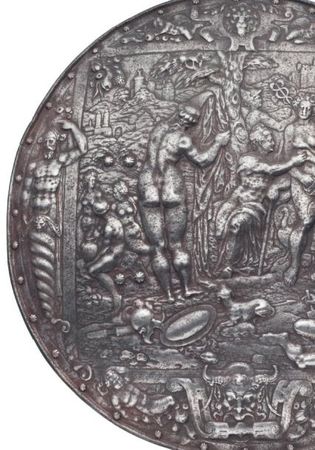 Très rare rondache de parement en fer repoussé d'une scène maniériste inspirée du « Cycle Troyen », d'après une oeuvre de Raphaël, Milanais vers 1550-70.Photo Pierre Bergé & associés
A very rare Milanese embossed Mannerist circular iron parade shield decorated with a scene from the Trojan Cycle of Homeric poems, after a composition by Raphael, circa 1550-70.
Convex, the edges turned over wire, encircled by domed stellate iron lining rivets and four pairs of larger stellate rivets for the enarms, decorated centrally with a framed rectangular scene, the Judgement of Paris, from an engraving by Marcantonio Raimondi (circa 1515-16) after the original composition by Raphael (circa 1512), the central scene taking place before the walls of Troy on mount Ida, to one side the goddesses Juno, Venus and Minerva bathing in the spring of Ida, the composition in the foreground centring on the figure of Paris seated wearing his Phrygian cap and giving the Apple of Discord to Venus, the figure of Mercury emerges from the background, the three goddesses identified by their attributes, Venus with Cupid, Juno with a peacock and Minerva disrobing, her naked back turned to the viewer and her armour discarded below her feet, in the lower foreground is the figure Oeneus the River God, the father of Oenone, the Wife of Paris, the framed composition supported by male and female Herms at the sides and involving pairs of cherubs and putti at the top and at the base, the upper segment with a strapwork cartouche filled with a lion mask at its centre and the basal panel decorated with a demon mask on a strapwork scroll.
Diameter: 59,5 cm - Wt.: 2835 g. Résultat : 17 000 €
Provenance: William Randolph Hearst, probably included in the dispersal of the Hearst collection at Gimbel's department store in New York city in 1941.
The figural characterisation and elements of the overall composition are clearly taken from the engraving of the Judgement of Paris by Marcantonio Raimondi, the work executed circa 1515-16. The exact composition of the original work by Raphael is unknown as a result of the disappearance of the painting shortly after its execution in circa 1512; Raimondi worked in close association with Raphael and his engraving of the Judgement of Paris is taken to be a close facsimile of the original. The engraving appears to have been widely disseminated among the metalworkers of Northern Italy.
A burgonet and shield embossed and damascened with a similar version of the Judgement of Paris, attributed to the Milanese school, circa 1560-65, are preserved in the Deutsches Historisches Museum, Berlin (Inv. W 1004-W1005).
See, GODOY, José A., Parures Triomphales, 2003, pp.154-157, 435-437.
Pierre Bergé & associés. Mardi 13 décembre à 15h00. Grand Sablon 40 Grote Zavel, Bruxelles. « Le musée fantastique » de Karsten Klingbeil armes et armures anciennes. EMail : contact@pba-auctions.com - Tél. : Paris +33 (0)1 49 49 90 00 - Bruxelles + 32 (0)2 504 80 30