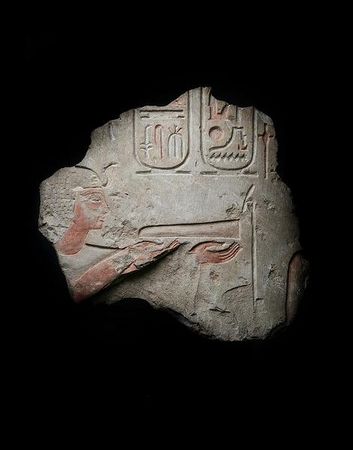 An Egyptian sandstone relief. New Kingdom, Dynasty 19th, reign of Ramesses II, 1290-1224 BC. Photo Galerie Chenel
W 53 cm
This piece most probably belonged to a column shaft. It is sculpted in low relief and depicts Ramesses II offering a bolt of cloth to a deity. The Pharaoh, shown facing right, wears a tunic and a short ibes wig fronted by an uraeus that covers his ears. Above him two of Ramesses' five names are inscribed in two cartouches. Significant polychrome remains.
Provenance: Khawam Brothers, Paris, 1960's; acquired by the previous owner in Paris, 1985
Statue of Aphrodite. Roman, 2nd century AD. Photo Galerie Chenel
Marble. H. 95 x W. 44.5 cm.

Provenance: Cavaliere Marinucci, Rome early 20th century; the Minneapolis Institute of Arts, 1925-1958; sold by Parke Bernet, New York, 15 May 1958, n° 67; acquired by a private collector in 1958; Ophiuschus collection, New York, 1982
Literature: Bulletin of the Minneapolis Institute of Arts, 1925, pp. 96-7; S. Reinach, 'Repertoire de la statuaire Grecque et Romaine' vol. VI, Paris, 1930, p. 84, n° 5;
A. Andeomenou, 'Chronika', Archaiologikon Deltion, Athens, 1972, vol XXVII, p. 697, n°5, pl. 650, ill. a; G.Touchais, 'Chronique des fouilles 1976', Bulletin de correspondance Héllenique, Paris, 1977, vol. 101, p. 521-2, ill. 28; I. Love, 'Ophiuchus Collection', Florence, 1989, p. 70-5, n° 12; published in our catalogue Anotomia, 2011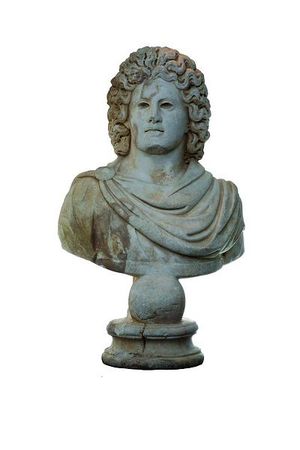 Bust of Alexander Helios. Roman, circa 1st-2nd century AD. Photo Galerie Chenel
Marble. H. 97 x W. 68 cm

Provenance: collection of Mrs Patricia Kluge; Sotheby's London, december 12, 1983, lot 322, ill.
Literature: François Antonovitch, 'Les métamorphoses divines d'Alexandre', Paris, 1996, p.71, ill.
Galerie Chenel. Stand N°65. BRAFA'12 . Du 21 au 29 janvier 2012, à Tour & Taxis
Galerie Chenel est l'histoire d'une famille passionnée de sculpture. Elle a pour spécialité l'archéologie avec un fort attachement pour la Rome antique. Elle dispose de 2 espaces d'exposition en plein coeur de Paris, l'un moderne et muséal, l'autre plus classique et raffiné mais aménagé avec un oeil nouveau. Elle participe à des salons internationaux et organise de nombreuses expositions thématiques dans ses murs tout au long de l'année. La galerie Chenel expertise soigneusement les objets qu'elle acquiert et est très attentive à leur provenance. Elle s'enorgueillit de ne présenter que des objets de qualité et de bon goût et compte dans sa clientèle aussi bien des conservateurs de musées, des collectionneurs avertis que des professionnels et de simples amateurs. Un service complet et professionnel garantit aux acheteurs qu'ils peuvent avoir pleine confiance.
Ollivier Chenel. 6 Rue de Beaune. F-75007 Paris. France. T +33 (0)1 42 97 44 09 - M +33 (0)6 07 36 43 84 - F +33 (0)1 42 97 44 17 - www.galeriechenel.com - contact@galeriechenel.com