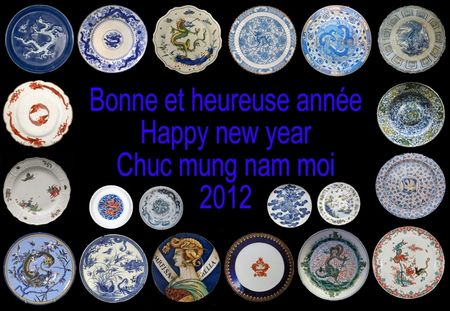 Au Vietnam, l'arrivée du dragon est un présage de bonheur. Son apparition annonce les pluies fertilisantes et la fin des périodes orageuses ou des sécheresses. C'est la renaissance de la nature et des forces bénéfiques !
Que le Dragon d'Eau 2012 apporte au monde, après les tonnerres et les sombres nuages de l'année dernière, paix et richesse, et à vous joie, bonheur et réussite !
Bonne et heureuse année 2012 !
In Vietnam, the coming of the dragon is an omen of happiness. Its apparition announces the fertilizing rains and the end of the stormy periods or dryness. It is the renaissance of the nature and the beneficial strengths!
Hope that the Water Dragon of 2012 brings to the world, after the thunders and the dark clouds of last year, peace and wealth, and to you joy, happiness and success!
Sự thức dậy và xuất hiện của con rồng là một lời báo hạnh phúc. Đó là thời buổi những cơn mưa điều hoà, sau những cơn bão tố hoặc nắng hạn.
Hy vọng Nhâm Thìn 2012

đem lại cho thế giới hòa bình và thịnh vượng và cho các bạn sức khoẻ, hạnh phúc, thành công và vạn sự như ý.