India, Shah Jahan Receives the Persian Ambassador, Muhammad 'Ali Beg, folio from the Windsor Padshahnama, c. 1633, ink, colors, and gold on paper, the Royal Collection, Windsor. Royal Collection © Her Majesty Queen Elizabeth II
Houston. The Museum of Fine Arts, Houston (MFAH), presents Gifts of the Sultan: The Arts of Giving at the Islamic Courts, a major international loan exhibition which explores Islamic art through the universal tradition of gift giving. Many of the most spectacular and historically significant examples of Islamic art can be classified as gifts, a number of which will be brought together for the unique purpose of this exhibition to demonstrate the integral and complex nature of gift exchange in the Islamic world. Organized by LACMA with support from the MFAH, Gifts of the Sultan spans the eighth through nineteenth centuries. The MFAH presentation features nearly 200 works of art representing a rich variety of media from collections in the Middle East, Europe, and East Asia. Gifts of the Sultan opened at LACMA (June 5–September 5, 2011), and is on view at the MFAH October 23, 2011–January 16, 2012.
"Gifts of the Sultan offers a fascinating look at the way the Islamic world represented itself to 'outsiders' through the exchange of gifts, whether the purpose was political, personal or pious," said Gwendolyn H. Goffe, MFAH interim director. "Together this fall with Tutankhamun: The Golden King and the Great Pharaohs, also opening in October 2011, the MFAH will provide a window into the powerful kingdoms of the ancient Middle East."
"Because of its global framework, Gifts of the Sultan is the Islamic exhibition of the decade," said Francesca Leoni, MFAH Islamic Art curator. "The objects span across geographical regions and time, and unveil segments of shared histories and experiences that have remained largely unappreciated so far."
Exhibition Overview Gift giving was a fundamental activity at the great Islamic courts for various purposes: to further diplomatic and political ambitions; as reward for services rendered; to celebrate annual events like the New Year or more personal occasions such as weddings and birthdays; and as expressions of piety, often associated with the construction or enhancement of religious monuments. Made of rare and precious materials and commissioned from the best artists and craftsmen of the day, these gifts came in many forms. Gifts of the Sultan brings together a brilliant array of diverse works including silk carpets and textiles woven with golden thread; jewelry and objects fashioned of precious metal; containers fashioned of jade, ivory, or rock crystal; elaborately illustrated manuscripts and richly illuminated Qur'ans; enameled and gilded glass; carved and inlaid wooden furnishings; and jewel-encrusted arms and armor.
Gifts of the Sultan will show that many works were not straightforward gifts; rather their gift status is only revealed by unraveling their life stories, which tell how they were viewed or received, which was very often beyond the context of their original creation. The exhibition will also demonstrate the cross-cultural interactions that took place between Islam and Byzantium, and with western European and East Asian courts, as the exchange of luxury objects illustrates a central process by which artistic forms and ideas were circulated, emulated, and assimilated.
Exhibition Organization Gifts of the Sultan will be organized in three broad sections: personal gifts, pious donations, and state and diplomatic gifts. The first includes more intimate items such as objects of personal adornment in the form of jewelry, belts, and garments; precious yet utilitarian pieces such as vessels of gold, silver, porcelain, and jade; along with paintings, albums, and manuscripts. The second section highlights pious donations, encompassing architectural elements, furnishings, and manuscripts of the Qur'an that were part of a religious institution's endowment, the endowment deed itself, and works, often of a secular nature, that were specifically gifted to a mosque or shrine. The third and largest section features works that were exchanged as diplomatic gifts at different times. The objects range from rock crystal pieces and courtly regalia to illustrations of embassies and ambassadors.
The exhibition will also include a small contemporary component presenting the work of Sadegh Tirafkan, Shahzia Sikander, and Ahmed Mater. These three innovative artists, who have roots in the Islamic world and draw inspiration from their own cultural traditions, have been commissioned to produce new work interpreting the theme of Gifts of the Sultan.
Exhibition Highlights Among the highlights of this exhibition is the famed and rarely exhibited Ardabil Carpet (1539–40), which was a royal gift to the Safavid shrine at Ardabil, in northwestern Iran, and is now in LACMA's permanent collection. Other key works of art drawn from international collections that will be on display include two spectacular pairs of oversize gold bracelets from eleventh-century Syria that were perhaps dowry gifts; pages from a beautiful Mughal album given by an Indian prince to his beloved wife; a group of enormous gold-embroidered textiles sent by Ottoman sultans to embellish the Ka`ba, in Mecca; and a fifteenth-century Chinese scroll depicting the gift of a giraffe presented by by Sayf al-Din Hamza Shah of Bengal (r. 1410-12) to the Ming emperor Yongle (r. 1402-24) in 1414.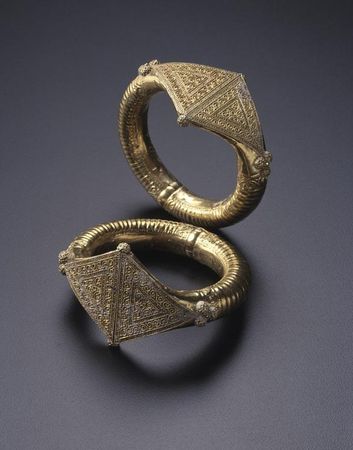 Syria or Egypt, Pair of Bracelets, 11th century, gold, fabricated from sheet, decorated with wire, granulation, and repoussé, Museum of Islamic Art, Doha. Photo courtesy Museum of Islamic Art, Doha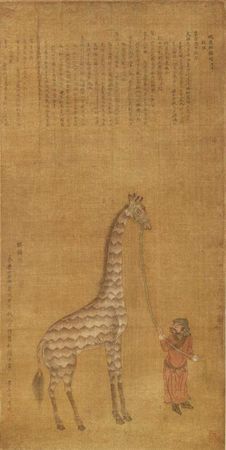 China, Giraffe with Attendant, 1403–34, ink and colors on silk, mounted as a hanging scroll, Philadelphia Museum of Art, gift of John R. Dorrance. Photo courtesy Philadelphia Museum of Art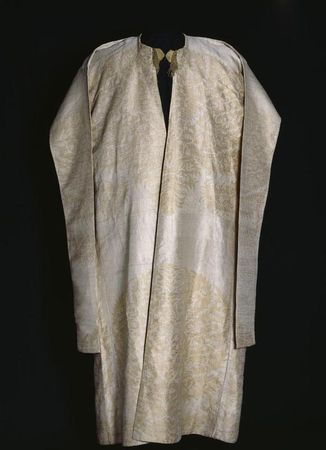 Turkey, Robe of Honor, end of the 17th–first half of the 18th century, silk, silver thread wound around white and yellow silk cores, taqueté weaving (seraser), Museum für Islamische Kunst, Berlin. © Bildarchiv Preussischer Kulturbestiz / Art Resource, NY by Georg Niedermeiser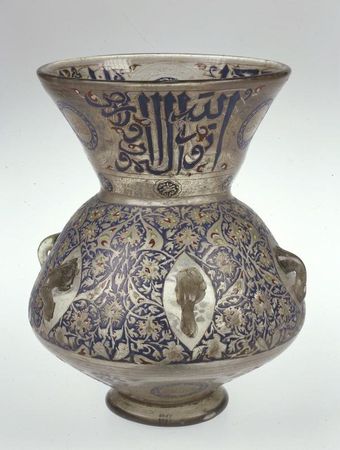 Egypt or Syria, Mosque Lamp, c. 1354–61, enameled and gilded glass, Museum Calouste Gulbenkian, Lisbon. © Museu Calouste Gulbenkian / Art Resource, NY (photo: Catarina Gomes Ferreira)