Detail of Dragon insignia roundel, silk and gold thread embroidery on silk. China , Qing Dynasty, second half 19th century. Denver Art Museum ; Neusteter Textile Collection: Gift of Mrs. Carroll B. Malone
DENVER, CO.-
The Denver Art Museum
announced today a $3 million gift from the Avenir Foundation that will transform the institution's textile art program. In addition to expanding the current textile art gallery space to more than six times its current square footage, the gift will allow for the development of scientific and educational spaces, a staging area for exhibition preparation and conservation and storage of the more than 5,000 textile objects in the DAM's collection.
"This gift will help us tell the story of textiles as triggers of cultural exchange and creative expression from around the world,"
said DAM's Frederick and Jan Mayer Director Christoph Heinrich.
"It reinforces our commitment to textile art and allows greater public access to this wonderful collection."
By reclaiming more than 7,000 square-feet of space on level six of the North Building , the museum will be able to show a larger portion of its collection, host more loaned exhibitions of textile art and give visitors a space to engage in a variety of additional activities.
Derived from the French word for future, the Lakewood-based Avenir Foundation supports educational, arts and cultural activities. The donation from the foundation will support the build-out of the gallery and form an endowment that will fund staff and program in perpetuity. The galleries are slated to open in the summer of 2013.
The foundation's gift inspired additional support for the DAM's textile collection. Longtime trustee Nancy Benson will underwrite an in-gallery education and interactive space to engage visitors with hands-on activities. A gift from Mary Ellen Anderson will enable the museum to hire a full-time conservator dedicated to textile art. Support for conservation enables the museum to display objects not seen before and a dedicated educational area will provide opportunities for interaction and exploration.
"The new space offers many exciting possibilities for the textile art department,"
said Alice Zrebiec, the Avenir Foundation Curator of Textile Art. "
Relocating and vastly expanding the gallery increases the opportunity for the public to discover this diverse collection, which spans the Americas , Europe and Asia and includes objects from ancient times to current day."
Visitors can see the depth and quality of the DAM's textile collection in Threads of Heaven: Silken Legacy of China's Last Dynasty on view through January 29, 2012. This exhibition showcases more than 90 objects from the DAM's collection of Chinese textiles and costumes and offers visitors insight into the latter years of the court and culture of the Qing Dynasty. Sleight of Hand, on view in the Neusteter Textile Gallery, celebrates creative inventiveness in using materials, techniques, and outright illusion as seen in the work of 14 contemporary artists.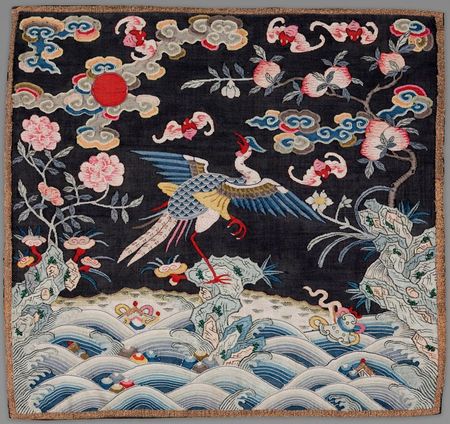 Golden pheasant rank badge, 2nd rank civil servant, silk tapestry with painted details. China , Qing Dynasty, late 18th – early 19th century. Denver Art Museum ; Neusteter Textile Collection: Gift of James P. Grant & Betty Grant Austin