Peter Paul Rubens, The Death of Adonis (with Venus, Cupid, and the Three Graces), ca. 1614 (detail). Oil on canvas. The Israel Museum, Jerusalem. Gift of Saul and Gayfryd Steinberg, New York, to American Friends of the Israel Museum
JERUSALEM.-
Inaugurating a new series of in-depth exhibitions exploring masterpieces from its encyclopedic collections, the
Israel Museum
presents an exhibition that sheds new light on The Death of Adonis (ca. 1614) by Flemish Baroque master Peter Paul Rubens. On view from January 10 through May 5, 2012, Rubens, Venus, and Adonis: Anatomy of a Tragedy examines this monumental masterpiece, analyzing its iconographic sources, composition, and place within the development of Rubens' style. Twenty-five related works—including a preparatory oil sketch by Rubens as well as drawings, paintings, and prints of the same theme by Rubens and other Flemish and Italian masters of his time—are brought together to illuminate aspects of the artist's special interest in the story of Venus, the goddess of Love and Beauty, and Adonis, her human lover.

"This exhibition presents a unique opportunity for audiences to explore in depth The Death of Adonis, a masterwork of Baroque art, in a visually illuminating context that highlights the significance of Peter Paul Rubens and of his work," said James S. Snyder, Anne and Jerome Fisher Director. "We are grateful for the beneficial collaboration of many generous colleagues and friends around the world who amplified our project's goal with essential loans, and without whom this comprehensive look at Rubens' creative method and the forces and influences that shaped this masterful work would not have been possible."

Known for his lavish large-scale compositions overflowing with voluptuous women, chubby cherubs, and mythological characters, Rubens painted canvases that epitomized the aesthetic ideals of the Low Countries in the 17th century. He was exposed to Renaissance painting, Classical sculpture and Humanist literature through his travels to Italy and Spain, and The Death of Adonis represents the luscious style he developed following a prolonged stay in Italy. The painting depicts the tragic moment when Venus discovers the body of her dying lover, Adonis, gored by a wild boar while hunting.

When it was given to the Museum in 2000, The Death of Adonis provided a first opportunity for visitors to explore the powerful imagery of Rubens at his most masterful. Now chosen to inaugurate the "Focus" series, this remarkable work is illuminated by research conducted by European Art Curator Shlomit Steinberg and contextualized by related works from the Museum's own collection and by loans from other collections. The exhibition presents a complete "dossier" of preparatory sketches and other works on the same subject by Rubens and his circle, as well as primary literary sources and works by other artists relating to the painting and its theme. Together, this ensemble offers a glimpse into the deeply focused process—in the artist's mind and in his studio—through which a great work of art is created.

The exhibition is curated by Shlomit Steinberg, Hans Dichand Curator of European Art. A catalogue in English and Hebrew—the first publication in Israel devoted to Rubens—accompanies the exhibition.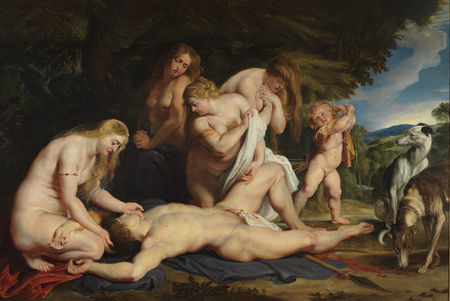 Peter Paul Rubens, The Death of Adonis (with Venus, Cupid, and the Three Graces), ca. 1614. Oil on canvas. The Israel Museum, Jerusalem. Gift of Saul and Gayfryd Steinberg, New York, to American Friends of the Israel Museum