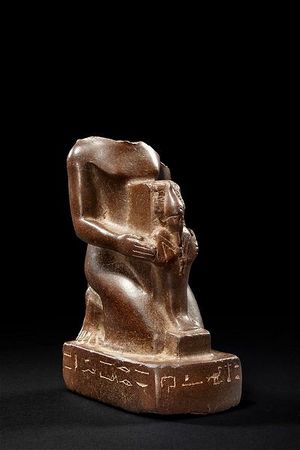 Théophore au nom de "Padi-Hor" avec Osiris – Grauwacke brune
Theophorus of Padi-Hor presenting the god Osiris. Egypt, Late Period, XXVI. Dynastie
Brown greywacke with inscription: '[Words spoken by Osiris-] Oun-nefer, may he grant life and good health to Pa-di-hor, son of Imen-tef-nakht, born to the mistress of the house, Na-néfer-neith'. H. 16.6 x W. 7.8 x D. 11.1 cm
Provenance: former Swiss private collection
Literature: 'Egyptian Sculpture of the Late Period', The Brooklyn Museum, 1960
Trois Vases Canopes – Terre cuite avec stuc et polychromie d'origine.
Three canopic jars. Egypt, New Kingdom, Third Intermediate Period, circa 1500-1000 BC.
The lids represent three of the sons of Horus: Hapy, the baboon, Qebehsenuef, the hawk and Amset, the human Terracotta with original gesso-painted stucco. Yellow inscription naming the deceased 'Tjes-Iset-Peret'. TL Test. H. 29 cm
Provenance: former French collection
Literature: G.A. Reisner, 'Canopics', General catalogue of the Egyptian Museum of antiquities, Cairo IFAO, 1967, pl. LXVI-LXVII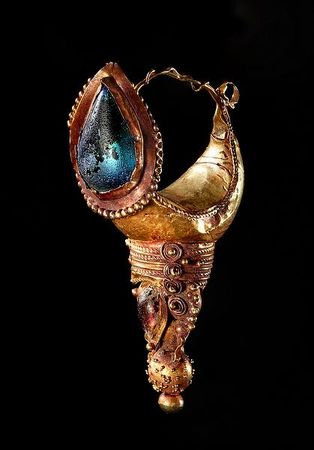 Boucle d'Oreille – Or avec incrustations de verre.
Large earring. Egypt, Roman Period, 1st-2d centrury AD.
Fine granular and spiral decoration made of gold, inlaid with iridiscent glass. H. 7 x W. 1.9 cm
Provenance: private collection, France
Roswitha Eberwein GmbH - Antike Kunst Göttingen. Stand N°115. BRAFA'12 . Du 21 au 29 janvier 2012, à Tour & Taxis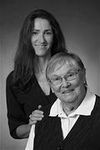 La galerie est spécialisée dans l'art égyptien d'environ 3500 avant J.C. à l'ère copte et islamique (IXe siècle après J.C.). Des pièces provenant des pays limitrophes, tels que la Grèce, Rome et la Mésopotamie, sont également présentées dans la galerie. 'Antike Kunst Göttingen' est membre de la 'Verband der Kunsthändler Niedersachsen e.v.' et de l' 'International Association of Dealers in Ancient Art (IADAA)'
Bismarckstrasse 4. D-37085 Göttingen, Allemagne. T +49 (0)55 14 70 83 - M +49 (0)172 541 99 58 - M +33 (0)6 72 90 40 70 - F +49 (0)55 14 15 43 - www.antike-kunst-goettingen.de - roswitha.eberwein@gmx.de