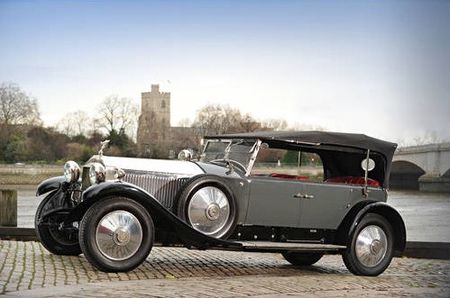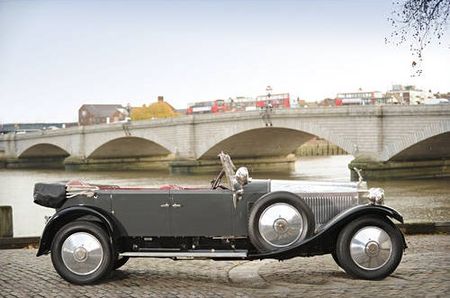 Livrée neuve au Maharajah de Pithapuram; 1927 Rolls-Royce Phantom I 40/50hp Tourer Coachwork by Hooper & Co; Chassis no. 57EF. Photo Bonhams.
Many Rolls-Royce Phantoms were despatched to the farthest corners of the British Empire and it comes as no surprise to learn that this particular example was supplied new to an Indian prince, the Maharaja of Pithapuram, who ordered it via Rolls-Royce Ltd of Bombay. The fabulously wealthy rajas and maharajas of India commissioned some of the most extravagantly equipped automobiles of their day, this magnificent Rolls-Royce Phantom being a prime example.
Chassis number '57EF' was despatched on 12th April 1927 to Hooper & Co, London-based carriage makers to Queen Victoria and King Edward VII and arguably the finest of all British coachbuilders. Hooper bodied the car as an elegant, well-proportioned open tourer finished in 'Parso-Glaze' paint, while exterior fittings included a raked, four-piece windscreen; louvered bonnet; domed wings; twin side-mounted spare wheels; 'nautical' scuttle vents; Stephen Grebel headlights and matching spotlight; and rear luggage rack. Of particular note are the side screens, which may be lowered into the doors when not required. Further protection is provided by a full-length hood.
As is the case with most maharaja cars, it is the interior details that fascinate. Ahead of the driver is an aluminium dashboard, complete with silver-faced instruments, and an ivory-coloured steering wheel, while other noteworthy features include pleated rather than buttoned upholstery, a drinks cabinet, occasional rear seats and a card case. Rather more unusually, the original order also specified 'a receptacle for revolver between front seat cushions and flap to cover' but then the late 1920s were turbulent times in India.
How long the Maharajah kept the Phantom is not known but like many 'Indian' Rolls-Royces the car subsequently made its way to the USA, from where it was repatriated in 1989 by the renowned Rolls-Royce connoisseur, Charles Howard. The car was registered 'DS 8933' in the UK on 25th April 1991. It would appear that an extensive restoration was then undertaken as '57EF' was described as 'recently extensively restored both mechanically and cosmetically' when shown at the Pebble Beach World Classic Auto Exposition in 1993. Another notable owner is Thomas Barrett III of Scotsdale, Arizona, who sold the car in January 1996.
The Phantom has recently been re-imported to the UK and is resplendent in the same Carlton Grey livery and red leather interior seen at Pebble Beach in '93. A magnificent motor car with a fascinating history, this unique and beautiful Phantom is worthy of a place in any collection. Estimate: €180,000 - 220,000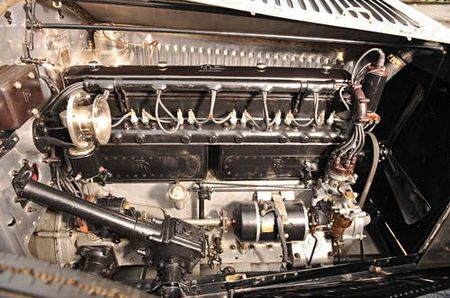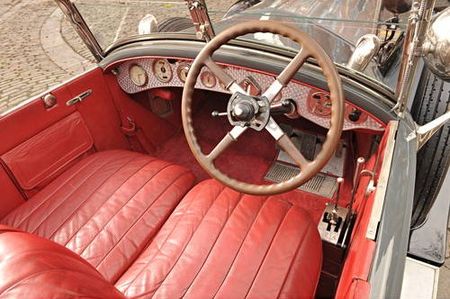 Livrée neuve au Maharajah de Pithapuram; 1927 Rolls-Royce Phantom I 40/50hp Tourer Coachwork by Hooper & Co; Chassis no. 57EF. Photo Bonhams.
De nombreuses Rolls-Royce Phantom furent expédiées aux quatre coins de l'Empire britannique et l'on ne s'étonnera pas d'apprendre que cet exemplaire a été vendu neuf à un prince indien, le Maharajah de Pithapuram qui l'avait commandé par l'intermédiaire de Rolls-Royce Ltd de Bombay. Les immensément riches rajahs et maharajahs indiens commandèrent les automobiles équipées des d'équipements le plus extravagants à l'époque et cette magnifique Rolls-Royce en est un exemple des plus significatifs.
Le châssis n° 57EF fut expédié le 12 avril 1927 chez Hooper & Co à Londres, constructeurs de voitures pour la Reine Victoria et le Roi Edward VII, et probablement les meilleurs carrossiers britanniques. Hooper habilla la voiture d'une élégante caisse torpédo bien proportionnée peinte d'une laque 'Parso-Glaze' et équipée d'un pare-brise incliné en quatre parties, d'un capot à persiennes, d'ailes arrondies, de deux roues de secours latérales, de ventilations d'auvent style manche à air, de projecteurs et d'un phare chercheur Stephen Grebel et d'un porte-bagages. On notera particulièrement les rideaux latéraux qui s'escamotent dans les portes, la longue capote assurant une totale protection de l'habitacle.
Comme souvent avec les automobiles des maharajahs, ce sont les détails de l'intérieur qui captent l'attention. Devant le chauffeur se trouvent le tableau de bord complet avec ses instrument à fond aluminium et le volant de direction couleur ivoire, tandis que les autres caractéristiques comprennent une sellerie à côtes plutôt qu'à boutonnage, un bar, des strapontins et un coffret à cartes. Plus inhabituel, la commande originale spécifiait 'un logement pour un revolver entre les sièges avant avec un rabat de fermeture', mais à la fin des années 1920, l'inde connaissait des moments difficiles.
On ignore combien de temps le maharajah conserva cette Phantom, mais comme beaucoup de Rolls-Royce 'indiennes', celle-ci fut expédiée aux Etats-Unis d'où elle fut rapatriée en 1989 par ce grand connaisseur que fut Charles Howard. La voiture fut immatriculée 'DS 8933' au Royaume-Uni le 25 avril 1991. Une importante restauration fut alors entreprise car '57EF' fut décrite comme 'récemment restaurée tant en mécanique qu'en carrosserie' lorsqu'elle fut exposée à la Pebble Beach World Classic Auto Exposition en 1993. Parmi les autres propriétaires notables, citons Thomas Barrett III de Scotsdale, Arizona, qui vendit la voiture en janvier 1996.
La Phantom a été récemment réimportée au Royaume-Uni, toujours aussi belle dans sa livrée Carlton Green avec intérieur en cuir rouge vue à Pebble Beach en 1993. Automobile magnifique accompagnée d'un historique fascinant, elle mérite de figurer dans les plus importantes collections.
Bonhams. The Paris Sale, 2 Feb 2012. Paris www.bonhams.com