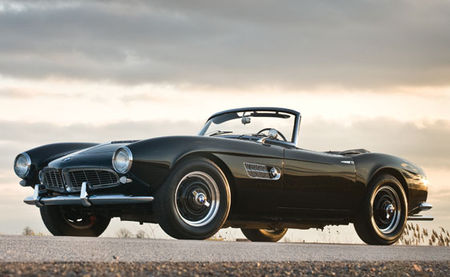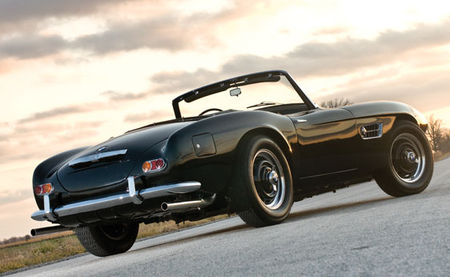 1959 BMW 507 Roadster. © 2012 RM Auctions
Chassis No. 70203. Estimate: $900,000-$1,200,000 US
150-155 bhp (DIN rating), 168 cc all-alloy OHV V-8 engine, dual carburetors, four-speed manual gearbox, independent front suspension with dual A-arms and torsion bars, live rear axle with torsion bars, and hydraulic front disc, rear drum brakes. Wheelbase: 97.6"
• A very desirable Series II example
• Professionally restored by RM Auto Restoration
• 3.2-liter, dual-carburetor V-8; excellent color combination
• One of only 251 examples built in total
• Attractive Rudge wheels
The BMW 507 was a brief but brilliant reinstatement of BMW's sporting heritage that had flourished with the successful BMW 328 prior to World War II. Launched in 1955, the 507 was envisioned by American BMW importer Max Hoffman to fill the divide between the Mercedes-Benz 300SL and the far less expensive and powerful offerings from MG and Triumph. Mechanical components were largely sourced from the 502 and 503 series, with engineering led by Fritz Fiedler. Since Hoffman was dissatisfied with preliminary body designs, he eventually had Count Albrecht Goertz, who had the earlier 503 already to his credit, pen the sensuous lines of the 507.
As with all its cars, the 507 was a tangible expression of the characteristic BMW excellence in performance, construction and design. At once an elegant masterpiece and a downright gorgeous design with sensuous curves, the 507 was powered by the 3.2-liter overhead-valve aluminum block V-8 engine that was shared with the 502 and 503 series but developed a rated 150 bhp with twin carburetors.
Hoffman initially targeted a $5,000 price point for the 507, but BMW, which essentially hand-built each car, could not reach profitable production levels. The 507's initial $9,000 price quickly escalated to over $11,000. Despite the increase, BMW reportedly lost money on each one. Production began in November 1956 following an unveiling at the 1955 Frankfurt Motor Show and ended two-and-a-half years later with only 251 examples built, not counting a completely different prototype and two "one-off" examples.
However, the lofty price of the 507 did not deter the elite target market envisioned for the 507, including iconic entertainer Elvis Presley. Eventual Grand Prix world champion John Surtees was given a 507 by Count Agusta as a reward for winning the 1956 500cc World Motorcycle Championship with an MV Agusta motorcycle.
The design was slightly revised in 1957 with the appearance of the Series II models. Differences included increased engine output and a little additional space behind the seats to give taller drivers a more comfortable driving position. While many 507 Roadsters were purchased by their original owners purely on the basis of their stunning aesthetics and sporting open bodywork, the cars were sophisticated performers in the finest BMW tradition. A number of final-drive ratios were available with the 507, ranging from 3.70:1 to 4.20:1 depending upon the customer order, with top speeds for the 507 ranging from 124 to 136 mph. Acceleration from rest to 60 mph was equally impressive at 8.8 seconds, and while not intended for the drag strip, the 507 covered the quarter-mile in just 16.5 seconds.
According to BMW Classic, the example offered here, chassis 70203, was completed on December 9, 1958, and on February 26, 1959 it was delivered to the official BMW importer FADEX Commercial Corp., located at 487 Park Avenue, New York City. Eventually the car found its way to Puerto Rico, where it was located and then returned to North America for a recent professional restoration by RM Auto Restoration.
During the exhaustive restoration process, the car was equipped with a proper BMW 507 V-8 engine. Although BMW Classic confirms that this engine is not original to the car, it is of the correct type.
As offered, this 507 sports excellent colors, with the sleek and sexy body finished in black and complemented by a green interior. The car presents "as-new," and the engine bay is likewise nicely detailed. The car is complete with a set of correct reproduction Rudge alloy wheels, which are strikingly finished in black and silver, at a cost of some $20,000. Exceedingly rare when new and even more so today, this BMW 507 boasts all the essential ingredients for collectability and desirability: sinuous open bodywork, sophisticated V-8 power, a professional restoration and superb presentation.
RM Arizona sales http://www.rmauctions.com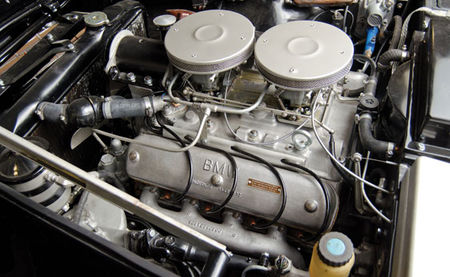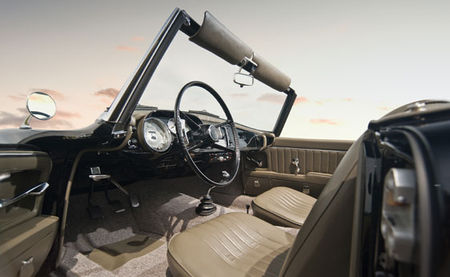 1959 BMW 507 Roadster. © 2012 RM Auctions