LONDON.- Following Sotheby's third most successful year ever (2011) for global auctions of Contemporary Art, which totalled $1.17 billion, the company presents its forthcoming Contemporary Art Evening Auction. The sale, which will be staged in London on Tuesday, February 15th, 2012, will include an array of major artworks by established Post-War and Contemporary artists including Gerhard Richter, Jean-Michel Basquiat, Alighiero Boetti and Alberto Burri, and will also feature an exceptionally strong British Art section, comprising works by Francis Bacon, Lucian Freud, Bridget Riley, Leon Kossoff, among others. The Evening Auction is estimated to realise in excess of £35.8 million*.

Commenting on the forthcoming sales, Cheyenne Westphal, Sotheby's Chairman of Contemporary Art Europe, said: "With the outstanding total of $1.17 billion achieved for Sotheby's global sales of Contemporary Art in 2011, Sotheby's leads the market in this field. Attesting to last year's successes, the Evening Auction we have been able to assemble this winter will be led by numerous desirable and fresh-to-market artworks by internationally collected blue-chip artists such as Gerhard Richter, Jean-Michel Basquiat, Francis Bacon, Takashi Murakami, Andy Warhol and Lucian Freud, among others, and the sale carries a pre-sale low estimate of £35 million which is in-line with the various-owners Contemporary Art Evening Auctions we staged in February and June last year."
Gerhard Richter's Eis ("Ice") of 1981 is the definitive paragon of the artist's landscape paintings. The breath taking frozen seascape was based on a photograph the artist had taken in Greenland, while on a solo retreat in 1972. Widely acknowledged as a reflection of Richter's psyche, Eis, whose cold landscape shows no sign of life, poignantly captures the artist's struggle with his marriage and illustrates his physical and emotional exodus from his troubled life in Dusseldorf to a polar haven. The painting carries an estimate of £2–3 million.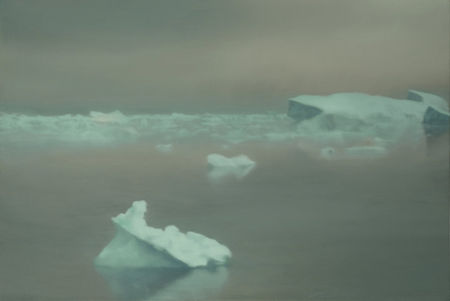 Gerhard Richter, Eis ("Ice"), signed, dated 1981 and numbered 476-1 on the reverse, titled on the stretcher:, oil on canvas, 70 by 100cm. 27 1/2 by 39 3/8 in. Photo Sotheby's
PROVENANCE: Galerie Konrad Fischer, Dusseldorf
Collection Dr. Wolfgang Weber, Cologne
Galerie Kewenig, Cologne
Gagosian Gallery, New York
Acquired directly from the above by the present owner
EXHIBITED: Milan, Padiglione d'Arte Contemporanea, Gerhard Richter, 1982, n. p., illustrated
Dusseldorf, Städtische Kunsthalle; Berlin, Nationalgalerie Berlin; Bern, Kunsthalle Bern; Vienna, Museum Moderner
Kunst/ Museum des 20. Jahrhunderts, Gerhard Richter; Bilder/ Painting 1962-1984, 1986, p. 248, illustrated
Essen, Kunstverein Ruhr, Gerhard Richter und die Romantik, 1994, p. 29, illustrated in colour
LITERATURE: Jürgen Harten, Gerhard Richter, Bilder 1962 – 1985, Cologne 1986, p. 248, no. 476-1, illustrated
Angelika Thill, et al., Gerhard Richter Catalogue Raisonne 1962 – 1993, Ostfildern-Ruit 1993, Vol III, no. 476-1, illustrated in colour
Exhibition Catalogue, Munich, Haus der Kunst, Der Geist der Romantik in der deutschen Kunst 1790-1990, 1995, p. 455, illustrated
Exhibition Catalogue, Dusseldorf, K20 Kunstsammlung Nordrhein-Westfalen, Gerhard Richter, 2005, p. 31, illustrated in colour
NOTE: "If the Abstract Pictures show my reality, then the landscapes and still-lifes show my yearning...though these pictures are motivated by the dream of classical order and a pristine world – by nostalgia, in other words – the anachronism in them takes on a subversive and contemporary quality. Painting is the making of an analogy for something nonvisual and incomprehensible: giving it form and bringing it within reach"
Gerhard Richter, 'Notes 1981', The Daily Practice of Painting: Writings 1962-1993, pp. 98-99
"Going into the ice could be interpreted as longing for a place where one feels safe – just so long as there is no life, only ice."
The artist cited in: Dietmar Elger, Gerhard Richter: A Life in Painting, Chicago and London, 2009, p. 203
At once forbidding and desolate yet alluring and sublime: remote and uninhabitable yet an ideal of serenity, Gerhard Richter's work Eis of 1981 is the definitive paragon of this revered master's epoch-defining canon of landscape painting. The breathtaking beauty of the mist-enshrouded frozen seascape is exactly matched by the tranquil dexterity of its painterly execution. The rendition of technique is simply thrilling as grisaille suffusions and thousands of tonal adjustments constantly manipulate focus. The awesome methodological mastery of pigment suspension and infinite variations in the subtlest of hues is truly transcendent. The arctic atmosphere emanates luminescence without betraying a specific source or direction of light. The result is a mesmeric and vaguely hypnotic twilight, neither dawn nor dusk but rather a glowing semi-lightness entirely characteristic of the polar latitudes. This indistinct mood is further compounded by nebulous cloud and mist effects and the inconsistent resolution inevitably derivative of the source photograph. Richter relays these indeterminate layers with a consummate exhibition of sfumato brushwork: he breathes life into the image via fractional tonal scumbling and by expertly infusing the canvas with minute variances of colour. Within the tonal drama of the composition, films of mauve pinks are mirrored in the sky and sea as frozen turquoises of the ice itself are reflected in the still crystalline water. In concert this chromatic display forms a symphonic whole, perpetually resonating in shimmering equilibrium. As with his venerated cycle of Seascapes, the viewpoint here of both artist and viewer is not made explicit. Whereas Claude Monet's treatment of a similar subject at Bennecourt indicates a foreground riverbank that cites our shared perspective on terra firma, Richter's compositional framing projects us immediately into the sensation of the natural environment.
To parallel so many traits of Richter's epic canon, here it is the subject itself that is beyond categorisation. A vista of ever-adjusting and interchangeable sea and ice, the arctic expanse is neither landscape nor seascape. The scene includes no sign of life or, indeed, indication that this is even an earthly environment. The singularly foreign nature of this panorama provides the artist with the opportunity to report faithfully a reality that is temporary and unobtainable to the spectator. In choosing such an inaccessible subject Richter subtly acknowledges the functionary heritage of landscape painting when, in an age before photography, the practice provided the only accurate accounts of distant topographies to uninitiated audiences. However, it is of course precisely because Richter works so diligently from the photograph, in this instance one that he had taken nine years prior to the making of this painting, which marks Eis as so spectacularly innovative.
In 1972 Richter had embarked on a trip to Greenland, originally having intended to be accompanied by his friend Hanne Darboven, but eventually journeying alone. His explicit intention was to experience and record the desolate arctic landscape following the inspiration of his greatest art historical forebear: "I wanted to take photos in the mode of Caspar David Friedrich's The Wreck of Hope. The whole thing was a project." (Dietmar Elger, Gerhard Richter: A Life in Painting, Chicago and London, 2009, p. 202). Painted in Dresden in 1823-4, Friedrich's work, also known as The Sea of Ice, was an unusually large canvas for the artist, envisaging William Edward Parry's ship Griper trapped in the ice as it charted the then unprecedented Northwest Passage in 1820. Since 1905 the painting has been held by the Hamburg Kunsthalle, which provided ample opportunity for Richter to study it when he a guest professor in the art academy there in 1967.
Richter's journey to Greenland provided conditions in which he, as solitary traveller and twentieth-century equivalent to Friedrich's Wanderer in the Sea of Fog, could confront the omnipresent preoccupations of his artistic career. His surrounding physical environment there invited deep contemplation on the tradition of landscape painting, the depiction of Nature and the legacy of Romanticism. The means of his "project's" execution, the camera, afforded reflection on the paradoxical simultaneity of subjectivity and objectivity inherent to the photographed image, as well as attendant themes of visual perception and cognition. Moreover the parameters of his self-enforced solitude inevitably provoked consideration of the inescapable effect of his own personal biography to the development of his art. Indeed, this final fixation has been taken by Richter's biographer, Dietmar Elger as the primary catalyst for Eis. Discussing Friedrich's The Wreck of Hope, he has claimed: "What Richter saw reflected in the painting, however, was his own state of mind", and explained that at the time Richter's marriage was in crisis: "the photographs he took in Greenland were visual analogues for his own failed hopes. He was exhausted by the struggle to find his own way as a husband and father, and felt that his dream domestic happiness had, as a consequence, been wrecked" (Ibid., p.203).
Indeed, the artist has recently admitted that the reclusion of his polar exodus instilled a psychosomatic retreat from his life in Dusseldorf: "The project was also an excuse for getting away...Trouble in my marriage was reaching a climax. Going into the ice could be interpreted as longing for a place where one feels safe – just so long as there is no life, only ice." (the artist cited in Ibid.). Eventually, Richter's marriage to Ema collapsed and they divorced in 1981. Thereafter he returned to the Greenland photographs and painted Eis, perceived by Elger as an attempt "to work through his unfulfilled hope for familial happiness and to take final stock a difficult period in his life" (Ibid., p. 208).
Such an analytic framework provides ready interpretation of Eis as a metaphor for the artist's situation at that time, and perhaps even as a meditative allusion to self-portraiture. As fragments broken away from a glacier or ice shelf, icebergs become isolated as the consequence of stress and rupture, and thereafter drift through their inevitable dissolution and demise back into water. Indeed, Eis can be viewed within the thematic arc of what Mark Godfrey terms Richter's "Damaged Landscapes", encompassing both physical properties of destruction, such as aerial views of bombed cities and stormy seas; as well as an emotional charge that speaks of a wilderness period that the artist has described as: "that time I lost the ground under my feet" (Exhibition Catalogue, London, Tate Modern, Gerhard Richter: Panorama, 2011-12, p. 73).
However, to interpret this masterwork solely through the interpretative prism of the artist's biography would be a severe injustice to the major artistic advancements it also represents within the oeuvre of Gerhard Richter. Clearly Eis self-evidently confronts the canonical traditions of German Romanticism, and is a late twentieth-century response to the beautified landscape. However, Richter has in fact accurately recorded the visual information of a photograph, thus bypassing the vagaries of subjective interpretation and adhering to his maxim that: "The photograph is the most perfect picture. It does not change; it is absolute, and therefore autonomous, unconditional, devoid of style. Both in its way of informing, and in what it informs of, it is my source" (Gerhard Richter, 'Notes, 1964-1965', The Daily Practice of Painting. Writings and Interviews 1962-1993, London 1995, p. 31). Whereas Romanticism prescribed an ontological philosophy concerning humanity's conditioning by Nature, photography captures a transient moment with "no style, no concept, no judgement" (the artist cited in: Peter Sager, 'Mit der Farbe denken', Zeitmagazin 49, 28th November 1986, p. 33).
Indeed, Roald Nasgaard has described how Richter's employment of photographs "rescued him from the burden of inherited tradition, and from the alternative traps of the prevailing aesthetics and ideologies around him" (Exhibtion Catalogue, Chicago, Museum of Contemporary Art, and travelling, Gerhard Richter: Paintings, 1988-89, p.40). Dependent upon aperture exposure and shutter speed, the photograph is correlated to a finite length of time: as propounded by Robert Storr, "Conceptually, Roland Barthes's definition of the photographic condition as "the that has been" of experiential reality is once again germane. These vistas never were and never will be there for us; they were there for the artist just as long as it took to snap the picture and are only available to him now through the combination of that imperfect documentation and his equally imperfect memory" (Exhibition Catalogue, New York, The Museum of Modern Art, Gerhard Richter: Forty Years of Painting, 2002, p. 67). Moreover, in the case of Eis Richter has transferred the imagery of a postcard-sized photograph to a metre's width of canvas, approximately a forty-five-fold magnification, thereby expanding visual information to create a vision not quite consonant with actual ocular experience and positing vital queries about the realities of visual perception and cognition.
Finally, Richter's Eis, as surely as any photo-based work in his entire illustrious oeuvre, testifies to the incontrovertible centrality of landscape as the salient genre through which, for more than half a century, he has grappled with the monolithic precedent of Art History. In 1973, one year after his Greenland expedition, Richter wrote "A painting by Caspar David Friedrich is not a thing of the past. What is past is only the set of circumstances that allowed it to be painted: specific ideologies, for example. Beyond that, if it is "good," it concerns us – transcending ideology – as art that we ostentatiously defend (perceive, show, make). Therefore, 'today' we can paint as Caspar David Friedrich did" (p. 174). Thus Eis should be considered not just in the art historical era of the later Twentieth Century, but also in the tier of masterpieces that transcend their temporal boundaries and become truly timeless.
In the course of recent human history perceptions of Nature have shifted radically. Landscapes learned on foot by medieval monks and renaissance artisans inspired the backdrops for devotional art objects, and specific contemporary topographies became enlisted as contextual environments for famous scenes of religious narratives: Adam and Eve were apparently lost in Dutch woodlands while Christ traversed the hills of Tuscany. Not only did this innovation represent the authors' interpretation of imagined stories, but it also manifest the desires of patrons to associate the transience of their present-day success with the immortality of the sacred domain. As human migration increased, foreign landscapes became more universally familiar, and the conception of Nature was no longer limited to personal experience. The onset of the industrial age brought with it a reactionary yearning for the canvas of pure Nature. Unblemished by chimney stack, mine head, or engine smoke, pastoral fantasies provided an alluring escape to bucolic abandon. In the Nineteenth and Twentieth Centuries landscapes further became metaphors for modes of human existence and broader socio-political ideas, frequently charged with didactic undercurrents: the ancient noble forest, the plough-furrowed earth, the vast expansive plain.
While today such a précis may seem extraneous to the ceaselessly innovative contemporary work of Gerhard Richter, it is perhaps revealing to remember that at the beginning of his career, between 1951 and 1956, his art was developed under the aegis of Socialist Realism at the Dresden Art Academy in East Germany, where the curriculum also included Russian, economics and politics. Here the purpose of art was forcefully conscripted to programmatic ends, and the scope of creative potential limited: Richter's output at the end of five years of study included monumental murals for the German Hygiene Museum, the Socialist Unity Party regional headquarters, and a fantastical scene for a nursery school. Within this context, Richter's earliest encounters with the painting of Caspar David Friedrich at the Pillnitz museum, just outside Dresden, and in the Gemäldegalerie in Dahlem during rare excursions to West Berlin, inevitably precipitated a profound and enduring reaction. Eis embodies the zenith of that response, and precisely because it both defines the vanguard of contemporary discourse on the possibilities of painting and simultaneously communes with the grand precedent of tradition, it stands as a remarkable achievement of recent Art History.
Gerhard Richter's Abstraktes Bild ("Rot"), which was executed in 1991, exemplifies Richter's intellectual inquiry into abstraction. The 1990s saw the artist's thematic use of red colour throughout a monumental series of canvases. This abstract work is at once challenging and dense yet strikingly beautiful. Chromatically expansive, the sweeping red hues and pulsating greens, yellows and greys of Abstraktes Bild, for which Richter deployed a squeegee as his primary tool, masterfully explores the relationships between the instinctual, the spontaneous and the arbitrary. It is estimated at £2.5-3.5 million.
Gerhard Richter, Abstraktes Bild ("Rot"), signed, dated 1991 and numbered 743-1 on the reverse, oil on canvas, 200 by 140cm, 78 3/4 by 55 1/8 in. Photo Sotheby's
PROVENANCE: Galerie Achenbach, Frankfurt
Private Collection
Faggionato Fine Arts, London
Acquired directly from the above by the present owner circa 1993
EXHIBITED : Frankfurt, Galerie Achenbach, Gerhard Richter, 1991
LITERATURE: Angelika Thill, et al., Gerhard Richter Catalogue Raisonné 1962 – 1993, Ostfildern-Ruit 1993, Vol III, no. 743-1,
illustrated in colour
NOTE: Executed in 1991, Abstraktes Bild (rot) manifests the strident exemplification of Gerhard Richter's intellectual inquiry into abstraction - an investigation that reached its mature zenith surrounding the moment of this work's creation. Designated as number one in the concise four-part series of red Abstrakte Bilder numbered 743 in Richter's Catalogue Raisonné, this towering painting delivers a breathtakingly symphonic and enveloping field of primary colour. During this decade the thematic deployment of red represents a pronounced and important conceptual engagement for Richter. Contemporaneous to the esoteric corpus of Blood Red mirrors and antecedent to the cycle of six monumental diamond canvases entitled Abstraktes Rhombus permanently housed in the Museum of Fine Arts in Houston, this work is accompanied by a remarkable host of red abstracts in the collections of numerous institutions internationally. Furthermore, belonging to The Israel Museum in Jerusalem, the sister painting to the present work Abstraktes Bild (rot, verschwommen), was prominently chosen as the front cover of the Tate's major 1991 Gerhard Richter retrospective; here the soft blur and subtle variegation is anathema to the intensity of sharp composition and crackled textural surface masterfully essayed in the dramatic vertical sweep of Abstraktes Bild (rot). Thus, exhibiting a powerful profusion of vivid pigment masking the intimation of a world behind the cutaneous red curtain, this painting dispenses a superlative equilibrium between illusion and allusion, erasure and construction, veiling and revealing.
After decades of scrutinising painting in relation to competing visual cultures, the emergence of the Abstrakte Bilder stand as the crowning achievement in Richter's mercurial oeuvre: as propounded by Benjamin Buchloh, Richter withholds a position of "incontrovertible centrality in the canon of abstraction in the present" (Benjamin H. D. Buchloh, 'Richter's Abstraction: Gesture, Facture, Imprint', in: Exhibition Catalogue, Cologne, Museum Ludwig and Munich, Haus der Kunst, Gerhard Richter Large Abstracts, 2009, p. 9). Chromatically expansive, the sweeping theatrical primary of red, undulating with the intimation of subtly pulsating green, yellow and grey calls forth a "reality in which we can neither see nor describe but which we nevertheless conclude exists" (the artist cited in: Exhibition Catalogue, Kassel, Documenta 7: Gerhard Richter, 1982, n.p.). Representing a conflicting balance between artistic agency and autonomous contingency, Richter's Abstrakte Bild masterfully problematises yet mediates a relationship with the instinctual, spontaneous and the arbitrary. In wielding the squeegee as an intermediary tool to physically deploy and inform compositional and chromatic distribution, Richter summons a language of abstract self-referentiality founded in chance, which in turn philosophically invokes a transcendental inquiry into the unknowable and inexpressible realm that lies beyond the veil of representation.
Richter's self-referential abstraction of painterly compression and layering, strives towards "something incomprehensible, something on a higher plane" (the artist cited in: 'I Have Nothing to Say and I'm Saying It: Conversation between Gerhard Richter and Nicholas Serota, Spring 2011' Op. Cit., p. 19). The abstracts prove that what cannot be articulated can be made, shown and seen: "Richter's painting explores the enigmatic juncture of sense and non-sense. His paintings encircle, enclose the real as that which it is impossible to say: the unrepresentable" (Brigit Pelzer, 'The Tragic Desire' in: Benjamin H. D. Buchloh ed., October Files 8: Gerhard Richter, London 2009, p. 62). Indeed, as expounded by Pelzer, Richter's abstracts go beyond mere representation and become an enigmatic presence, even an absent-presence: "Gerhard Richter's work investigates and explores malaise- that void, that gap, the speck of death" (Ibid., p. 66). The notion of a kind of temporal and cognitive suspension evoked within the dense strata of chromatic streaks provokes an ineffable encounter with infinitesimal vibrations of nuance and timbre comparable with musical notation and composition. In this respect, Richter's elemental colouristic schema shares a commonality with Jean-François Lyotard's post-modern conception of the sublime as principally perceived in the work f Barnett Newman.
Lyotard broaches his philosophical enquiry via a discussion of Newman's minimal abstract expressionist paintings: here Lyotard identifies an arrest, or indeed a malaise, inherent within the referentially absent fields of strident colour. Via a tangible sense of the "here-and-now" present in the abstract artwork, Lyotard elaborates that something or indeed nothing might be happening in the present: "In the determination of pictorial art, the indeterminate, the 'it happens' is the paint, the picture. The paint, the picture as occurrence or event, is not expressible and it is to that that it has witness" (Jean-François Lyotard, 'The Sublime and the Avant-Garde' in: Jean-François Lyotard, The Inhuman: Reflections on Time, Stanford 1991, p. 93). Liberated from representational obligation, painting unto itself affects a deferral of rational cognition that invokes a disorienting intimation of the nonsensical void. In Newman, as in the work of Richter, the purely chromatic fields of abyssal abstraction provide a rhythmical wavering between aesthetic nothingness and enveloping excess. Indeed, this is mirrored in Richter's execution of his abstract works: "The intention: to invent nothing – no idea, no composition, no form – and to receive everything: composition, object, form, idea, picture." (Gerhard Richter cited in: Hans-Ulbrich Obrist, Ed., Gerhard Richter: The Daily Practice of Painting. Writings and Interviews 1962-1993, London 1995, p. 129). In the work of both Newman and Richter, the semiotic absence of sign and symbol calls forth a powerfully emotive effect that operates outside of rational cognition.
However, though greatly indebted to the ingenuity of the Abstract Expressonists' fundamental realignment of painting, Richter's attendance to such a history is led by a clinical detachment: "Pollock, Barnett Newman, Franz Kline, their heroism derived from the climate of their time, but we do not have this climate" (the artist in: Michael Kimmelmann, "Gerhard Richter: An Artist Beyond Isms", The New York Times, January 27, 2002, n.p.). Rather, by surrendering to the aleatory and relinquishing the direct agency of the intrepid brushmark, Richter fundamentally negates the contrived and heroic will to validate painting as harbinger of a transcendent absolute truth. Benajmin Buchloh outlines the fundamental resistance to the possibility of spiritual ascension in Richter's abstract works: "...the ability of colour to generate this emotional, spiritual quality is presented and at the same time negated at all points, surely it's always cancelling itself out. With so many combinations, so many permutational relationships there can't be any harmonious chromatic order, or composition either, because there are no ordered relations left either in the colour system or the spatial system" (Benjamin H. D. Buchloh cited in: Hans-Ulrich Obrist, Op. Cit., p. 155). As works in which compositional form is realised solely in the contingent act of painting without determinacy or design, Richter attributes the painterly concerto of his abstract works as dislocated from his own will as an artist: "they do what they want. I planned something completely different" (the artist in: Gerhard Richter: Painting, Dir. Corinna Belz, Zero One Film 2011).
At once, Richter's corpus of abstraction is inimitably challenging, esoterically dense yet strikingly beautiful. Emanating from a deep and clear understanding of the plight of painterly abstraction in its varying modalities, Richter's Abstrackte Bilder embody a nuanced and ambiguous response to such formal tensions and their contrasting histories. Akin to the repeated nihilistic erasure and its antithetical creative complement, Richter's abstraction wavers between a simultaneous negation and affirmation of the ineffability of the beyond. As commandingly propounded within the layers of arresting pigment giving way to sweeping glimmers of an entirely alternate visual plane behind the strident red screen, Richter magnificently delivers a glimpse of "somewhere you can't go, something you can't touch" (the artist in: 'I Have Nothing to Say and I'm Saying It', Op. Cit., p. 19).
lustrated on the first page is one of the most important highlights in the sale, Jean-Michel Basquiat's Orange Sports Figure, an unrivalled pictorial masterpiece and an exceptionally rare work to come to auction. The work, estimated at £3-4 million, was painted in 1982, the definitive year for Basquiat's oeuvre. Adorned with his trademark crown, this work engenders a powerful and ambiguous scrutiny of black athleticism: the aspirational black sports figure is celebrated yet simultaneously satirised by an autobiographical allusion to Basquiat's Haitian heritage – the cheap labour destination for the export manufacture of baseballs, an American sport notoriously regarded as predominantly white. This racial tension is powerfully presented by Basquiat's inimitable and remarkable synthesis graffiti, primitivism and abstract expressionism.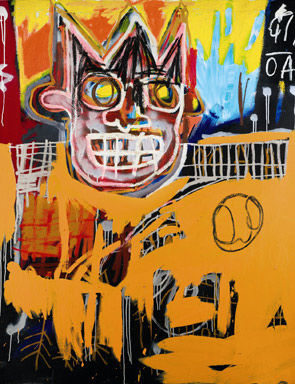 Jean-Michel Basquiat., Orange Sports Figure. acrylic, oil stick and spray paint on canvas, 152.4 by 121.9cm. 60 by 48in. Executed in 1982. Estimate: £3-4 million. Photo: Sotheby's.
PROVENANCE: Private Collection, Los Angeles
Sale: Sotheby's, New York, Contemporary Art, 7 May 1992, Lot 145
Acquired directly from the above by the present owner
LITERATURE; Richard D. Marshall and Jean-Louis Prat, Jean Michel Basquiat, Paris 2000, Vol. II, p. 110, no. 3, illustrated in colour
NOTE: The unconstrained power of Jean-Michel Basquiat's Orange Sports Figure registers on a scale to equal many of the Twentieth Century's most immediately recognisable icons such as Andy Warhol's emblematic Shot Orange Marilyn from 1964. Painted in 1982, the definitive year for Basquiat's oeuvre and emblazoned with his most iconic motif; the crown, the present work is an unmitigated masterpiece of unrivalled pictorial invention. The remarkable fusion of scale and iconic subject heralds the appearance of this painting as a sensationally rare auction moment. As such it is reminiscent of the very occasion when, in 1998, the aforementioned Marilyn nearly quadrupled its pre-sale estimate and set an historic world record of over $17 million.
Urgently arresting with an unabated, sheer aesthetic power, Orange Sports Figure represents an exceptional conflation of the archetypal motifs and extraordinary cultural critique that swiftly propelled Basquiat to international acclaim during the early 1980s. Quintessentially adorned with Basquiat's famous trademark crown, this work engenders a powerful and ambiguous scrutiny of black athleticism: at once, the canon of aspirational black sports
figures is celebrated yet satirised by an autobiographical allusion to Basquiat's Haitian heritage – the cheap labour destination for the export manufacture of baseballs since the 1960s. Via an astounding pluralistic command of art historical vernacular that synthesises graffiti, primitivism and abstract expressionism, Basquiat presents a powerful racial dialectic as a palimpsest of post-modernity. Indeed, such intense erudition is authoritatively delivered by an unsurpassed magnificence of surface manipulation. Streaming drips of acrylic, viscous clumps of oil stick and the soft diaphanous vapour of spray paint lyrically coalesce to create an exuberant and formally stunning masterwork that posits Orange Sports Figure among the most exquisite and painterly of Basquiat's entire production. Radiating unbridled confidence and conviction, the vivacious iconographic power of Orange Sports Figure is sheer testament to the thriving talent of a young and brilliant artistic spirit who, by 1982, had truly secured his position at the vanguard of a global artistic consciousness.
Emblazoned in the centre of the canvas, a fiercely expressive head atopped with Basquiat's signature three pointed crown, stares out of the picture plane. Conspicuously bestowed with the artist's iconic trademark, this piece reduces a multifaceted allusion to autobiography, black identity, fame, success and money to a masterful symbolic economy. Associated with the artist's graffito persona SAMO, the crown autobiographically alludes to Basquiat himself, while acting as a seal of admiration and ennoblement for the notary figures that populate his work. Famous black boxers such as Cassius Clay, Jack Johnson and Joe Lewis proliferate in Basquiat's canon during 1982 whilst the coronation of a host of Jazz musicians would shortly follow. Nonetheless, first to be inaugurated within this pantheon of beknighted and sainted black dignitaries was the baseball player Hank Aaron. Childhood hero of Basquiat and famous for garnering a reputation to rival that of Babe Ruth, references to Hank Aaron permeate much of Basquiat's very earliest work; indeed, allusions to Aaron in the form of sequences of AAs and OA represent the foremost instances of venerated black identity. In the present work, although the identity of the eponymous sports figure is undisclosed, the prominence of a frantically sketched baseball alongside the presence of OA and a repetition of AAs buried beneath a rectangular grid confers a likely allusion to Hank Aaron. Furthermore, the date of this work
intriguingly coincides with the same year Aaron was immortalised in the Baseball Hall of Fame.
Like an icon, majestic and commanding, Basquiat's Orange Sports Figure asserts the same iconic and aspirational power of Andy Warhol's cult of Marilyn Monroe. However, like Warhol, Basquiat's beatification of black sporting prowess is similarly as ambiguous. As expounded by Richard Farris Thompson, the coronation of mask-like sports personages "at once celebrates and satirises one of the few professions in which blacks are permitted to excel" (Richard Farris Thompson, 'Brushes with Beatitude', Exhibition Catalogue, New York, Whitney Museum for American Art, Jean-Michel Basquiat, 1993, p. 50). Thus, whilst engendering an iconography of salutation and commemoration, Basquiat simultaneously invokes social criticism. As succinctly outlined by Glenn O'Brien, Basquiat "presented so simply how society expected black people to be athletes and not painters" (Glenn O'Brien in: New York, Deitch Projects, Jean-Michel Basquiat 1981: Studio of the Street, 2006, p. 19). Such underlying cynicism is reinforced by the
significance of baseball for Basquiat's racial heritage. Initiated during the 1960s, the factory line assembly of baseball manufacture was exported to Haiti to profit from an eager and cheap workforce. Consequently for Basquiat, the child of a Haitian father, the evocation of baseball dichotomously conjures exploitation and aspiration. Within the scarified sunken eyes and squarely bared teeth of the centralised looming head, an evocation of African tribal masks and Haitian voodoo ritualisim acts as recourse to the historical subjugation of Basquiat's ancestors. Along with the very best of Basquiat's astounding production, Orange Sports Figure is ambiguous, contradictorary, replete with cultural significance and autobiographical meaning.
Herein the allusion to baseball, an American sport notoriously regarded as predominantly white, somewhat mirrors Basquiat's ascendancy within the predominantly white art establishment. Like a double portrait, Hank Aaron's extraordinary success mirrors his own in 1982. This artistic confidence is flagrantly brandished via the inclusion of a dollar sign parallel with the crown alongside the use of resplendent gold paint - an alchemical inclusion Basquiat referred to in an interview with Henry Gelzahler in 1983: "I was writing gold on all this stuff, and I made all this money right afterward" (the artist in: Henry Gelzahler, 'Art from Subways to Soho' in: Exhibition Catalogue, New York, Tony Shafrazi Gallery, Jean-Michel Basquiat, 1999, p. 48). As though printing his own money, Basquiat's work during 1982 presents an ironical retort to the gallery culture of high art. Basquiat critiques, extricates and recapitulates the monolith of painting from the inside. Basquiat's canon is a unique product of cut-up fragmentation and multi-lingual pictorial synthesis allied to his triangular cultural inheritance. Born to Puerto Rican and Haitian parents and brought up in Brooklyn, Basquiat's art habitually draws on his ethnic heritage as much as his cultural legacy as an American citizen. While the evocation of primitive art very much alludes to his ethnic heritage, Basquiat was also intensely influenced by Picasso for whom primitivism was an antidote to the conservatism of the academies; similarly, Basquiat finds in primitivism a correlative mode for expressing an overtly contemporary angst simultaneously tied to his own racial identity and his position as an artist responding to the cool minimalism that permeated the gallery scene in Manhattan during the early 1980s.
Basquiat had an unimpeachable grasp of art history and a defined understanding of American abstraction. Within the layers of erased, painted over and liberally confident mark making, Basquiat recasts an innovative symphony of modernism's pictorial vernacular. Imbued with the frantic exertion and the poured, dripping aesthetic of Jackson Pollock; the exuberant colourism and dramatic painterly gesture of De Kooning and Franz Kline; combined with the integration of text and blackboard-like surfaces of Beuys and Twombly, Basquiat's field of allusions is impressive and manifold. Basquiat commands, combines and synthesises these paradigms of American art with spectacular faculty. Indeed both Twombly and Kline were cited by Basquiat as "favourites" in the famous interview with Geldzahler (Ibid., p. 48). Basquiat weaves the inherent energy and machismo painterly attitude of Kline with ethereal Twombly-like ciphers of text and line: indeed, such mastery of abstract expression prominent in Orange Sports Figure is unparalleled throughout Basquiat's wider oeuvre. The artist's brute force of application and layering paint and line through brush, spray can, and oil stick confers a remarkably paroxysmal yet deliberate harmony via a structural and exuberant formalism. As Marc Mayer notes, "few American artists deserve as much attention for their manipulation of colour...With direct and theatrically ham-fisted brushwork, he used unmixed colour structurally, like a seasoned abstractionist, but in the service of a figurative and narrative agenda...Colour holds his pictures together, and through it they command a room" (Marc Meyer, 'Basquiat in History' in: Exhibition Catalogue, New York, Brooklyn Museum, Basquiat, 2005, p. 46). In Basquiat's canon art historical visual idioms are recast, cut-up and remixed to give form to an entirely new language centred by the artist's own identity as a multi-racial and ethnically plural individual at the very forefront of an emergent avant-garde. Thus by 1982 having been rapidly yet fully inaugurated within the upper echelons of the art establishment, Basquiat's work evokes a simultaneously encompassing yet ambiguous dialogue with the white-centric canon of art historical precedent.
Orange Sports Figure is an absolute expression of Basquiat's full artistic powers of creation. Though maintaining the spontaneity of graffiti, by 1982 the transition from street to studio was fully crystallised. Executed in the period following Basquiat's breakthrough participation in the legendary New York/New Wave at the P.S.1 Contemporary Art Centre, this work documents the year Basquiat attained the crucial support of Annina Nosei and focussed his efforts on monumental canvas painting. Using Nosei's Prince Street gallery basement as his studio, Basquiat held his first solo exhibition and crucially forged influential links with Bruno Bischofberger and Larry Gagosian. By this time Basquiat was the youngest artist to have prestigiously contributed alongside Gerhard Richter, Joseph Beuys, Cy Twombly and Andy Warhol, to the internationally renowned exhibition Documenta 7 in Kassel. Jubilantly demonstrative of this extraordinary year, Orange Sports Figure represents a remarkable exemplification of the inimitable artistic conviction that propelled Basquiat to prominence. This painting bears witness to Basquiat's own coronation and inauguration into the meta-narrative of art history. As pertinently expressed by Robert Farris Thompson, "he remained true to himself, what is more, with a single motif reprised right up to his death: the sign of the three-pointed crown. Banking not only on hard work and inspiration to get him through, but also on amuletic forces, he continually crowned himself king of painters" (Robert Farris Thompson, 'Royalty, Heroism, and the Streets: The Art of Jean-Michel Basquiat', Op. Cit., p. 36).
Nero Plastica, a marvellous volcanic topography of molten black plastic, is demonstrative of Alberto Burri's poetic use of fire as an artistic tool. It follows in the wake of Burri's Combustione legno, which realised the remarkable price of £3,177,250 at Sotheby's London in October 2011. Nero Plastica has never before appeared at auction, presenting an exciting debut of a work from Burri's most important corpus of works. Heralded as the first artist to introduce the unpredictability of this natural phenomena into artworks, Burri began executing his first corpus of dedicated plastic works in 1960, of which this work, made in 1965, is a fine example. The visceral qualities of the work belie Burri's past as a qualified doctor, then as a prisoner-of-war from 1944-45, during which time he turned to art. Nero Plastica appears to reference a living and bleeding body, lacerated and tortured by the atrocities of war. The work carries an estimate of £800,000-1,200,000.
Alberto Burri, Nero Plastica, signed and dated 65 on the reverse, burned plastic on canvas, 101.6 by 76.9cm. 40 by 30 1/4 in. Photo Sotheby's
PROVENANCE: The artist
Martha Jackson Gallery, New York
Marlborough Gallery, New York
DiLaurenti Gallery Ltd., New York
Private Collection, Central America
Thence by descent to the present owner
LITERATURE: Fondazione Palazzo Albizzini, Eds., Burri, Contributi al Catalogo Sistematico, Cittá di Castello 1990, p. 178, no. 748, illustrated in colour
NOTE: "The action of fire became much more domineering and determinant in the unforeseeable series of the plastic combustions which in the 1960s congenially marked Burri's full maturity" (Carlo Pirovano, 'The Seasons of Fire', in: Exhibition Catalogue, Rome, Palazzo delle Esposizione, Burri: 1915-1995 Retrospective, 1997, pp. 114-115). A resplendent volcanic topography of molten black plastic, Alberto Burri's exquisite Nero Plastica is a magnificent exhibition of the artist's revolutionary combustioni series of plastic works and a masterpiece of twentieth-century art. The fabulous multi-layered planes with extraordinary textures and relief, and blackened sheets of melted plastic comprise an eviscerated landscape, a reduction, or even regression, of the manufactured artificiality of plastic to the natural oil of its subterranean origin. Intensely striking, the forceful contrast of punctured, combusted voids and swollen plastic welts, confer a feat of compositional drama that wavers delicately in the balance between destruction and creation. Heralded as the first artist to introduce the unpredictability of natural phenomenon into the work of art, Burri first forged a dialogue with the alchemical potential of fire in 1957, instigating his first corpus of dedicated plastic works in 1960. Executed in 1965, this work delivers the apotheosis of Burri's groundbreaking exploration into the poetic expressivity of fire as an artistic tool. Though directly comparable to examples prestigiously held in the Burri Foundation in Perugia, Nero Plastica stands out for its unrivalled splendour of surface manipulation. Indeed, within the series of black combusted plastic works executed between 1961 and 1965, Nero Plastica is lyrically unparalleled, standing among the very highest tier of the prodigious Plastiche corpus. The extraordinary theatrical strata of cutaneous plastic and dense treacle-like surface posit this work as an adroit illumination of Burri's radical aesthetic inquiry into the power and sensuality of material and the destructive/creative force of fire.
The volatile yet delicately executed structure of Nero Plastica demonstrates the expressive yet nihilistic potential of fire in the very limits of the picture plane. Reaching a perfect equilibrium between the sensuality of texture, the balance of composition and the vitality of material, Nero Plastica epitomises Burri's innovative methodology and revolutionary transformation of the monolith of painting. As a procedure in which the contingency of fire's alchemical reaction ultimately informs the aesthetic surface of the artwork, Burri's practice traverses the boundaries between art and life whilst simultaneously bridging the threshold between the natural and synthetic. Exposed to the destructive power of fire, the natural transformation of perishing materiality forges a new and contingent aesthetic realm. According to Carlo Pirovano, in Burri's work the moment of "panic", occasioned by fire's terrific devastation is surpassed "by the sublime regenerative potentiality which is innate to fire, exactly in the exploitation of that mythical gift which not so much consists in the destructive charge as it does in the possibility of transforming matter... of creating" (Carlo Pirovano, 'The Seasons of Fire', in: Exhibition Catalogue, Rome, Palazzo delle Esposizione, Burri: 1915-1995 Retrospektive, 1997, p. 112). Constitutive of microcosmic and macrocosmic environments, Burri's surface evokes both the otherworldly realms of unknown galactic landscapes and infintesimal cellular structures.
By reducing sheets of black and transparent plastic to blistering welts of carbonated and molten substance, the profoundly destructive methodology of Burri's practice provokes an illuminating philosophical allusion to existential nihilism. As principally propounded by Friedrich Nietzsche and later expounded by post-structuralist philosophers Jacques Derrida and Jean Baudrillard, by surrendering to nihilistic Dionysian abandon the subject is granted access behind the ordered Apollonian veil of appearances. Herein the threat of destruction calls forth experiences and metaphysical planes of knowledge beyond those of rationality and logic: annihilation is theoretically posited as the key to unveiling an existential 'truth'. Against the wreckage of post-war disillusionment, Burri's work forges a visual counterpart to such theorems: by exposing the materiality of plastic to the elemental force of fire, new life and beauty are propagated through brutality, laceration, and evisceration. Nero Plastica is a magnificent example of this groundbreaking artistic innovation. Crater-like voids of molten cutaneous plastic chart a delicate compositional harmony across a monumental expanse of abyssal black. Contorted like a deathly veil of liquid magma or tar, this extraordinary masterpiece exudes an unparalleled degree of fetishistic abject-beauty; simultaneously mutilated while evocative of natural abundance, the fury of fire eloquently tempers a dramatic and sensual metaphorical play between wounded anatomical allusions and natural biological phenomenon.
Herein, Burri's nihilistic methodology has also been read as a primal regression, psychoanalytically interpreted as a conflict between the elemental subconscious and the rationalising ego. As Maurizio Calvesi has outlined: "Burri's poetic is resolved in a radical stripping of primary psychical structures...directly from a meeting on a psychological level of vital, primordial unconscious tendencies; a play of forces that could also take him back to the wider scope of the basic conflict between the forces of the instinct and the responsible consciousness of the ego" (Maurizio Calvesi, Le due avantguardie. Dal Futurismo alla Pop Art, Milan 1966, pp. 228-229). Indeed, Burri's surface visually testifies to this nihilistic regression via a physical operation of the Tabula Rasa: within Burris' Nero Plastica the immaculate manufactured quality of plastic alchemically retrogresses to the liquescent and viscous crude oil of its elemental source.
The vicissitudes of the artist's biography and political climate of Italy in the immediate post-war years locate Burri's practice as a visceral response to the Second World War; Burri himself suffered detainment in an American Prisoner of War camp during 1944-45. Having qualified as a doctor before turning to art during his incarceration, biological and even surgical analogies have been drawn, enlikening Burri's gaping apertures of molten plastic as redolent of a living and bleeding body; a metaphor for the existential wound of the European collective-consciousness. As James Johnson Sweeney has remarked in his influential analysis: "Burri transforms rags into a metaphor for bleeding human flesh, breathes fresh life into the inanimate materials which he employs, making them live and bleed; then heals the wounds with the same evocative ability and the same sensibility with which he first inflicted them. What for Cubists would have been reduced to the partial distillation of a painted composition... in Burri's hands becomes a living organism: flesh and blood... The picture is human flesh, the artist a surgeon." (James Johnson Sweeney, in: Exhibition Catalogue, Rome, L'Obelisco, Burri, 1955, n.p.). In Nero Plastica, the sensitive play of molten furrows and burnt-out voids implores the viewer's eye to scan the surface like an eviscerated landscape, taking in the violence and pathos redolent in the moribund forms of molten plastic: this work powerfully confers emotive articulation to that which can be "expressed but not described" (Carolyn Christov-Bakargriev, 'Alberto Burri: The surface at Risk', in: Exhibition Catalogue, Rome, Palazzo delle Espozioni, Op. Cit., p. 79).
In subversively employing matter as the subject of his painting from the late 1940s, Alberto Burri looked to the limitless potential of materiality as a vehicle for artistic expression. Having previously gained recognition for his works of coarsely stitched burlap Sacchi, and wooden Legno pieces, Nero Plastica represents a mature and consummately resolved exemplar dated to the very moment Burri had mastered the command of fire as an artistic procedure; a procedure moreover that would yield the most dynamic and celebrated of Burri's works ever to be created. From discarded partial fragments of destruction, new life and beauty are born again in resurgence. As exquisitely articulated in the nuanced yet brutal topography of Nero Plastica Burri alludes to an existential but living body, lacerated and tortured in the wake of war's atrocities, whilst simultaneously opening up the realm of the real, operating on the threshold between art and life.
Figure with Monkey by Francis Bacon, which depicts a suited man reaching towards a caged monkey, captures an important theme within Bacon's oeuvre whereby man and beast appear indistinguishable and interchangeable. Executed in 1951, this remarkable work followed a stay in Zimbabwe and Southern Rhodesia during 1951. During his travels Bacon produced wildlife paintings and a small series of encaged, screaming monkeys. The present work, in which the open-mouthed, bestial scream of the monkey forms the focal point of the painting, presents Bacon's fascination with wild animals and his impulse to expose man's primal nature. Scarcely reproduced and rarely exhibited since its creation, the re-emergence of this significant early work marks a moment great art-historical significance. The work is estimated at £1.8-2.5 million.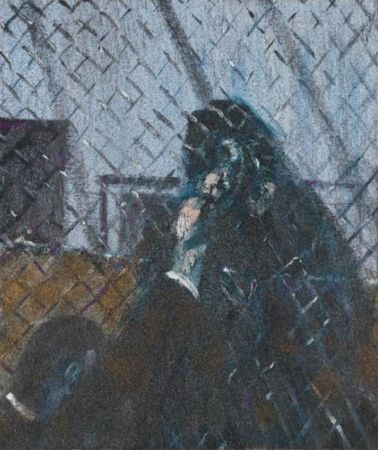 Francis Bacon, Figure with Monkey, oil on canvas, 66 by 56cm. 26 by 22in. Executed in 1951. Photo Sotheby's
PROVENANCE: Hanover Gallery, London
F. J. Anscombe, Cambridge
Marlborough Fine Art, Ltd., London
Private Collection, Belgium
Acquired directly from the above by the present owner in the 1980s
EXHIBITED: London, Hanover Gallery, Francis Bacon, 1951-52
London, Institute of Contemporary Arts, Francis Bacon, 1955, no. 4
Porto, Museu de Arte Contemporânea de Serralves, Francis Bacon: Caged Uncaged, p. 119, illustrated in colour
Norwich, Sainsbury Centre for Visual Arts, University of East Anglia; Milwaukee, Art Museum; Buffalo, Albright-Knox Art Gallery, Francis Bacon: Paintings from the 1950s, 2006-7, no. 10, illustrated in colour
LITERATURE: Ronald Alley, Francis Bacon, London 1964, no. 30, illustrated
Exhibition Catalogue, Paris, Musée national d'art moderne, Centre Georges Pompidou, Francis Bacon, 1996, p. 244, illustrated
NOTE : "This key notion in Bacon's art, that man is an animal, was explored in numerous paintings throughout the 1950s in which humans and monkeys are depicted as interchangeable, if not almost indistinguishable: both imprisoned in dark cages with their mouths opened in screams" (Michael Peppiat in: Exhibition Catalogue, Norwich, Sainsbury Centre for Visual Arts, and travelling, Francis Bacon in the 1950s, 2006, p. 24)
Throughout the extraordinary oeuvre of Francis Bacon, the human figure is incessantly undone and brutally laid bare: reformed and transposed into primeval animalism, man and beast habitually appear as indistinguishable, if not entirely interchangeable. This impetus to confront the bestial reality of the human form lies at the very centre of the remarkable early painting, Figure with Monkey. Executed in 1951, this work heralds an incipient moment in Bacon's career. Following a stay in Zimbabwe, then Southern Rhodesia, during 1951 alongside numerous visits to South Africa throughout the 1950s, Bacon produced a cycle of wildlife landscapes and animal paintings, including a small series of encaged screaming monkeys. Comprising four remarkable paintings in total, three of which prestigiously reside in the Museum of Modern Art, New York; Peggy Guggenheim Collection, Venice; and the Staatsgalerie Stuttgart, Figure with Monkey stands as the very first from this extraordinary corpus. The sheer force of Bacon's painterly invention here commands a magnificent coalition of the artist's unbridled fascination with wild animals with his inimitable impulse to expose the primal nature of man. Dramatically fixed around the open mouthed bestial scream – the quintessential Baconian leitmotif – Figure with Monkey represents a unique and pioneering articulation of the dialectical "zone of indiscernibility" between man and animal vitally intrinsic to Bacon's astounding artistic legacy (Gilles Deleuze, Francis Bacon: The Logic of Sensation, London 2003, p. 16). Scarcely reproduced and rarely exhibited since its creation, the re-emergence of this significant early work marks a moment of art historical importance for Francis Bacon scholarship.
Despite fiercely avoiding contact with domestic pets owing to severe asthma, Bacon remained strongly captivated by wild animals. Littering the floor of his infamously chaotic studio, a vast and disparate matrix of visual and photographic resources provided an instant well-spring of creative inspiration. Among the various books, magazines and photographs at his disposal, Eadweard Muybridge's paradigmatic Animal Locomotion and Marius Maxwell's Stalking Big Game with a Camera in Equatorial Africa published in 1925 have been cited as distinctly influential, while smudged, paint smeared and oil stained depictions of monkeys on torn pages from Life History of Orang-Outan and Hutchinson's Animals of All Countries contribute to the broad array of visual stimuli called forth and transmogrified into Bacon's inimitable canon. Nonetheless the desire to see for himself and photograph such wildlife in situ, most notably at Kruger National Park, was a major driving force behind the several trips Bacon made to see his mother in her new South African surroundings throughout the 1950s. Upon his return Bacon declared: "I felt mesmerized by the excitement of seeing animals move through the long grass"; an enthusiasm that translated to a memorable body of work including the magnificent Elephant Fording a River from 1952 (Michael Peppiat in: Exhibition Catalogue, Norwich, Sainsbury Centre for Visual Arts, and travelling, Francis Bacon in the 1950s, 2006, p. 26). For Bacon, it was the thrill of witnessing and perceiving the instinctual impulses shared with human beings that held the most fascination. Undisguised by "the veneers of civilisation" untamed animals embodied an emotive vehicle for transmitting the elemental and unalterable facts of existence (Ibid.). Very much aligned with this experiential enthusiasm and no doubt inspired by his stays in Africa, Bacon's series of monkey paintings are however starkly differentiated from the safari styled telephoto-reportage of Elephant Fording a River. Snarling, writhing and contorted, these encaged beasts bear a more immediate affinity with Bacon's treatment of the human subject. Bacon outlined his interested in monkeys as stemming "from the fact that like humans they are fascinated with their own image, and that their interest in themselves is displayed with an abandon and relish rarely equalled by men" (the artist cited in: Martin Harrison, In Camera Francis Bacon: Photography, Film and the Practice of Painting, London 2005, p. 200). This 'abandon' is expertly deployed in Figure with Monkey via the focal lure of the monkey's glintingjawed shriek. Bacon depicts a moment of volatile release; frightening, spontaneous and primal, the scream is the epicentre of drama and the point at which both animal and man converge. Barely discernable as ape or monkey, the hulking and formidable dark silhouette of the encaged screaming beast is tentatively reached for by a faceless suited
man. Here, Bacon imparts a projection of the elemental nature residing behind Man's veil of appearance. Nominally segregated by the field of criss-cross fencing, the visual connection between man and monkey nonetheless incites a reading of Bacon's assertion that "we nearly always live through screens – a screened existence. And I sometimes think, when people say my work looks violent, that perhaps I have from time to time been able to clear away one or two of the veils or screens" (the artist cited in: Exhibition Catalogue, Norwich, Sainsbury Centre for Visual Arts, and travelling, Francis Bacon in the 1950s, 2006, p. 26).
In this regard, Figure with Monkey bestows an illuminating and apposite visual expression to Gilles Deleuze's crucially groundbreaking philosophical elaboration on Francis Bacon. As propounded by Deleuze, "Sometimes an animal" in Bacon's work "is treated as the shadow of its master, or conversely, the man's shadow itself assumes an autonomous and indeterminate animal existence. The shadow escapes from the body like an animal we have been sheltering. In place of formal correspondences, what Bacon's painting constitutes is a zone of indiscernibility or undecideability between man and animal" (Gilles Deleuze, Francis Bacon: The Logic of Sensation, London 2003, p. 16). Distended and intimidating, the incomprehensible monkey appears as pure shadow out of which the dramatic locus of the painting emerges: the monkey's terrifying scream. Articulated in a conflation of energetic brushstrokes, the spontaneous flurry of paint betrays the influence of Muybridge's photography for Bacon's obsession with depicting motion. Simultaneously shrinking away, the figure of the suited man tentatively extends his grasp towards the unnaturally contorted gape of looming razor-sharp teeth; here the monkey gives violent expression to the faceless and mute primal shadow of Man. In other works in the later 1950s rather than depict the bipartite relationship between man and monkey, ape-like forms are carried over to many of the hulking male nudes, choosing to favour the prehensile crouch of the primate for an evocation of primordial physicality.
The aggressive and contained animality of Figure with Monkey formatively underlines an obsessive preoccupation with the mouth as bestial centre and agent of the primal scream – a motif that would later find its ultimate manifestation in the career defining series of Popes after Velazquez's 1650 masterpiece Portrait of Pope Innocent X. Belonging to the very earliest paintings centred on the locus of the animalistic existential scream, Figure with Monkey marks the inauguration of Bacon's major subject matter. Immediately presaging the very first Pope paintings produced that same year, this work emerged at the outset of a pivotal period which was to define Bacon as a major artist. In reading the viewer's eye to the shrieking animal by means of an outstretched human arm, this work explicitly draws a relationship between archetypal man and beast, a disturbing parity that would later characterise his work from this period: to quote Michael Peppiat, "by focussing on what was most animal in man – the primal scream – Bacon had found the single image which was to define his vision" (Michael Peppiat, Op. Cit., p.24). Indeed, the 1950s denote a period of developmental experimentation in Bacon's career through which thematic aspects would later filter into Bacon's masterpieces from the Men in Blue series articulated within foreshortened spatial interiors and contained within a delineated scaffold. Figure with Monkey represents an innovative disclosure of Bacon's interest in such framing devices: engulfed by an encompassing field of criss-cross fencing, this work delivers an early intimation of Bacon's employment of 'space-frames' – the term coined by David Sylvester to denote the structural and psychological framing device compellingly used to convey the haunting spectacle of man's alienation and defamation. Bacon first came to prominence in the late 1940s against the austerity of post-World War II Britain, and it was in this climate that the artist unleashed his acute sense for the violence, suffering and existential isolation at the core of postwar humanity. The first unequivocal expression of this brutal aesthetic can be traced to the seminal 1944 painting, three Studies for Figures at the Base of a Crucifixion. First exhibited at the very end of the war in 1945, the menacing, tooth-baring and sightless mythological creatures of Bacon's triptych shocked contemporary audiences. Imbued with the same nightmarish shriek of the Eumenides in Bacon's seminal work, the animal screams of Bacon's 1950s production illustrates a shift away from mythological beasts to distinctly earth-bound ones. Pioneeringly indicating this transferal, Figure with Monkey exists today as one the earliest and most remarkable examples of Bacon's explicit and nightmarish articulation of the interchangability of man and primate, as means to de-evolve and apprehend the human race as inherently savage. At once, the artist's pronounced engagement with primates is presciently brought to the fore, whilst a lifelong dialogue with scaffold-like enclosures and screaming subjectivity coalesces to powerfully communicate that which Deleuze imperatively recognised in Bacon's painting: "Man becomes animal" (Gilles Deleuze, op. cit., p. 16).
In the wake of the strong prices achieved for works on paper by Lucian Freud in 2011, including the auction record which was established by Sotheby's London in June 2011 (Lucian Freud's Beach Scene with a Boat, colour chalk and pen and ink, executed in 1945, sold at Sotheby's London on June 15, 2011, £2.6 million ($4.2 million), the sale will include an outstanding group of works on paper by Lucian Freud. This exceptional and encyclopaedic fresh-to-market private collection of five drawings spans more than four decades and attests to Freud's masterful draughtsmanship. Combined, these extraordinary works are estimated to realise in excess of £1.5 million. Highlighting the group is Lucian Freud's black charcoal on paper Lord Goodman, executed in 1985. This masterful portrait magnificently illustrates the artist's inimitable analysis of the human subject and his incomparable aptitude as a draughtsman. Paralleling a smaller drawing of the same sitter that is now held in the permanent collection of the National Portrait Gallery, this drawing is of museum quality and ranks in the very highest tier of works on paper by Freud from the 1980s. Freud's Lord Goodman is one of the outstanding portrayals in the medium of Lucian Freud's entire oeuvre and is estimated at £400,000–600,000.
Lucian Freud, Portrait of a man, oil on canvas, 50.8 by 40.6cm. 20 by 16in. Executed circa 1955. Photo Sotheby's
Mappa is a superlative example from Alighiero Boetti's famed series of bold map tapestries, in which Boetti uses world maps to delineate geographical territories and conceptualise the evolving geopolitics of the Cold War. The work, estimated at £700,000-900,000, was acquired directly from the artist and will be offered for sale for the first time. Mappa was designed in 1983 in Trastevere, Rome and subsequently sent to Kabul, Afghanistan to be embroidered. Boetti was fascinated with the culture and indigenous craft of Afghanistan, a territory that had been off limits to the artist following political unrest in 1979. The embroidered text around the map poignantly alludes to the artist's protest against the Soviet military occupation that prohibited him from returning to his beloved Kabul; translated from Italian, it reads "Give birth to the world in Kabul Afganistan". Boetti simultaneously draws attention to his artistic powers of creation in re-imagining the world, while also alluding to the transitory nature of the political world versus the seemingly unchangeable geography of the planet.
Alighiero Boetti, Mappa, embroidered tapestry, 113 by 168cm. 44 1/2 by 66 1/8 in. Executed in 1983, this work is registered in the Archivio Alighiero Boetti, Rome under number 687 and is accompanied by a certificate of authenticity. Photo Sotheby's
Appearing at auction and on public view for the first time, Gerhard Richter's Abstraktes Bild (numbered 768-4) represents one of the most vivid and commanding works from the artist's astounding opus of abstract paintings. With its powerfully graphic vertical stripes, this work which is estimated at £3-4 million, belongs to a cycle of abstracts executed in 1992 for which Richter innovatively implemented a squeegee as his paintbrush. The result is an extraordinary visual tension between controlled action and chance. Richter explained his technique as "letting a thing come, rather than creating it… in order to gain access to all that in genuine, richer, more alive: to what is beyond my understanding." (Gerhard Richter, "Notes 1985" in: Hans-Ulrich Obrist, Ed., Gerhard Richter: The Daily Practice of Painting, Writings 1962-1993, London 1993, p. 119). The present work's remarkably complex, monochromatic scheme makes it an irrefutable rival to Richter's other extraordinary abstractions currently held in the prestigious collections of the National Gallery of Art in Washington, D.C.; the MoMA in San Francisco; the Kunstmuseum Winterthur in Switzerland; the Hamburger Kunsthalle in Germany and numerous others.
Gerhard Richter, Abstraktes Bild (numbered 768-4), signed, dated 1992 and numbered 768-4 on the reverse, oil on canvas, 200 by 160cm. 78 3/4 by 63in. Photo Sotheby's
PROVENANCE: Dora R. Stiefelmeier Collection, Zurich (acquired directly from the artist)
Nadia Clara Weber, Italy
Private Collection (acquired directly from the above in 1994)
Thence by descent to the present owner
LITERATURE: Angelika Thill, et al., Gerhard Richter Catalogue Raisonne 1962 – 1993, Ostfildern-Ruit 1993, Vol III, no. 768-4, illustrated in colour
NOTE: "Chance is given; unpredictable; chaotic; the basis. And we try to control that by intervening, giving form to chance, putting it to use"
The artist in: 'I Have Nothing to Say and I'm Saying It: Conversation between Gerhard Richter and Nicolas Serota, Spring 2011' in: Exhibition Catalogue, London, Tate Modern, Gerhard Richter: Panorama, 2011, p. 27 Pulsating with towering white waves against a galaxial black background, Gerhard Richter's spectacular Abstraktes Bild represents one of the most vivid, superlative and commanding works from the artist's astounding opus of abstraction. Comprising a graphically powerful schema of vertical stripes, this work belongs to a cycle of abstracts executed in 1992 in which Richter implemented the squeegee with swelling linear paroxysms of sweeping pressure. Standing among the most chromatic and compositionally exceptional from this remarkable striated corpus, Abstraktes Bild irrefutably rivals such paradigmatic examples held in the prestigious collections of National Gallery of Art Washington, San Francisco MoMA, the Kunstmuseum Winterthur in Switzerland, the Hamburger Kunsthalle and numerous others. Within the rectilinear forms and striking formalism this virtuoso painting essays an elegant dissipation of tonal variation that belies any superficial monochromism: ranging from subtly deep magenta to abyssal aquamarine, the masterful balance between sensitive tonality and sharp contrast posit this work as among the most compelling and exquisite of Richter's production. Furthermore, intensely evocative, Abstraktes Bild casts an illuminating arc spanning the breadth of Richter's ground-breaking conceptual inquiry into the fundamental objective of painting.
Contained within the graphic corrugation of sweeping painterly strokes, Richter's mercurial production is brought fullcircle: the dramatic yet measured profusion of black, white and the incumbent variegation of greyscale casts an allusion back to the Photo Paintings that first brought the artist critical acclaim in the early 1960s. Indeed, formally reversing the central conceit of the monumental cycle of Curtains executed in 1965, where these photo-realist works hover on the verge of abstraction, Richter's Abstraktes Bild evokes the photographic. Measuredly dispensed against a blackened background, the delineation of white paint engenders a grid-like schema reminiscent of a photographic contact sheet. Moreover, in closer alignment to the early corpus of Curtains, while formally mirroring the vertical folds of Richter's blurred photographic translation, the sweeping white of the squeegee concurrently conceals and provides an intimation of that which lies beyond and behind the veil: "Almost all the abstract paintings show scenarios, surroundings and landscapes that don't exist, but they create the impression that they could exist. As though they were photographs of scenarios and regions that had never yet been seen" (the artist in: 'I Have Nothing to Say and I'm Saying It: Conversation between Gerhard Richter and Nicholas Serota, Spring 2011' in: Exhibition Catalogue, London, Tate Modern, Gerhard Richter: Panorama, 2011, p. 19). Thus, metaphorically and formally Richter's Abstraktes Bild casts an illuminating parity with this early series. Inherent within the two-dimensional picture-plane of both works, the notion of the curtain provides a somewhat ironical comment on the notion of painting as illusion. Nonetheless, where the blurred photo-realism suspends our understanding and utterly thwarts our perception of the curtain itself, the abstract allusion to something existing beyond the layers of chromatic expanse is thwarted by Richter's self-conscious and critical challenge to the history of abstraction – a practice intellectually suspended between the scientific and expressive conceptions of the painterly process. Aligned to Richter's greater artistic enterprise which since the early 1960s has scrutinised the role of paint within a media saturated culture, these works explore the possibility of abstract painting through the emotional detachment of visual and mechanical arbitration.
The abstract works represent the most demanding feat of Richter's craft; described by the artist as "complicated, messy, a bit of a battle", these works embody the terminus of Richter's life-long specularization of painting (the artist in: Ibid., p. 16). As expounded by Stefan Germer, any deliberation of Richter's abstract work is bound to a discussion of the artist's innovative painterly method (Stefan Germer, 'Retrospective Ahead' in: Exhibition Catalogue, London, Tate Gallery, Gerhard Richter, 1991, p. 30). Disparate to working from a photographic model, Richter's deferral of quantifiable and predictable control requires a ritualistic and ordered process of preparation: "mixing the colours, finding the right hues, the smell, all these things foster an illusion that this is going to be a wonderful painting" (the artist in: Ibid). A number of primed white canvases are installed on the walls of the artist's studio, onto which Richter often works simultaneously, moving from one painting to another and back again. Over a protracted period of execution the works undergo multiple variations. Performed to sublime effect in the present work, each new sweeping accretion of paint brings colour and textural juxtapositions that are reworked until an optimum painterly threshold is achieved. Within this process grounds of arresting pigment are applied only to be effaced and drawn out by large track-like strokes of the squeegee. Unpredictable and ostensibly spontaneous in their lyrical grandeur, these overlaid marks are in fact carefully premeditated and cerebrally laboured.
This complex intellectual and often frustrating procedure, is comparable to a protracted and analytical game of chess: Richter critically diagnoses and acts upon each work until finally, "I enter the room and say, Checkmate" (the artist cited in: Michael Kimmelmann, 'Gerhard Richter: An Artist Beyond Isms', The New York Times, January 27, 2002, n.p.). For Richter, these paintings tolerate no company, with every nihilistic graze of the squeegee an unanticipated painterly synthesis provokes a totally new condition he must antithetically react to: "each step forward is more difficult and I feel less and less free, until I conclude there is nothing left to do. When according to my standard, nothing is wrong, then I stop" (the artist in: Gerhard Richter: Painting, Dir. Corinna Belz, Zero One Film 2011). The attainment of compositional resolution within the thick impasto and atmospheric enshrouding of paint is perhaps more aligned to a kind of parity, or even stalemate, realised in the stand-off between controlled action and the reaction of chance. The
painting itself reaches a point whereby Richter's own intentions have been alienated and overcome by the autonomy of the work itself: "Letting a thing come, rather than creating it – no assertions, constructions, formulations, inventions, ideologies – in order to gain access to all that is genuine, richer, more alive: to what is beyond my understanding" (Gerhard Richter, 'Notes 1985' in: Hans-Ulrich Obrist, Ed., Gerhard Richter: The Daily Practice of Painting, Writings 1962-1993, London 1993, p. 119).
Within the tonally rich, graphically dramatic and conceptually multifaceted strata of Abstraktes Bild, the simultaneous negation and affirmation of contingency, expressivity, detachment, and transcendence comprises an encompassing host of contradictions that posit this work as a masterpiece of calculated chaos and paradigm of Gerhard Richter's mature artistic and philosophical achievement.
Takashi Murakami's vibrant Open Your Hands Wide, Embrace Happiness!, which carries an estimate of £600,000–800,000, is a superlative example among his animé-inspired floral motifs, a globally-recognised trademark of the renowned artist. The motif has notably been embraced in collaborations with Louis Vuitton and hip-hop artist Kanye West. According to Murakami, the present work's endless, repeating plane of flowers stems from his time teaching schoolchildren how to draw flowers at a preparatory school. His initial repulsion by overtly "cute" flowers, which made him feel uneasy, soon blossomed into artistic appreciation. Murakami explains, "I really wanted to convey this impression of unease, of the threatening aspect of an approaching crowd" (the artist cited in: Exhibition Catalogue, London, Serpentine Gallery, Takashi Murakami, 2002, pp. 84-85).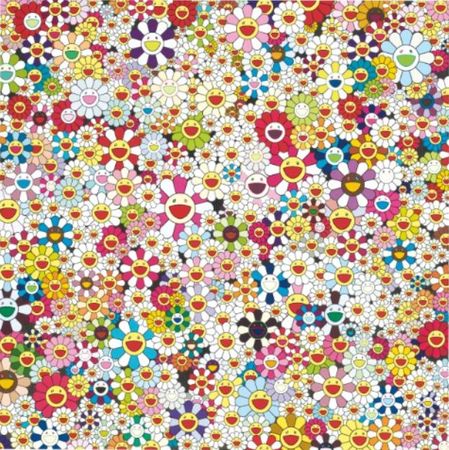 Takashi Murakami, Open Your Hands Wide, Embrace Happiness!, signed and dated 2010 on the overlap, acrylic and platinum leaf on canvas, 180 by 180cm. 70 7/8 by 70 7/8 in. Photo Sotheby's
Diamond Dust Shoes by Andy Warhol is an impressively large-scale, glittering composition of acrylic and 'diamond dust' depicting women's shoes provided to the artist by iconic fashion designer Halston, and references his early days as a fashion illustrator on Madison Avenue. Warhol recognised high-heels as an agent of glamour, and when re-visited this emblematic theme in 1980, he employed his new silkscreening technique using diamond dust – a direct reference to movie-star glamour, high fashion, fame and money, subjects Warhol loved and frequently explored. For the present work, which is estimated at £700,000-1,000,000, Warhol took a series of Polaroid pictures of the shoes, selected one to print, then finished the composition using large crystals of pulverized glass to achieve brighter sparkle than that of real diamond dust.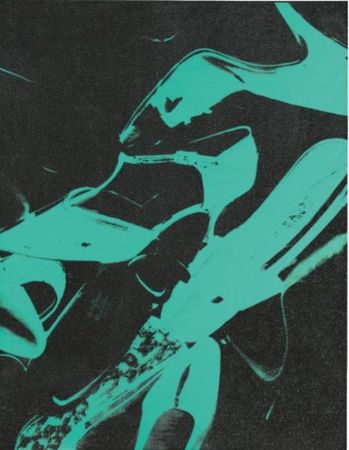 Andy Warhol, Diamond Dust Shoes, acrylic, silkscreen ink and diamond dust on canvas, 228.6 by 177.8cm. 90 by 70in. Executed in 1980-1. Photo Sotheby's
Roy Lichtenstein's Nude in Apartment is a spectacular late work executed in 1995, and which has never before appeared at auction. It references the early images of ladies from his Cartoon series, for which the artist is internationally acclaimed. Dominating the work is the life size female figure facing a full-length mirror. In other important works, the artist has employed mirrors, windows and other reflective surfaces to explore rich, complex visual interactions with light. This work is estimated at £600,000-800,000.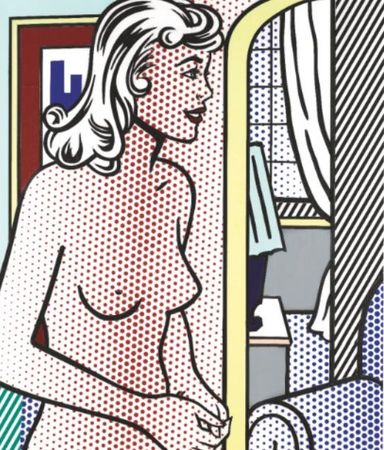 Roy Lichtenstein, Nude in Apartment, acrylic on paper collage, printed paper collage, tape and pencil on board, 82.5 by 71.1cm. 32 1/2 by 28in. Executed in 1995. Photo Sotheby's
Leon Kossoff's Christ Church No. 1, August 1991 is an arresting image of an iconic landmark of London's East End, and the first of Kossof's Christ Church series to have ever been offered for sale. For the Christ Church paintings, Kossoff made a dedicated pilgrimage half-way across London to revisit the East End, where he spent his formative years amongst the area's immigrant community. Kossoff, born to a Jewish family of Ukrainian descent, found the Christ Church's imposing Christian architecture to be a representation of foreign territory. His intense rendering of a bold icon of Christianity expresses his own assimilation into an ostensibly hostile culture, in which he and other London immigrants like him are outsiders. The painting is also highly indicative of Kossoff's lifelong artistic engagement with London's particular inner-city urban landscape. "London, like the paint I use seems to be in my blood stream," Kossoff wrote. "It's always moving – the skies, the streets, the buildings, the people who walk past me when I draw have become part of my life" (the artist in: Exhibition Catalogue, London, Tate Gallery, Leon Kossoff , 1996, p. 36).
Leon Kossoff, Christ Church No. 1, August 1991, oil on panel, 146.7 by 100.4cm. 57 3/4 by 39 1/2 in. Photo Sotheby's
Bridget Riley's exuberant Tabriz, executed in 1984, belongs to the cycle of "Egyptian Palette" paintings produced following Riley's travels in Egypt in the winter of 1979-1980, which had a profound influence on the artist. Riley was immediately struck with the art found in the tombs of the Pharaohs, which depicted magnificent scenes in a surprisingly limited number of hues. Tabriz, estimate at £250,000-350,000, is among the most optically arresting and jubilant of this important series. In keeping with Riley's inimitable technique and inspired colour palette, the present work is restricted to only six colours of uniformly sized lines. The result is a spectacular optical illusion, which distorts the width of the lines and even the tone of the pigments, creating a rhythmic, pulsating effect.
Bridget Riley, Tabriz, signed, titled and dated 1984 on the overlap; signed, titled and dated 1984 on the stretcher, acrylic on canvas, 217.2 by 182.3cm. 85 1/2 by 71 3/4 in. Photo Sotheby's