A portion of the 1637 Rembrandt painting 'Portrait of an Old Woman with a Book' is seen at the preview opening of the Cleveland Museum of Art's 'Rembrandt in America' exhibition in Cleveland. The exhibit combines 30 works by the 17th century Dutch master himself, and more than 20 others by his studio and followers. It is the first-ever Rembrandt paintings exhibition in Cleveland. AP Photo/Amy Sancetta
CLEVELAND, OH.- Beginning Sunday, February 19, the Cleveland Museum of Art presents Rembrandt in America, the largest collection of authentic Rembrandt paintings assembled in the United States in a century and the first major exhibition to explore how the desire for Rembrandt paintings by American collectors has fueled research about the artist's work. Rembrandt in America is complemented by an extensive program schedule, including a Rembrandt print exhibition with works from The Morgan Library and Museum in New York City, lectures and gallery talks, and a conservation workshop. Rembrandt in America will be on view at the Cleveland Museum of Art from February 19 through May 28, 2012.

Rembrandt in America
Rembrandt in America considers the history of Rembrandt collecting in the United States, beginning when wealthy Americans cultivated a passion for collecting European Old Masters. The groundbreaking exhibition contains over 50 works, with about 30 autograph paintings by Rembrandt van Rijn. While the primary focus of Rembrandt in America is on the history of Rembrandt collecting and connoisseurship as it relates to his works residing in America, the show also explores his work across various genres, his artistic evolution, and his influence on other artists of the day. Included in the exhibition are a number of important portraits from Rembrandt's early career in Amsterdam as the city's most sought-after portrait painter, as well as character studies, historical and biblical scenes, and three of his most celebrated self-portraits. Additional works on view in the exhibition were thought to be by the renowned Dutch artist when they entered American collections, but their attributions can no longer be maintained. Rembrandt in America therefore also offers a survey of Rembrandt as a painter and as a master, including works produced by his studio and a broader network of adapters, followers, and copyists.

EXHIBITION
Rembrandt Prints from The Morgan Library & Museum runs concurrently with Rembrandt in America and is installed in the museum's Prints and Drawings Gallery. This exhibition displays 60 Rembrandt etchings, exploring the artist's long and prolific career as a printmaker. From about 1626 to about 1661, Rembrandt executed some 370 prints that demonstrate that he was not only a gifted painter and superb draftsman but also an extremely experimental and original printmaker. Unlike his predecessors, who sought to achieve a standardized representation of the printed image with little variation from impression to impression, Rembrandt was inclined to experiment. By varying the support and how the plate was inked, he achieved an array of effects so that impressions from the same plate differ significantly.

Rembrandt's prints cover a wide range of subjects, including Old and New Testament narratives, landscapes, portraits and self-portraits, nudes, and scenes from daily life. He sometimes returned to the same theme, allowing for a comparison of a subject executed decades apart, illustrating his artistic development and experimental advances. Rembrandt's prints are some of the best ever made—evidence of a genius who exploited technical means for expressive purposes. Rembrandt Prints from The Morgan Library & Museum is curated by Jane Glaubinger, Cleveland Museum of Art, curator of prints.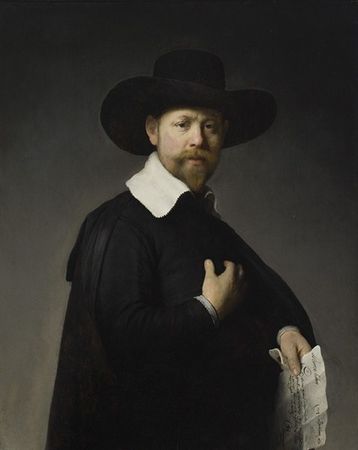 Portrait of Marten Looten, 1632. Rembrandt van Rijn (Dutch, 1606–1669). Oil on wood; 92.7 x 76.2 cm. Los Angeles County Museum of Art, Gift of J. Paul Getty 53.50.3. Image © 2009 Museum Associates/LACMA/Art Resource, NY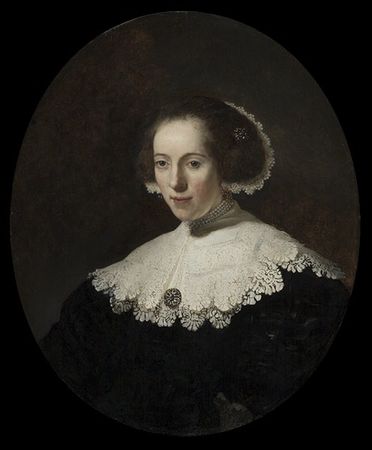 Portrait of a Woman, 1635 or earlier. Rembrandt van Rijn (Dutch, 1606–1669) and workshop. Oil on wood; 77.5 x 64.8 cm. The Cleveland Museum of Art, The Elisabeth Severance Prentiss Collection 1944.90. Image © The Cleveland Museum of Art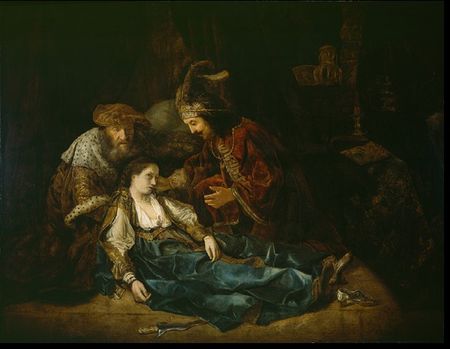 The Death of Lucretia(?), about mid-1640s. Follower of Rembrandt van Rijn. Oil on canvas; 174 x 219.7 cm. The Detroit Institute of Arts, Gift of James E. Scripps 89.44. Image: The Bridgeman Art Library Nationality
Portrait of a Man Holding a Black Hat, about 1639. Rembrandt van Rijn (Dutch, 1606–1669). Oil on wood; 79.5 x 69.4 cm. The Armand Hammer Collection, Los Angeles, Gift of the Armand Hammer Foundation AH.90.59. Photo: Robert Wedemeyer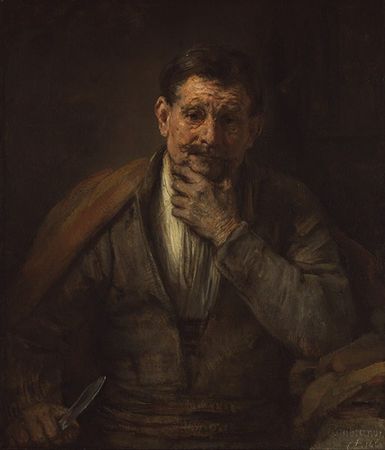 Saint Bartholomew, 1661. Rembrandt van Rijn (Dutch, 1606–1669). Oil on canvas; 86.7 x 75.6 cm. The J. Paul Getty Museum, Los Angeles 71.PA.15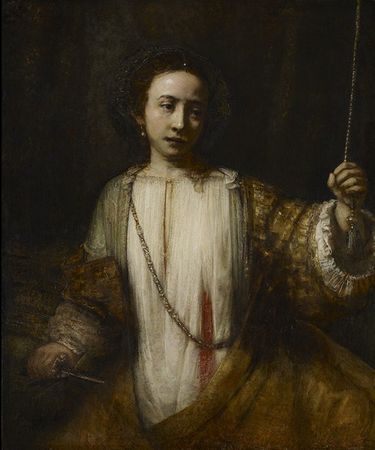 Lucretia, 1666. Rembrandt van Rijn (Dutch, 1606–1669). Oil on canvas; 110.2 x 92.3 cm. Minneapolis Institute of Arts, The William Hood Dunwoody Fund 34.19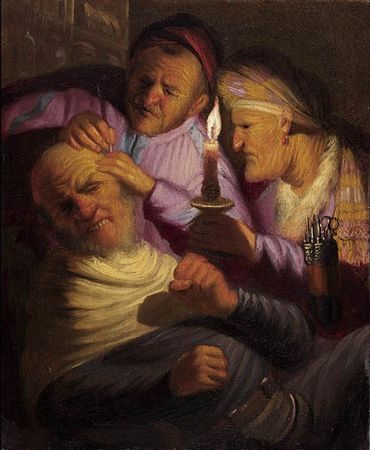 The Operation (Touch), about 1624/25. Rembrandt van Rijn (Dutch, 1606–1669). Oil on wood; 21.5 x 17.7 cm. Private collection, New York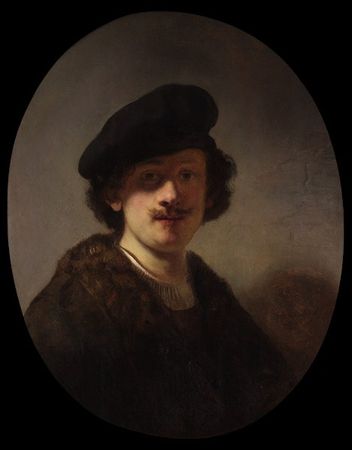 Self-Portrait with Shaded Eyes, 1634. Rembrandt van Rijn (Dutch, 1606–1669). Oil on wood; 70.8 x 55.2 cm. Private collection, New York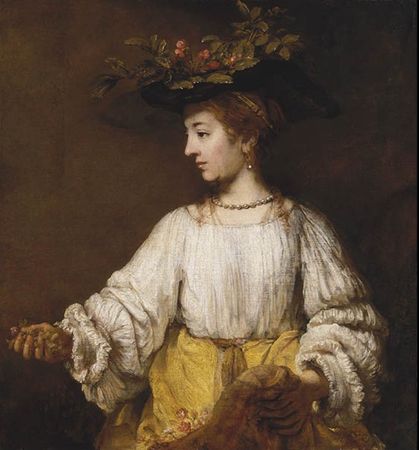 Flora, about 1654. Rembrandt van Rijn (Dutch, 1606–1669). Oil on canvas; 100 x 91.8 cm. The Metropolitan Museum of Art, New York, Gift of Archer M. Huntington, in memory of his father, Collis Potter Huntington 26.101.10. Photo: Malcolm Varon. Image © The Metropolitan Museum of Art/Art Resource, NY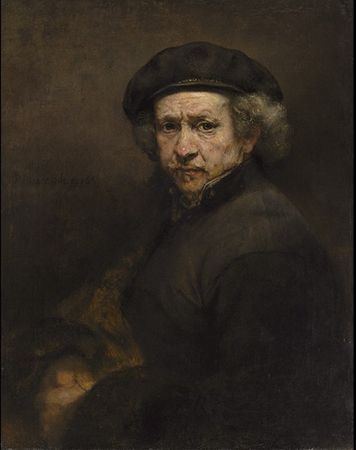 Self-Portrait, 1659. Rembrandt van Rijn (Dutch, 1606–1669). Oil on canvas; 84.5 x 66 cm. National Gallery of Art, Washington, Andrew W. Mellon Collection 1937.1.72. Image courtesy National Gallery of Art, Washington