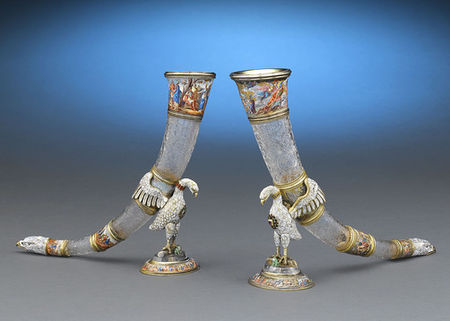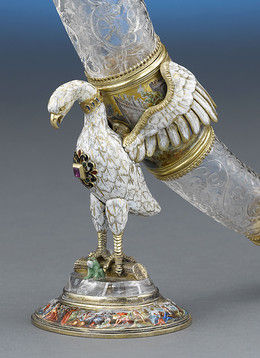 A rare pair of Viennese rock crystal cornucopias attributed to the Austrian master craftsman Hermann Ratzersdorfer. Circa 1860. Photo M.S. Rau Antiques
10" to 10 7/8" length x 8 5/8" to 8 7/8" high. Price: $125,000
Select Artist's Exhibitions and Awards: Viennese Trade Exhibition, 1845
London Crystal Palace Exhibition, 1851, medal
Paris Exhibition Universelle, 1855, second-class medal
London International Exhibition, 1871
Vienna Exhibition, 1873, diploma of honor award

Artist's Exhibits: Austrian Museum of Art and Industry, 1889 and 1914

Reference: Rock Crystal Treasures, From Antiquity to Today,1999, Sylvie Raulet
A rare pair of Viennese rock crystal cornucopias is attributed to the Austrian master craftsman Hermann Ratzersdorfer. Renowned for his ability to recapture the glory of Renaissance antiquities, Ratzerdorfer used his gifts as a goldsmith, enamelist, jeweler and sculptor to craft some of the most astounding rock crystal masterpieces the world had ever seen. This resplendent pair displays radiant engraved rock crystal hoisted by silver gilt mounts with intricately enameled mythological scenes. The cornucopias are held by swans bejeweled with an amethyst on the chest, and terminate in an eagle's head.

Rock crystal, or pure quartz, has been lauded for centuries for its inherent beauty. Ancient Roman Pliny the Elder found its clarity so impressive that he proclaimed it was ice that had hardened permanently over millenia. When carved, rock crystal appears far more lustrous than man-made crystal or glass, so much so that it has even been used in place of diamonds. Its brilliance and purity, combined with its relative scarcity, secured rock crystal's status as one of the most highly valued minerals throughout history. It was particularly prized during the 18th and 19th centuries, when it was considered one of the most precious and expensive materials used in the decorative arts.

A virtuoso of the Renaissance Revival style, Hermann Ratzersdorfer bears the distinction of being one of a handful of Viennese journeymen to reach the rank of master craftsman at a time when the guilds kept the number of masters as low as possible to ensure only the very finest artisans thrived. With that accomplishment under his belt, Ratzersdorfer was free to open his own workshop in 1843. He soon began participating in various exhibitions throughout Europe, winning honors and medals and attaining considerable acclaim for his rock crystal objets d'art.
M.S. Rau Antiques http://www.rauantiques.com