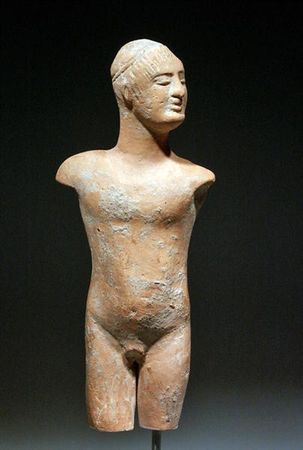 A Greek Terracotta Statuette of a Naked Youth. Photo Antiquities-Saleroom.com
BOULDER COUNTY, CO.- In a collecting category as highly specialized as antiquities, the most valuable asset an auction house can possess is not a 2,500-year-old Egyptian statue or a rare Pre-Columbian artifact – its integrity and reputation. Antiquities-Saleroom.com, a fully-owned subsidiary of Artemis Gallery Ancient Art, will offer 125+ lots of Classical Antiquities and Pre-Columbian artifacts as part of its March 3 online auction. The fully-illustrated online sale catalogue can be viewed and confidential absentee bids may be placed on any of the lots atAntiquities-Saleroom.com. Absentee bids are executed competitively against the existing highest bid.

"The way the Antiquies-Saleroom.com bidding platform works, even Bob and I do not know what the high bid is on an item at any given time. We only know the status of the bids after each lot closes and the winning bid is revealed," said Teresa Dodge, Owner and Managing Director. The auction lots will close for bidding in a consecutive, staggered fashion every three minutes starting at 11 EST on March 3. In the period leading up to the sale, bidders will be automatically notified via e-mail if they have been outbid on an item. Bids may be placed right up until the closing time for each lot.

"Everything in the auction is an authenticated, quality item – each item legally acquired and legal to sell. We believe an antiquity will find its correct price in the market almost every time if it is offered with the assurance that it is authentic, legal to purchase and meets the timeline qualifications for UNESCO and various national treaties," said Dodge.

The first half of Antiquities-Saleroom.com's March 3rd auction is devoted to classical antiquities and includes a nice mix of Egyptian, Greek and Roman objects. Among the highlights are a fine A Greek South Italic Bell Krater with Eros, A Roman Bronze Chariot Fitting with the Bust of a Goddess, A Greek Corinthian Neck Amphora with the Image of a Komast (Ca. 7th-6th century BC), and a nice collection of important Roman Redware Oil lamps. Additionally, there are offerings of Greek Attic pottery from Athens' Classic Era (525-450 B.C.), as well as a couple of desirable Etruscan Bucchero pottery pieces.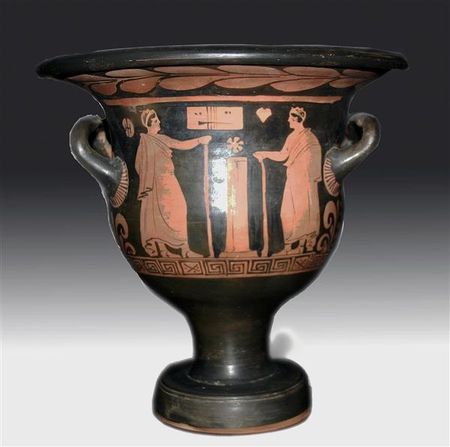 A Greek South Italic Bell Krater w/ Eros. South Italy, Apulia, ca. 4th century BC. .Photo Antiquities-Saleroom.com
Large an amazing pottery bell krater done in red-figure, showing Eros on side 'a'; reverse shows youths facing each other. Possibly from the workshop of the Darius Painter. 13"H. Foot re-attached plus small chip to phalli?, otherwise intact/excellent. **TL Test Report confirming age and authenticity accompanies sale**. Estimate: $9,000-$12,000

Provenance: Ex-private CA Collection.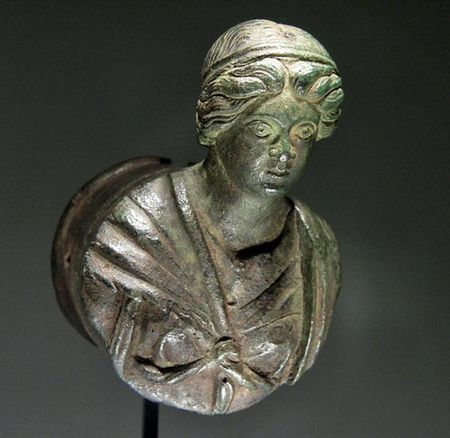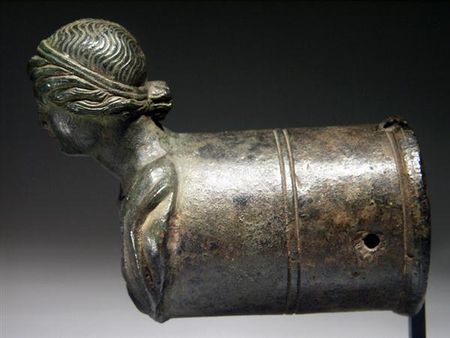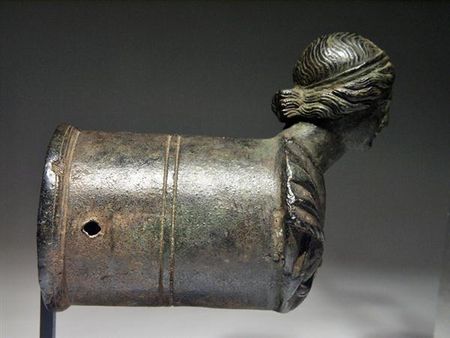 A Roman Bronze Chariot Fitting with the Bust of a Goddess, possibly Isis. Circa 150-250 C.E. Photo Antiquities-Saleroom.com
This is a spectacular and heavy bronze, consisting of a cylindrical section (the end cap of a pole), which is decorated with the bust of a goddess. What a magnificent face she has!
The cylindrical part served as a finial, once adorning the end of a chariot pole as a cap. After the pole was inserted into the bronze, this was secured by a pin which was pushed through the holes on either side of the object and a corresponding hole in the pole.
Complete examples including the (rectangular or round) attachment part on the back side are rare.
For other finials see the book by Menzel mentioned below. For yet another one, decorated with a triton and with a round attachment see the British Museum, inv. GR 1896.5-418.8, BM Cat Bronzes 2696. For an ancient model of a biga (two-horse chariot) showing how such a finial was attached to the pole see BM 1894.10-30.1, BM Cat Bronzes 2695.
The goddess on our finial has a splendidly rendered, round face with a small mouth and slightly parted lips, a short nose, and large eyes, the irises indicated in relief and the pupils drilled. Her long hair is combed back into a chignon, kept in place by means of a hair band.
She has been identified by the previous owner as the youthful Isis, because of the fringed shawl she is wearing and which is knotted between her breasts in a way resembling the familiar Isis knot (known from amulets and protective decorations). Although this identification is not completely certain, it should be pointed out that the head of the goddess was once adorned with what was probably a crown (now missing), as can be seen from the remains of a pin on top of her head. The traces of this are consistent with the shape of the Isis crown (the horns of a cow, joined in the middle where they are fastened to the head).
Perhaps the identification of the goddess will never be completely certain, but what is more important is the fact that she is so beautiful and has such a strong presence!
An important and very rare artefact with an absolutely magnificent portrait!
Dimensions: Height ca. 10.2 cm, length ca. 12.5 cm, maximum width 7.2 cm; height including stand ca. 15.3 cm. Estimate: $18,000 - $20,000
Literature: Compare for decorated chariot fittings for example Heinz Menzel, Die römischen Bronzen aus Deutschland III, Bonn (Rheinisches Landesmuseum Bonn; Römisch-Germanisches Zentralmuseum zu Mainz. Forschungsinstitut für Vor- und Frühgeschichte) (Mainz am Rhein, Philipp von Zabern, 1986) p. 164-177, pls. 140-149 (nos. 458-485), especially pls. 142-144 (nos. 470, 472-474) for those with the bust of a god. For decorative busts see also Beryl Barr-Sharrar, The Hellenistic and Early Imperial Decorative Bust (Mainz am Rhein, Philipp von Zabern, 1987), passim.

Condition: Very minor pitting and scratches, minimal damage such as on the chin and the upper lid of the proper left eye, some of the usual surface wear, all as visible on the photographs. The tip of the nose somewhat stump, which may have been caused by hitting a hard surface (in that case in ancient times, considering the patina on it) or may have been made like this on purpose. A slight loss at the rim of the cap; a small hole at the back of the head, probably a small casting flaw; the remains of a pin on top of her head indicating that some adornment is now missing; else in excellent state of preservation with a glossy green and brown patina. Comes with a custom stand (on the back of which a number is written). A highly desirable bronze!
Provenance: US private collection, 1960s-1970s.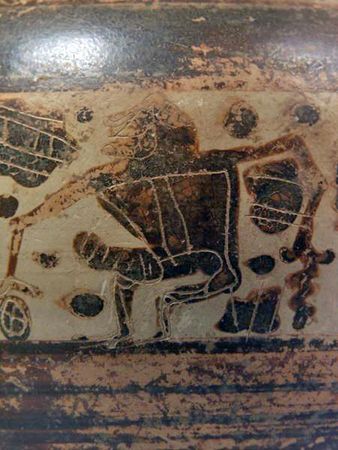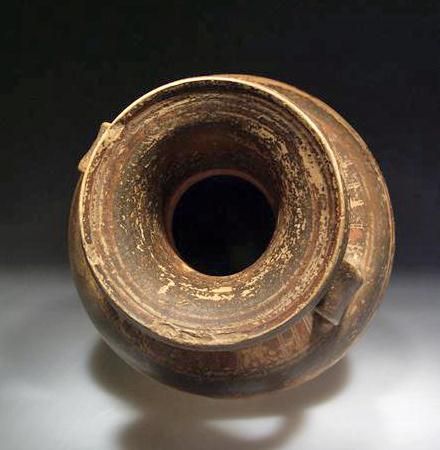 A Greek Corinthian Neck Amphora with the Image of a Komast. Photo Antiquities-Saleroom.com
This is a wonderfully preserved neck amphora from Corinth, dating to the mid-sixth century B.C.

The body has an incized picture frieze, showing large rosettes alternating with stylized bundles of lotus flowers; in the centre of the front is a wonderful depiction of a grotesque man with thin arms and legs and a huge phallus; he is shown in a crouching position, supporting himself with his right hand on a wheel and his left hand on a cudgel. In all probability this caricature is a komast. A komast figure (literally "reveller", from the Greek word komastes) is a drunken person, usually associated with the worship of Dionysos and the origins of Greek drama.

Two strap handles lead from the shoulder to just beneath the collar-shaped mouth, which is slightly ribbed on the inside. The flat shoulder has a incized tongued frieze and near the foot is a corona of rays. On the bottom of the foot a dipinto: T. This vase is a rare type. Height ca. 20 cm - Estimate: $6,000 - $6-700

Condition: Intact and generally excellent, freshly preserved, with two small and shallow rim chips and a tiny chip on the bottom of the foot; some scratches and surface wear as usual on ancient vases.

Provenance: Private Dutch collection, previously gallery Cahn, Basel, Switzerland

Literature: Tyler Jo Smith, Komast Dancers in Archaic Greek Art (Oxford Monographs on Classical Archaeology) (Oxford University Press, 2010);

idem, "The Corpus of Komast Vases: From Identity to Exegesis" in Eric Csapo - Margaret C. Miller (eds.), The Origins of Theater in Ancient Greece and Beyond. From Ritual to Drama (Cambridge, Cambridge University Press, 2007) p. 48-76;

H.A.G. Brijder – G. Strietman, Siana Cups I and Komast Cups (Amsterdam, Allard Pierson Museum, 1983);

Axel Seeberg, Corinthian Komos Vases (London, University of London, Institute of Classical Studies, 1971);

Wilhelm Hornbostel, Aus Gräbern und Heiligtümern. Die Antikensammlung Walter Kropatscheck (Mainz am Rhein, Verlag Philipp von Zabern, 1980), p. 37-38 no. 29 (on an aryballos), p. 61-65 nos 45-46 (for other komast vases);
Georgia Franzius, Tänzer und Tänze in der archaischen Vasenmalerei (diss. Göttingen, 1973) p. 9 ff., 110 ff.
Egyptian bronzes, including a very large Osiris figure featuring a Nubian King, will be auctioned, and excellent examples of Egyptian faience will be available. Four coveted ushabtis will be offered, including a very rare Egyptian Black Shabti. "Ushabtis are servant figures that were placed in Egyptian tombs to handle daily chores for the deceased in the afterlife. Typically, there would have been approximately 365 of them in a tomb, one for each day of the year," Dodge explained.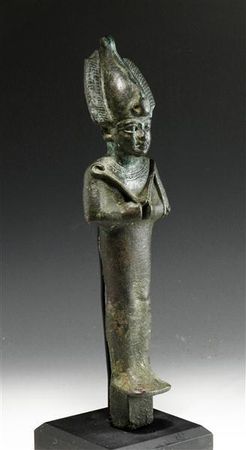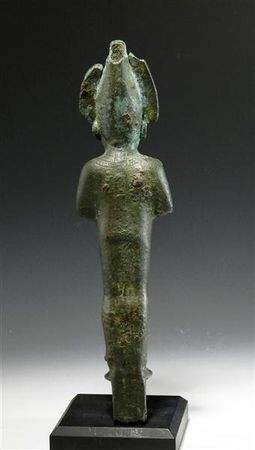 A Large Egyptian Bronze Osirus, 25th Dynasty. Photo Antiquities-Saleroom.com
Solid bronze Osirus figure representing a Nubian King; with crook and flail, Uraeus with full body of cobra coming down front, head emerging ready to strike. 8"H. Repaired at midsection/knees and minor damage to plume, else excellent condition. A large and important example! Estimate: $5000-$8000

Provenance: Ex-R. Brockway, FL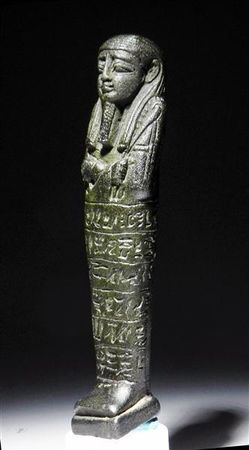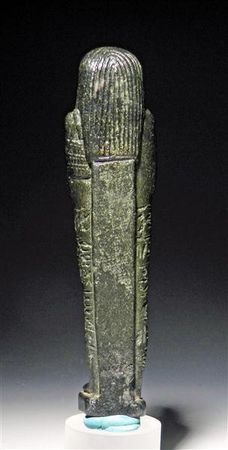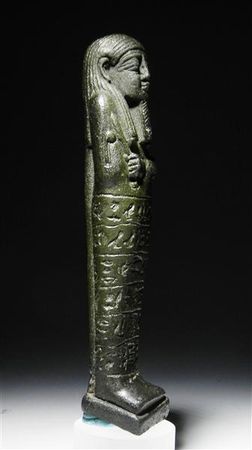 An Egyptian Black Shabti. 26th Dynasty. Photo Antiquities-Saleroom.com
Carved in stone, fired an unusual deep green, almost black glaze. Perhaps misfired or purposely done. with very cursorily engraved text that translates roughly as - "PSMTK"? ("THE NEGUS VENDOR")?, SON? OF ? is counted do any work or to act therein, in the necropolis, then an impediment is implanted therein, as a man at his duties. "Look, here I am", all of you shall say. You are counted every time to make fertile the fields, to irrigate the waterbanks, or to ferry sand (of) the east (to) the west and vice versa. 6"H. Intact/excellent condition. Estimate: $3500-$4500

Provenance: Ex-private French Collection.
The second part of the auction will feature Pre-Columbian art. The selection in this auction includes ceramics from West Mexico, the Mayan territories and most of the major cultures of Peru, Costa Rica and Panama; plus many examples in stone and metalwork, including effigies made of gold.

The variety continues of art from the ancient Americas continues with A Rare Chavin Lapis Lazuli Stone Idol, A Rare Group of 4 Matched Nayarit Figures, several beautifully carved Mayan pottery cylinders, stonework and ceramic figurines. There is also A Spectacular Moche I Warrior Stirrup Vessel, ca first - second century AD, depicting a highly important man, with inlaid shell detailing.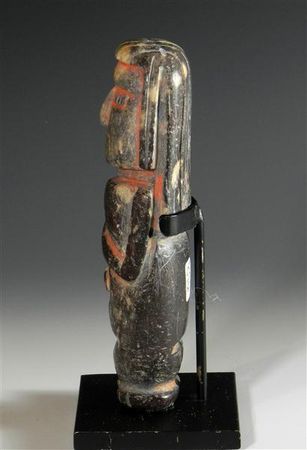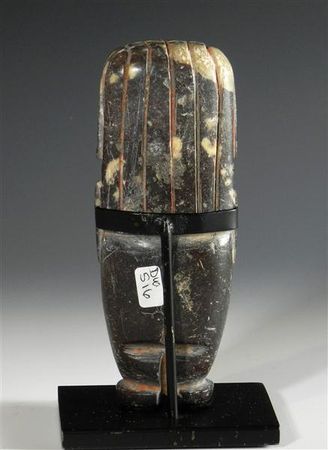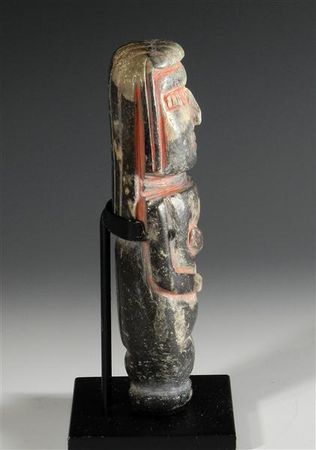 A Rare Chavin Lapis Lazuli Stone Idol. Pre-Columbian, Chavin, northern Peru, Ca 700 to 400 BC. Photo Antiquities-Saleroom.com
An extremely rare stone carved figure in the form of a man, made from semi-precious Lapis Lazuli / Sodalite; well-detailed facial features, legs with arms resting at waist. Remains of cinnabar in carved areas. Pierced for suspension. 4-1/2"H. Intact/excellent condition. Custom stand. Estimate: $5000-$6000

Provenance: Ex-private FL Collection acquired from Knox Artifacts, Scottsdale, AZ.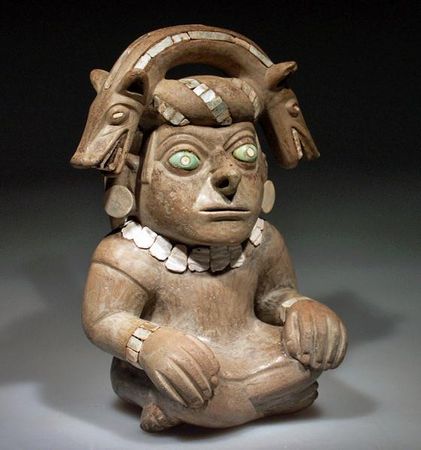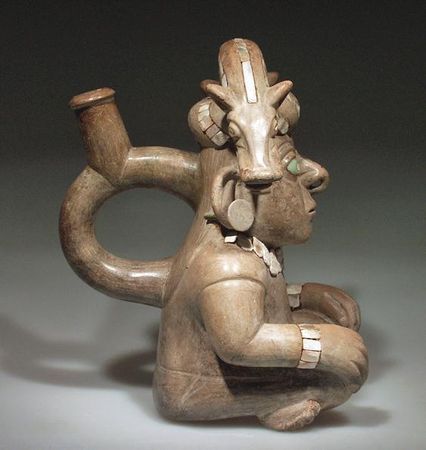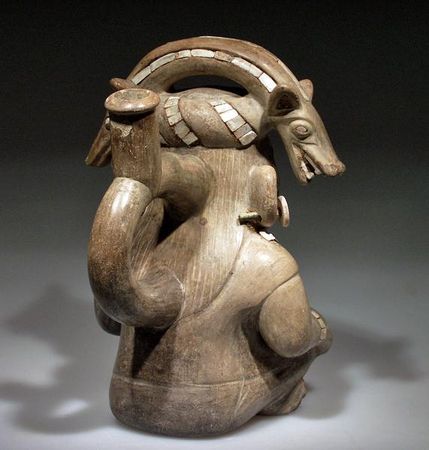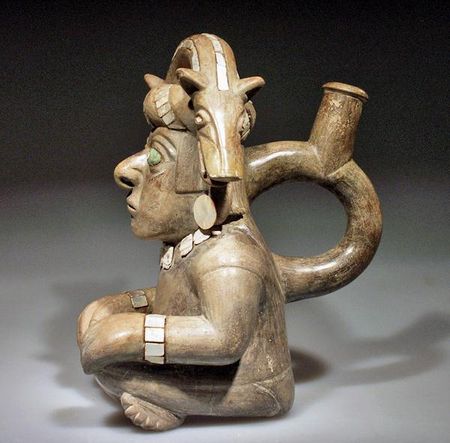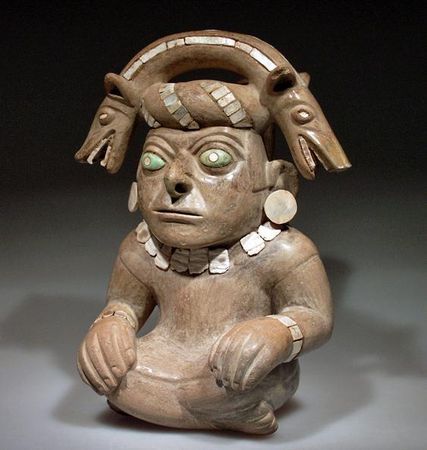 A Spectacular Moche I Warrior Stirrup Vessel. Peru, Moche I, circa 1st-2nd century C.E. Photo Antiquities-Saleroom.com
This is by far the most stunning Moche vessel I have ever handled. Dating to the Moche I Phase (circa first - second century C.E.) this vessel depicts a highly important man, probably a warrior but perhaps also a priest or a chieftain.
He is sitting with legs crossed and his hands on his knees. On his head he wears a braided turban, on top of which is a spectacular twin-headed animal headdress. In addition he has a necklace, bracelets and ear spools.
The vessel was made in greyish clay, the eyes are inlaid with turquoise and the ear spools have a copper core. But the most fantastic element is the use of shell beads in the animal headdress and turban, as well as in his jewellery and for the iris or pupil or the eyes. Most probably spondylus shell was used for this, which was highly prized in Peru as a sacred material and was therefore used in religious and burial rites, as well as in ornaments for nobility.
This fabulous vessel is one of the best we have ever offered, truly worthy of the finest private collection or a museum. 19.7 cm T. One shell in the necklace missing, part of the snout of one animal restored, else quite choice. Estimate: $13,500 - $14,500

Provenance: Private Dutch collection, obtained from Artemis Gallery; prior to that private U.S. collection, acquired prior to 1970.

Literature: For the use of spondylus shells in Moche art see:

Izumi Shimada, Pampa Grande and the Mochica Culture (University of Texas Press, 1994), 214-216 and 238.

Elizabeth P. Benson - Anita G. Cook (eds.), Ritual Sacrifice in Ancient Peru (University of Texas Press, 2001), esp. 35-52.

Kathleen Berrin (ed.), The Spirit of Ancient Peru: Treasures from the Museo Arqueológico Rafael Larco Herrera (Thames and Hudson, 1997).
The catalog for Antiquities-Saleroom.com's auction closing March 3 can be viewed online at the company's website: www.Antiquities-Saleroom.com. For questions on any item in the sale, call Teresa Dodge at 720-890-7700 or e-mail antiquitiessaleroom@gmail.com.