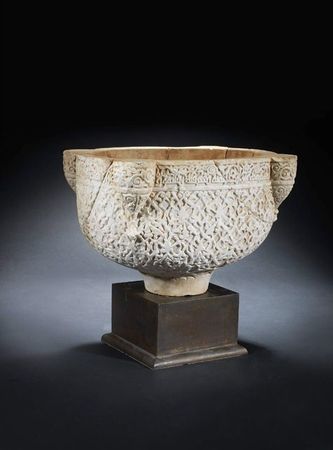 The sale is led by a Zangid carved marble basin from Syria and dating to the 12th century. Estimate: £150,000-200,000. Photo: Bonhams
LONDON.- Bonham's Islamic and Indian Art sale, on Tuesday April 24, highlights magnificent works of art dating from the 7th century through to the 19th century - including Ottoman Iznik ceramics, Fatimid rock crystal and ceramics, Mughal jade and Qajar jewelery.
The auction comprises a strong array of metalwork, Iznik pottery with excellent provenance from small private collections, miniatures and textiles from the collection of the late Dr. Linda Leach, fine early Qur'an folios and a group of fine Qajar jewellery
Featuring over 300 lots, this select sale is led by a Zangid carved marble basin from Syria and dating to the 12th century (estimate: £150,000-200,000). Bearing a fine Kufic inscription, it bears similarities carved marble of the same period in the Victoria and Albert Museum, and metalwork in the British Museum.
Another work of significant importance is a large early 12th century pierced bronze lampstand from eastern Iran estimate: £100,000 – 150,000), remarkable for its monumental size and delicate openwork.

Of further interest is a remarkable intact drinking vessel in the form of a harpy made in Iran in the 13th century (estimate: £15,000-20,000). Its large size (30cm) and delicately painted features are particularly outstanding.

Sale results in 2010 and 2011 have demonstrated continued interest in and demand for Ottoman Turkish works of art. Bonham's April sale comprises over 50 examples of the creativity of the Iznik potters of Ottoman Turkey, which is led by a magnificent mid-16th century blue and white dish formerly in the Brocklebank Collection (estimate: £50,000-70,000). From a private European collection, it bears similarities to another in the David Collection, Copenhagen.

An impressive 8-meter high 18th century curtain made for the door of the Ka'ba in Mecca (estimate: £150,000-200,000) is testimony to the importance of the sacred journey of the Hajj.